North vs. South: Which New Zealand island is best for your golf vacation?

By
Jason Scott Deegan
,
Senior Staff Writer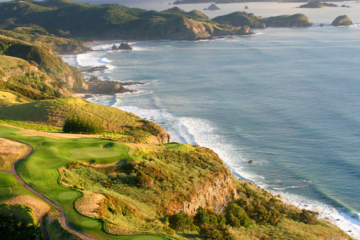 View large image | More photos
An aerial view of the par-3 seventh hole shows off the beauty of Kauri Cliffs. (Courtesy of Kauri Cliffs)
Getting to New Zealand is only half the battle when it comes to playing the country's top golf courses.
The 13-hour Air New Zealand flight from Los Angeles to Auckland travels across the international dateline. Where to go from there is a difficult decision. A golf trip to New Zealand should be no shorter than 10 days, and ideally, it would last two weeks or more.
Unfortunately, most Americans just don't have the vacation time or financial means to chase down every great course. Some will have to make the tough choice of which destination, the North Island or the South Island, to skip. Here's your guide:
Golf courses
North Island: Golf Digest has ranked six different North Island courses among the top 100 international courses outside of the United States since 2005. The problem is only two of them -- The Kinloch Club and Wairakei International Golf Course near Lake Taupo -- are close to one another.
I spent 10 days hopscotching across both islands and still missed out on Gulf Harbour Country Club near Auckland and Paraparaumu Beach Golf Club near Wellington. Should Tara-iti Golf Club open in 2014 as scheduled in Mangawhai, the Tom Doak design will draw more golfers to stay around Auckland.
Seeing Cape Kidnappers (ranked sixth in the world on Golf Digest's international list in 2012) and Kauri Cliffs (19th on the same list) are imperative, and anything else you can squeeze in should be considered a bonus.
Few tourists would dare drive the 440 miles between Kauri Cliffs and Cape Kidnappers. (Google maps calls it an 8 ½-hour trek). It's best to utilize Air New Zealand's network of small regional airports, where there is no security and passengers can show up 10 minutes before their flights. It's a two-flight hop -- through Auckland -- from the Bay of Islands Airport in Kerikeri, 35 minutes from Kauri Cliffs, to Hawke's Bay Airport in Napier, 35 minutes from the Farm at Cape Kidnappers. From Cape Kidnappers, it's possible to drive the three hours to Taupo to play Wairakei and The Kinloch Club by Jack Nicklaus.
South Island: The North might have all the top 100 courses, but they're all so far apart. Playing golf around Queenstown is so much more convenient and arguably just as beautiful with the backdrop of the Remarkables Mountains.
Queenstown Golf Club and Jack's Point Golf Course share the shores of Lake Wakatipu. The Hills Golf Club, a private club accented by sculpture art, and Millbrook Resort's 27 holes are strong as well.
"This city [Queenstown] is the best locale for golf in New Zealand," said Bob Wolfe, a visitor from Little Rock, Ark. "The courses are so different."
Winner: Draw. The convenience and scenery of Queenstown courses helps this emerging golf destination keep up with the star power of the North Island.
Accommodations
North Island: The Lodge at Kauri Cliffs and the Farm at Cape Kidnappers -- both owned by Julian Robertson -- ooze luxury. Guests tend to like the convenience and setting of the Lodge at Kauri just a bit better. The panoramic ocean views at Kauri Cliffs are right in your face. And the gorgeous David Harman golf course sits right outside the lodge.
It's a 25-minute ride just to reach the Farm from the front gate, and then it's another shuttle ride down to the Doak course. The Huka Lodge, nestled along the shores of the raging Waikato River in Taupo, might trump them both for that "this place is special" feeling.
All three lodges serve exquisite meals for dinner and breakfast as part of any guest's stay.
South Island: The Hilton Queenstown, which opened in 2012, has to be considered among the gems of the chain. It's got a great setting on the shores of Lake Wakatipu and all the necessary amenities: spacious rooms, an excellent restaurant (the Wakatipu Grill), a couple cool bars and the relaxing eforea: Spa.
Millbrook, a charming resort celebrating its 20th anniversary in 2013, boasts a wide range of accommodations set in a valley, multiple dining options and one of the best spa/fitness complexes in South Pacific.
Robertson's third property, the Matakauri Lodge, hugs a more remote shoreline of Lake Wakatipu outside of Queenstown.
Winner: North. The North Island's luxury lodges trump all comers.
Off-course entertainment
North Island: I was so busy driving or flying from course to course that I didn't have time to find much fun away from the game. Other golfers will run into the same issue, so that's a strike against the North Island.
For those who make time, the North Island offers many of the same adventure sports the South Island is famous for: skydiving, bungee jumping and jet-boating. Taupo features some of the best hikes and fly-fishing in the world and geo-thermal tourism (seeing geysers and swimming in hot springs). The gannet colony bird tours at Cape Kidnappers are supposed to be interesting as well. Kauri Cliffs counters with private beaches, boating, helicopter tours and fishing in the beautiful Bay of Islands.
South Island: In a span of four days, I went jet-boating with KJet on the Shotout River and Kawarau River, on off-road jeep tours with Nomad Safaris, a helicopter ride with Over The Top and wine tasting. All are worthy pursuits, although I chickened out of tandem skydiving with NZONE.
Golfers will especially appreciate Over The Top for the chance to hit a few tee shots from a mountain cliff. The eco-friendly balls, made with a dog-biscuit-like inner core, decompose within weeks, leaving the environment undisturbed. The off-road tour will also be a highlight.
We panned for gold in the Arrow River, visited sites from the filming of the "Lord of the Rings" trilogy and got a glimpse of the stunning Skippers Canyon. There's always something to see and do in charming Queenstown and Arrowtown between their quaint shops and 150-plus bars and restaurants.
Winner: South. Maybe getting to experience more of the North Island will someday change my perspective, but I firmly believe the scenery of the mountains and lake take Queenstown's off-course pursuits to another level.
The verdict: North or South?
All this adds up to a tie. They both have their strengths: The cliffs and ocean vistas of the North Island and the mountains of the South. They're equally rewarding and memorable on and off the golf course.
Who you are traveling with will also make a huge difference in how to plan the perfect trip. A non-golfing spouse might not want to be dragged on a bucket-list-chasing jaunt around the North Island, but she will certainly love spending a few days relaxing and touring Queenstown while you're teeing off. The mad rush around the North Island might best suit guys on a buddy trip or golfing couples. A few compromises will likely keep everybody happy.
More photos
«
»
April 29, 2013
Jason Scott Deegan has reviewed more than 700 courses and golf destinations for some of the industry's biggest publications. His work has been honored by the Golf Writer's Association of America and the Michigan Press Association. Follow him on Twitter at @WorldGolfer.