Non-traditional golf, courtesy of Colorado's terrain and Jim Engh's inimitable designs

By
David R. Holland
,
Contributor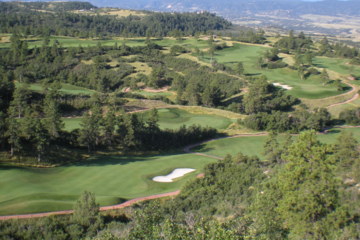 View large image | More photos
From the first tee shot to the finale at Sanctuary, you see Colorado beauty in every panorama. (David R. Holland/WorldGolf.com)
"America the Beautiful" was penned by Katharine Lee Bates after a trip to the summit of Pikes Peak in Colorado Springs, Colo. and her words echo the fact that the United State's most beautiful golf state has a variety of terrain. From the eastern (fruited) plains to the Continental Divide to the purple mountain majesties of the western slope, Colorado features areas as flat as the South Plains of Texas, sand hills towering 700 feet, volcanic tuff moonscapes and 14,000-foot mountain peaks.
It all makes for an unforgettable place to build a golf course. And the world's greatest golf course architects have built here - even a "Mad Russian" with a big dream tackled this land of contrasts. When most people think non-traditional in Colorado, they think of architect Jim Engh. Here's a look at a few more inimitable golf courses in The Centennial State.
Mad Russian Golf & Country Club in Milliken, Colorado
Legend has it that a Russian by the name of Ted Blehm dreamed of making big money here back in 1979, and decided a golf course community was his ticket to riches. The endless stories about an angry man who would never back down from a fight resulted in the nickname "The Mad Russian." Some say he was denied membership at a local country club and decided to build his "own damn course."
First, Blehm hired Greeley Country Club superintendent Dave Tooley to design the layout and named it Jack Rabbit Trail Golf Course. Then he built his own $1.2-million house on top of a hill by the 18th tee - a 12-sided, revolving structure on pillars, reminiscent of a flying saucer. Eventually the name was changed to Mad Russian Golf & Country Club, and Blehm adopted a dancing Cossack, golf club in one hand and shotgun in the other, as his logo. Actually, Bob Ehrlich purchased the course in 1986 but kept the legend and the name, and since then yet another owner has taken over.
Sanctuary golf course in Sedalia, Colorado
Simply said, Sanctuary is the most coveted round of golf in Colorado. Don't bother calling for a tee time or asking for a membership package. Sanctuary is an unusual, stunning, private experience with two members - Dave and Gail Liniger, co-founders of RE/MAX.
Some heralded architects of the modern era were called to design it, and said no. But Jim Engh said yes, and many think it is the best golf course ever built on land unsuitable for one. From the first tee shot that dives off a ridge cliff-line, to the finale that climbs back up to that ridge, you see Colorado beauty - pines, rocky sandstone and mountains - in every panorama.
You can play the course in a charity event, but if you can't afford that, just drive to Leigh Daniels Park, bring lunch, binoculars and view the course from the picnic tables. Golf Digest tagged Sanctuary America's Best New Private Golf Course in 1997. Driving into the front gates, a sort of "heaven's door," is like no other experience in Colorado luxury golf - knowing you will be playing practically alone (with maybe five other foursomes) that day.
Devil's Thumb Golf Club in Delta, Colorado
Devil's Thumb Golf Club isn't typical Colorado beauty, but it is strangely striking. The northeast view takes in the Adobe Hills, which reminds course designer Rick Phelps of the surface of moon, but is really just a combination of the terrain. It might be one of the truest desert-style courses you will find in Colorado. A variety of Jurassic-period lizards once roamed here at the Dry Mesa Dinosaur Quarry.
Phelps calls Devil's Thumb a "prairie-style" links and says its strength is the natural site and the strategy that is built into the design. In 2002 Golf Digest awarded it No. 2 Best New Affordable Public Golf Course in America. Devil's Thumb became an instant hidden gem, mainly because it is in the boondocks - 41 miles down U.S. 50 from Grand Junction and Interstate 70, with views of the San Juan and West Elk Mountains and the Grand Mesa.
The Golf Club at Redlands Mesa, Colorado
Not far from Devil's Thumb is one of Colorado's most beautiful layouts, The Golf Club at Redlands Mesa, the Engh-designed award-winner that might be one of his toughest. Eleven tee shots dive downward and the par 3s are handsomely rugged and stunningly thought-provoking.
Play at Redlands Mesa is a pilgrimage through sandstone aboard a sliver of verdant carpet. Engh said the original site was spectacular, with boulders the size of houses and a landscape on rolling terrain with large mesas and valleys. It may remind you of Utah's Canyonlands. Redlands Mesa won Golf Digest's Best New Affordable Course in 2001 and continues to be a favorite of travel-golf tourists.
Four Mile Ranch Golf Club in Canon City, Colorado
Calling an Engh course non-traditional is kind of a dichotomy - his layouts are ravaged by purists, but he draws much of his inspiration from Irish golf. Aiming for the flag is not always the prudent play. Some greens are bowl-like and you may think you've mishit an approach only to walk up and see the ball next to the pin.
At Four Mile Ranch Golf Club, instead of bunkers (there are zero), Engh used white-shale hogbacks, all natural except one, to stand as barriers on your route from tee to green, as well as the rumpled fairways. Throw in some blind shots, funky greens and shale craters, and you have a journey that becomes increasingly more fun each time you play.
Non-traditional golf in Colorado is fun golf. Be sure to check out these other Jim Engh-designed courses, with his trademark squiggly bunkers, trap doors and staircases: Fossil Trace in Golden; Red Hawk Ridge in Castle Rock; Lakota Canyon Ranch Golf Club in New Castle; and The Harmony Club in Timnath.
More photos
«
»
October 19, 2009
David R. Holland is an award-winning former sportswriter for The Dallas Morning News, football magazine publisher, and author of The Colorado Golf Bible. Before launching a career as a travel/golf writer, he achieved the rank of Lieutenant Colonel in the Air Force reserve, serving during the Vietnam and Desert Storm eras. Follow Dave on Twitter @David_R_Holland.