New golf calendars will keep golfers on time, drooling and a bit perplexed

By
William K. Wolfrum
,
Contributor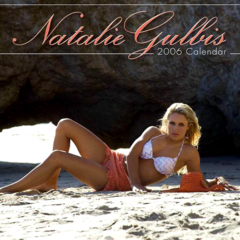 View large image | More photos
One can't help but be impressed by the way Natalie Gulbis sells the game of golf. (Cortesy www.nataliegulbis.com)
The importance of a calendar for a golfer is not to be understated. For example, you show up for your scheduled tee-time on a pleasant April morning at your favorite golf club, and find out your reservation was actually for September. Such faux pas rarely occur to the calendar-toting golfer.
With that in mind, golf calendar makers are currently in their annual rush to supply a confused and disoriented world with exciting new calendars that will have you knowing the date, as well as finding out more about the game and your favorite personalities.
Available now
For most golfers, the real excitement this year is to see the latest "Natalie Gulbis: Could I be more heterosexual?" calendar. In 2006, Natalie doesn't disappoint, as she shows off her brilliant abs and hatred of clothes in multiple photos. Sure, there's not much in the way of golf depicted in Gulbis's calendar, but one can't help but be impressed by the youngster's willingness to prostit...err, promote herself and the LPGA.
On the other side of the pond, Sophie Sandolo does her part to make Herb Ritts proud, with a calendar that's a celebration of golf and her often-naked body. While Sandolo's calendar may shock those with more conservative upbringings, keep in mind that she's Italian, so pictures of her naked while holding an pitching wedge with her buttocks aren't crass, they're art.
The PGA Tour produces several different calendars, including one from its flagship publication, Golf Digest, that will give 365 opportunities to subscribe. The PGA Tour also produces a "Most Difficult Golf Holes" calendar, which they promote thusly:
• Monthly calendar holds bizarre challenges sure to make you head to the 19th hole.
• Each month presents a mind boggling and difficult hole.
• Fantastic collection of the world's most precarious and dangerous places to play.
They would likely have included more descriptions of said calendar, but sadly the writer was hospitalized for hyperbolic shock disorder.
Finally, the "2006 Sports Illustrated Classic Courses Wall Calendar" contains dazzling photos of some fantastic golf courses and includes snippets from SI reporter Michael Bamberger's new book "Hey, Look at Me: The Sports Illustrated Classic Courses Wall Calendar was all my idea. Please Look at Me!"
Still in production
For that golfer who likes to combine his love of the links with international Jihad, there's the "Osama Bin Laden: How to improve your game, you Godless pig dogs" 2006 calendar.
Here, your favorite cave-dwelling lunatic gives such tips as "If your beard is more than three-feet long, have caution to not pull your putts," and "Unless you're facing Mecca, just leave that one-iron in the bag." Also, you get some rarely seen personal information on the Al-Qaeda cheerleader. ("Dislikes: Caves without the necessary plug-ins for my dialysis machine," and "Favorite aftershave: Brute.")
The President of the U.S., George W. Bush, has his own 2006 golf calendar coming out. The calendar is a fascinating retelling of Bush's lone hole-in-one. Unfortunately, by August, Bush admits he didn't get an ace, but was told he did by the CIA, and that "heads will roll."
Fans of golf writer Chris Baldwin will be thrilled to see his new calendar, which features revealing pictures of Baldwin, but has the same message every day - "Did Michelle Wie win yet? No? See, I'm right, she sucks."
There are countless other golf calendars that should be appearing on the market soon, including:
• The Annika Sorenstam "Please Stop Shouting 'You da' man!'" calendar.
• The 2006 Tiger Woods calendar, which only goes until November because it gets mentally exhausted.
• The "Michelle Wie's 12 Greatest Victories" calendar (Not due until 2013).
• The "John Daly Places I've Passed Out" calendar, which includes a coupon for half-off Buffalo wings at Hooters.
• The "Bear's Best" calendar, which features 12 of Jack Nicklaus' favorite months, from random years and in no particular order.
More photos
«
»
January 4, 2006
William K. Wolfrum keeps one eye on the PGA Tour and another watching golf vacation hotspots and letting travelers in on the best place to vacation. You can follow him on Twitter @Wolfrum.