Golf art film promises to show the true 'Nature of the Game'

By
William K. Wolfrum
,
Contributor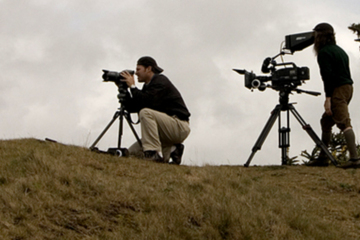 View large image | More photos
French photographer and filmmaker Dent-de-Lion du Midi shoots scenes for the film "The Nature of the Game." (Courtesy LostBall.com)
Scott Clark had left his job managing sales at Yahoo, intent to give his dream of being a fulltime musician a shot. Like many of us find, however, golf got in the way of his work ambitions.
A fanatical golfer with a single-digit handicap, it wasn't the links that pulled Clark in, but instead a film about golf that kicked his creative juices into overdrive.
"There's never been a golf film that's used breathtaking images and sound in the way the artistic genre has been explored, say, for surfing," said Clark, the executive producer of the upcoming golf art movie, "The Nature of the Game: A Visionary Tribute to Golf."
The child of Swiss art photographer Dent-de-Lion du Midi, "The Nature of the Game" promises to give golfers what skiers have with many of Warren Miller's films, as well as what surfers have with film "Endless Summer."
"Golfers don't have a cinematic representation of the sport," said Clark. "We have Hollywood films like 'Bagger Vance,' which is great but if you compare that to surfing and "Endless Summer," that's about surfing. Surfers can watch it and say 'this is why I love surfing.'
"Golfers don't have that. We don't have that and we ought to, there's beauty in golf and we want to bring that to golfers," said Clark.
The film promises to bring stunning images of famous and diverse golf courses, as well as focus on many of the things golfers tend to overlook.
"This film explains the inexplicable of why we love this game," said Clark. "We think it's performance that keeps us coming back, but I think it's something deeper. If you want to see why golf is so special, watch this film."
"The Nature of the Game" will be presented in high definition and Clark said he is hoping to work with Marc Cuban's HDNet, among others to help bring their vision to life. The film will consist of 18 vignettes, in keeping with golf numerology. The film will be a feast for the eyes, as there will be no voice over, however there may be spoken poetry during certain sections.
Currently, the film has a trailer, which can be seen at LostBall.com, and Clark is busily working to find more financing, as well as lock in courses for the eclectic du Midi to shoot for the final product.
"The places we shot for the trailer were like Harding Park, Brandon Dunes, We-Ko-Pa," said Clark. "The courses we've talked to, they love the project and love the marketing and exposure value.
"Our vision on the business side is to work with those courses so then we can take that footage and repackage it to the courses. Our goal is to partner with the course," said Clark.
Clark is working to find investors for the $5 million needed to fulfill the project, and while he admits to being a novice in the film industry, he said he's no rookie when it comes to start-ups, and has been wise enough to surround himself with experienced hands.
Clark is looking at the 2008 Ryder Cup as a perfect venue to debut the film, which would then be released simultaneously in theaters, on DVD, television, as well as the Internet.
In the end, what Clark and du Midi envision is a film for the ages that will capture the imagination of golfers, as well as the non-golfers they love.
"Putting on your glove, that feeling of butterflies before you hit the ball, the nature and beauty around it, that's what we will present," said Clark. "I want golfers to be able to show this movie to their friends and families and say 'Watch this. This is beautiful, because it puts into context of why I love this game.'"
More photos
«
»
August 28, 2006
William K. Wolfrum keeps one eye on the PGA Tour and another watching golf vacation hotspots and letting travelers in on the best place to vacation. You can follow him on Twitter @Wolfrum.