Hilton Head Island golf courses that will get you back to nature

By Jeffrey White,
Contributor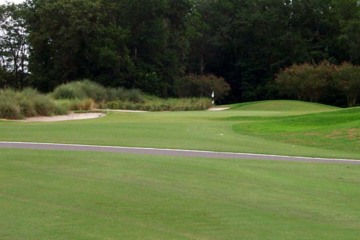 View large image
Trees and wetlands, not houses and condos, border the golf course at Hilton Head National, over the bridge in nearby Bluffton. (GolfPublisher.com)
It's morning, the golf course is quiet and you're standing over the ball at address when something moves out of the corner of your eye, rustling some leaves. Not a deer but rather some old guy walking across his backyard. In his bathrobe.
Who hasn't felt the strange pressure of playing a course tightly hemmed in by homes? Errant drives and approaches can have disastrous results. Sometimes it's hard to determine where someone's property ends and the rough begins.
On Hilton Head, residential/golf development is coupled with density: some two dozen golf courses on an island 12 miles long by 5 miles wide — and another 50 or so on the mainland nearby.
"It's the nature of the beast," says Jim Crick of Hilton Head Golf Travel, a local golf vacations packager. "The growth has been unbelievable down here with home building."
But purists take heart: There are still courses to play in Hilton Head that are largely free of residential and corporate development, especially if you're willing to drive for a bit and hit the mainland. But go there now: Some tracks, like Old South, which is seeing some development, might not stay this way for long.
Here are some Hilton Head golf courses where nature still rules:
The Secession Club: You won't ever contend with development on this Bruce Devlin-designed private course, built in 1991 in Beaufort.
"It's completely different. All the buildings that are on the property, that will ever be on the property, are up," says Mitch Colella, a club member and owner of Golf Headquarters, a retailer on the island.
Secession has no out-of-bounds or cart paths. Indeed, players can only walk this 7,000-yard, links-style course. Trees are scarce, and many of the winter rye fairways meander through dense wetlands just 10 miles away from the Atlantic Ocean.
There are few holes where the wind does not play a factor: The course rewards those with solid long irons and the ability to keep the ball low.
Hilton Head National Golf Club: The first public golf course in the area, National is a short car ride over the bridge to nearby Bluffton.
Gary Player designed the course's original 18 holes (Bobby Weed added nine more in 1998) to be golfer-friendly, with tame hazards and plenty of opportunities to run the ball up to large, mildly undulating Bermuda greens.
"Trees and wetlands, not houses and condos, border Hilton Head National," Jeffrey Rendall wrote in a course review on HiltonHeadGolf.com. "It's nice to be out there on occasion with just yourself and nature."
Though from the tee on National's signature 547-yard par 5 seventh, starring down a chute lined with dense woods, it's not clear if that's a good thing.
No matter. The course is varied enough to comfort the high handicapper and challenge the scratch shooter. Multiple tee boxes allow players to tailor the course's length (which can extend to 6,655 yards) to their ability.
Old South Golf Links: A few miles from National, Old South is more broken up by marshes than its neighbor — which means more forced carries.
Seven holes run entirely along marshlands and when the wind picks up from the nearby Waterway, it can mean long approaches. But the track itself, designed by Clyde Johnson, isn't particularly long overall: 6,772 yards from tips, with the longest par 4 reaching 417 yards.
Variety is king here: Open holes, tree-lined holes, wet holes. But there's plenty of forgiveness built in. The fairways are roomy, and there are ample landing areas on the courses target holes.
January 2, 2007