Kids Play Free promotion and family tournaments make summer golf vacations in Myrtle Beach grand indeed

By Chris King,
Contributor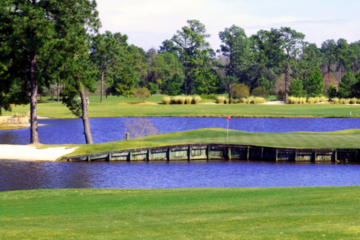 View large image | More photos
King's North at Myrtle Beach National is one of 46 courses on the Grand Strand where kids 16 and under play for free this summer when accompanied by a paying adult. (Brandon Tucker/TravelGolf)
MYRTLE BEACH, S.C. -- Memorial Day is in the rearview mirror, marking the unofficial start of summer and an increasingly popular shoulder golf season. Historically, summer in Myrtle Beach has meant sunscreen, beach toys and swimming in the Atlantic, and that remains true.
But families that make an annual pilgrimage to the Grand Strand are increasingly packing golf clubs alongside their boogie boards. In an effort to grow the game, Myrtle Beach has one of golf's most aggressive family-outreach programs.
More than 40 area golf courses, including five that have been ranked among America's 100 Greatest in recent years, participate in a "Kids Play Free" program, allowing children 16 and under to play for free when accompanied by a paying adult.
"It's fun to be able to get the kids involved at a young age," said Brookville, Fla., resident Roger Maharaj after playing a round on the Avocet course at Wild Wing Plantation with his son. "He is going to remember it for the rest of his life."
"The Kids Play Free program is one of our most rewarding endeavors," said Bill Golden, president of Myrtle Beach Golf Holiday. "We pride ourselves on introducing juniors to the game of golf and creating a family-friendly atmosphere for everyone. This unique program will allow families vacationing along the Grand Strand to play a great round of golf at a tremendous value."
Myrtle Beach Golf Holiday's Summer Family Golf Tournaments
The popular Kids Play Free program is hardly the area's only family-oriented program. For the 23rd year, Myrtle Beach Golf Holiday will be running its Summer Family Golf Tournaments series. The tournaments are hosted every Wednesday from June 23 through Aug. 18 and each event is played at a different Myrtle Beach-area golf course.
Some of the best golf courses in Myrtle Beach and the nation are hosting the Summer Family Golf Tournaments, including the Fazio Course at Barefoot, Caledonia Golf & Fish Club and Grande Dunes (click here to see the tournament schedule).
The Summer Family Golf Tournaments allow all junior golfers, 16 years-of-age and younger, to play for free with a paying adult. Participation in a tournament costs $40 for adults (unless otherwise noted on the schedule) with the fee including a cart and the chance to win one of many contests. Each Summer Family Golf Tournament features a closest-to-the-pin and long-drive contest with prizes awarded to the winners. The tournaments have three divisions -- open, couples and adult/youth -- and feature a captain's choice format.
Beyond the family programs, summer offers traveling golfers premium values (checkout summer golf specials). Course conditions are typically ideal, the weather is nice, and courses aggressively court play.
Summer is a perfect time to sneak away for a Myrtle Beach golf trip and the elements that make the Grand Strand so popular in the spring and fall are all still in play.
More photos
«
»
June 15, 2010
Chris King, owner of Kingfish Communications, a PR and content marketing firm that specializes in helping golf destinations and courses, has spent the last 20 years covering golf and college athletics. His love of the game is matched only by the unreliability of his swing, which helps him evaluate golf courses through the eyes of the average player. King currently resides in Myrtle Beach, S.C., which affords him ample opportunity to improve. Follow Chris on Twitter @Chris_Kingfish.