Myrtle Beach golf: Planning a three-day Grand Strand golf vacation with the girls

By
Lisa Allen
,
Contributor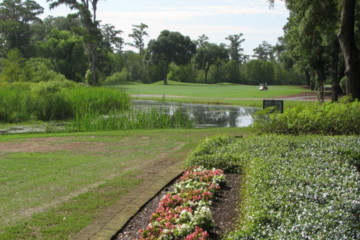 View large image | More photos
Willbrook Plantation in Pawleys Island, S.C. is a subtle golf course that doesn't overpower its surroundings. (Lisa Allen/TravelGolf)
Trying to cram in everything possible into a Myrtle Beach golf trip requires you to get up early and stay out late. Isn't that what vacation is all about?
Stretching before you is South Carolina's Grand Strand, 60 miles of beaches stuffed with more than 100 golf courses, 1,700 sit-down restaurants (yes, you read that right) and a plethora of shopping.
Where to begin when you and the girls have only three days?
Myrtle Beach golf trip for the ladies: Day 1
You and your three best girlfriends got a great deal on one of the condos in the new Cayman Tower of the Caribbean Resort. It features two bedrooms, two baths, a stainless-steel laden kitchen and a comfortable living room with a huge high-definition TV. Just look to the side and enjoy the view of the Atlantic Ocean just past the balcony. This is the life!
Get up early and head south to try out one of these three women-friendly courses on Pawleys Island:
Willbrook Plantation Golf Club is a Dan Maples course that takes you on a trip through the Old South. Built atop a former rice plantation, the irrigation canals line some of the holes, including the first. Your round on the live oak-shaded course passes by slave cemeteries and the foundation of the manor.
Caledonia Golf & Fish Club was designed by artist-turned-golf-course architect Mike Strantz. This course really is a work of art. Also on a rice plantation, you'll always remember its elaborate landscaping and the tunnel of oaks you'll pass through to get there.
Litchfield Country Club is purely old school. Designed by Willard Byrd, it is an exercise in subtlety. Hazards come in the form of a single tree blocking out the green or an overhanging branch that forces you to go for a punch shot. The service is old school, too: friendly and very efficient.
After golf, head to nearby Murrells Inlet for lunch and act on a whim. There are dozens of restaurants on the water, so stop at whichever one looks good.
For the afternoon, check out another course or pamper yourself at the Hibiscus Spa at the Myrtle Beach Resort and Spa at Grande Dunes. You'll try to figure out how to live there.
For dinner, stay in the "pamper yourselves" mode with dinner at The Brentwood, with its "Lowcountry-style French cuisine" served in a Victorian house built in 1910.
Another option is Sea Blue in North Myrtle Beach, which describes itself as "South Beach meets Myrtle Beach." It starts with small plates but not a limited imagination, with macadamia-fried brie with a tropical fruit salsa served with plantain chips to Kobe sliders with smoked gouda, lobster mac and cheese or veal ravioli.
Myrtle Beach golf trip for the ladies: Day 2
It's a day for the mid-Strand, perhaps a round in the morning and golf lessons in the afternoon.
You can't go wrong playing Kings North at Myrtle Beach National Golf Club, an Arnold Palmer signature course that resided among the top 100 courses for women from Golf For Women, or Pine Lakes Country Club, a renovated classic that dates to the 1920s.
In the afternoon, arrange with one of these schools a tailored lesson for your foursome. Classic Swing Golf School at Legends, led by Ted Frick, has everything from one-hour video lessons to one-on-one playing lessons for either nine or 18 holes.
Another option is The Grande Dunes Golf Academy, which has everything from half-day lessons to three-day lessons. Pro Brad Redding is among Golf Magazine's top 100 teachers. Your game will get the attention is deserves with a 3-to-1, student-to-teacher ratio.
If you want, you can try out your skills on the Grande Dunes Resort Course.
Myrtle Beach golf trip for the ladies: Day 3
Head north for some golf, then some shopping: The Long Bay Club in Longs, S.C., is a Jack Nicklaus course that gives you lots of room for your drive, then throws the gauntlet at you to challenge your approach shots, from elevated or downhill greens, rings of bunkers and mounds and optical illusions with turf changes and offset greens. It's a game of chess on grass.
Glen Dornoch Waterway Golf Links, designed by Clyde Johnston, snuggles up to the Intracoastal Waterway in Little River for three of the most memorable closing holes on the Strand. The entire course offers a lot of elevation changes, but the imagination required to come up with 16, 17 and 18 will be the topic of conversation as you enjoy a cocktail on the veranda overlooking the Intracoastal.
After, head to Broadway at the Beach for an afternoon and evening of shopping, eating and entertainment. Broadway at the Beach sprawls over 350 acres and includes restaurants, shops, nightclubs and movie theaters. Its New Orleans-style boulevard, Celebrity Square, is a nightclub district featuring 10 of Myrtle Beach's hottest clubs and nightspots.
Other venues can accommodate a range of tastes. The House of Blues Myrtle Beach has its own replica tobacco warehouse and a metal box of mud from the Delta Mississippi underneath its stage.
For more Southern fare, there is Alabama Theater and the Carolina Opry.
Myrtle Beach golf trip for the ladies: Day 4
Go home, get some rest, and start planning your return trip to the Grand Strand.
More photos
«
»
January 6, 2011
Lisa Allen is a golf, travel and business writer based in Beaufort, S.C. She has edited newspapers, magazines and books in Michigan, Indiana and South Carolina. Follow her on Twitter @LAllenSC.