Myrtle Beach honor roll: Selecting the right elite golf courses for your golf vacation package

By
Brandon Tucker
,
Managing Editor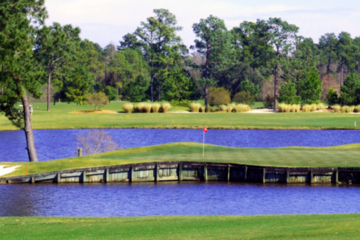 View large image | More photos
King's North at Myrtle Beach National is one of those golf experiences that can't be duplicated in the Grand Strand. (Brandon Tucker/WorldGolf.com)
From Grande Dunes and TPC Myrtle Beach to Glen Dornoch and King's North, Myrtle Beach's top golf courses just get better and better. WorldGolf.com places 16 of the best into four brackets to help you plan your next Grand Strand golfing vacation.
MYRTLE BEACH, S.C. - America's golf "supermarket," Myrtle Beach has a high-end aisle that just gets bigger and better.
At last count, 16 elite golf courses in Myrtle Beach have peak season rack rates from $150 to just over $200, and 10 courses are in the most recent edition of Golf Digest's "Top 100 You Can Play" rankings - more than any other destination.
You can find these shiny standouts around every corner, from Pawleys Island in the south to Brunswick County in the north. And while you won't find a poor course in the bunch, one foursome's ideal splurge can be different from the next. Some are simply after the prettiest course, while others are in search of where the pros duke it out. Or maybe it's the Grand Strand's latest course.
We've attempted to group Myrtle Beach's "Sweet 16" into four specialized brackets.
Championship Pedigree Courses
You can find a championship test and a golf course challenging enough for the pros at these high-end tracks.
The Dunes Club and TPC of Myrtle Beach both hosted the Senior Tour Championship when it was in town. While the tour has since left, both clubs still uphold a stern test, along with elite conditioning and facilities. Recent renovations to the TPC have put the club back among the most revered in the area.
"With the greens back in shape, low-handicappers will once again enjoy playing here," Tim McDonald wrote in a review at WorldGolf.com. "The TPC remains one of the more difficult courses along the Grand Strand."
The Pete Dye course at Barefoot, with a demanding finish and intimidating green complexes, is a regular host for the yearly Hootie & the Blowfish Monday after the Masters Pro-Am, which ushers in tour pros like Andy North and John Daly.
World Tour Golf Links on the other hand is a replica course, featuring holes from all over the world, including major championship mainstays like The Old Course at St. Andrews and Amen Corner from Augusta National.
Eye Candy Golf
These courses are products of a dramatic Intracoastal Waterway location. Glen Dornoch in Little River features the most natural elevation change, and the water is prominent on five holes, including the ninth and 18th. Tidewater Golf Club may be the most marsh-heavy course on the Grand Strand. Grande Dunes sits on a lofty perch overlooking the waterway at every turn.
Caledonia Golf & Fish Club, though opened only about a decade, has the timeless feel of an historic golf club. Its 18th hole is set right on a saltwater marsh, but the remainder of the course weaves through mature oaks and scenic lowcountry terrain.
One of a Kind
These unique designs have no local imitators. Arnold Palmer's King's North features numerous island greens, including the notorious par-5 "Gambler." Mike Strantz created a dazzling, must-see spectacle at True Blue, including one hole that features alternate left and right greens.
The Fazio and Love III courses at Barefoot are both ranked in most "Top 10" lists for the Grand Strand. The Fazio features wind fairways, heavily rolling land and expansive, creative waste bunkering. The Love III track is an exciting lowcountry play.
"Barefoot Love brings plenty of brain with that love for brawn," Chris Baldwin wrote for MyrtleBeachGolf.com. "There's more risk-reward in this Carolina low country track than golfers in Las Vegas will find in the casinos."
New Kids on the Block
Groups out to sample the latest courses in Myrtle Beach have a selection to choose from.
Leopard's Chase is the newest of four courses at Ocean Ridge Plantation, north of the border in Sunset Beach. This Tim Cate design features a spectacular finish - a long, uphill par 4 played to a green with a two-tiered water fixture guarding the approach. Ocean Ridge will introduce a fifth course, Jaguar's Lair, in 2009.
In February 2008, The Founder's Club will open in Pawleys Island. Owners completely dismantled the existing Sea Gull course in favor of a more upscale, scenic masterpiece.
Opened in the summer of 2005, The Member's Course at Grande Dunes doesn't advertise public tee times, though select resort properties offer packages including this new, exclusive track sharing the same stunning Intracoastal Waterway location as the Resort course.
More photos
«
»
December 13, 2007
Brandon Tucker is the Managing Editor for Golf Advisor. To date, his golf travels have taken him to over two dozen countries and over 500 golf courses worldwide. While he's played some of the most prestigious courses in the world, Tucker's favorite way to play the game is on a great muni in under three hours. Follow Brandon on Twitter at @BrandonTucker and on Instagram at BrandonTuckerGC.