Myrtle Beach golf courses complement great surf 'n' sand

By
William K. Wolfrum
,
Contributor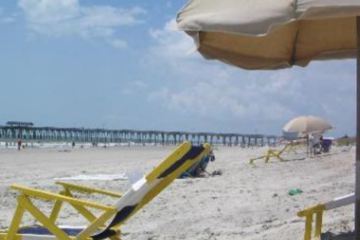 View large image | More photos
Yahoo! recently asked its users to name the world's best beach, and more singled out Myrtle Beach than any other destination. (Courtesy photo)
Yahoo! recently asked its users to name the world's best beach, and more singled out Myrtle Beach than any other destination. Add to that world-class golf, and the Grand Strand is a can't miss combination of sun 'n' surf. Here are some Myrtle Beach golf courses, from Barefoot Resort to Sea Trail Plantation, you shouldn't miss playing during a Myrtle Beach vacation.
When you think of the world's best beaches, South Carolina doesn't immediately come to mind. But according to Yahoo! users, the Palmetto State's Myrtle Beach is the world's best strip of sand.
The Grand Strand beat out other top travel and golf destinations like Miami, Cancun, Honolulu and San Diego.
"Some smirk when we refer to our destination as a 'world-class destination,' but apparently the users of Yahoo! agree, as we rank at the top of the list," Myrtle Beach Area Chamber of Commerce President Brad Dean told MyrtleBeachOnline.com.
It's likely Yahoo! voters were swayed not just by Myrtle Beach's fantastic, relaxing beaches by the presence of some of the world's top golf. Here are some of the best golf courses to hit on a surf-and-golf trip to the Grand Strand.
Can't-miss Myrtle Beach golf courses
Holding the top spot on TravelGolf.com's ranking of Myrtle Beach's top 10 golf courses, the Love course at Barefoot Resort is as good a place to start as any.
Davis Love III "had the best piece of property to work with at the sprawling resort, and he took advantage of it," TravelGolf.com's Tim McDonald wrote in placing the track atop his list.
"Love is a Carolina native and his love for the area comes alive in this 7,000-yard homage to the Lowcountry: elevated greens, tree-lined fairways, challenging par 4s and the re-created ruins of an old plantation home that runs along [Nos.] 3-7."
Wide-open fairways and a Pinehurst feel make this a unique Myrtle Beach play that many consider the jewel of Barefoot's four golf courses - no mean feat considering Love's design competition is Pete Dye, Tom Fazio and Greg Norman.
If you're looking for a maximum test of your golf game, it's Barefoot's Dye course. The toughest of the Barefoot quartet plays about 7,300 yards from the back tees with an imposing 149 slope rating.
If brutality isn't your thing, any of the three golf courses at Sea Trail Plantation is sure to please laid-back beach types.
Sea Trail Plantation's Maples course "offers a combination of fairly easy holes balanced by some moderately tough ones, especially the longer par-4s," McDonald wrote in a MyrtleBeachGolf.com feature story. "Women request the course often: The ladies tees, one of four sets, are 5,090 yards."
With its tighter fairways, Sea Trail Plantation's Byrd course requires more shot-making skills to navigate successfully, while Sea Trail's Jones course is the place to go if you like to grip it and rip it.
For spectacular views, Oyster Bay Golf Links is a Myrtle Beach must-play. The club's Oyster Bay and Marsh Harbor runs use the area's natural marshlands to the fullest effect, with two island-green par 3s.
These are but a few of the multitude of outstanding golf courses on the Grand Strand. As Yahoo! voters know, Myrtle Beach combines the best of the beach with the best in golf, and you won't want to miss either.
More photos
«
»
April 18, 2007
William K. Wolfrum keeps one eye on the PGA Tour and another watching golf vacation hotspots and letting travelers in on the best place to vacation. You can follow him on Twitter @Wolfrum.