Splurging on Myrtle Beach golf: You'll find plenty of ways to spend
By
S. Adam Cardais
,
Contributor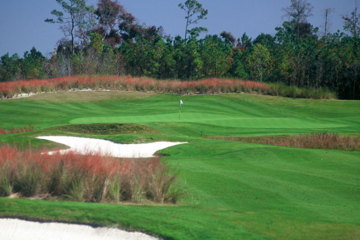 View large image | More photos
Barefoot Resort's Love Course ranked 38th in Golf Digest's latest listing of the 100 Greatest Public Golf Courses. (Courtesy of Barefoot Resort)
"Luxury" may not be a word commonly associated with Myrtle Beach, where there's probably a Wings T-shirt and beach mega-novelty outlet for every five tourists. But if you look beneath the sports-bar-and-spring-break surface you'll find plenty of opportunities to splurge.
As new first-class hotels and resorts such as the Marriott Resort at Grande Dunes sprout up, this stretch of Carolina coast is emerging as a golf and travel destination that won't draw chuckles when described as upscale.
"Myrtle Beach is in the throes of an attempted image makeover," Chris Baldwin wrote last year in a TravelGolf.com feature story. "The campaign centers on glamour, the kind of pampered luxury you'd see on the Fine Living network, not on Ocean Boulevard."
If you've got the dough, you'll find plenty of places to spend it in Myrtle Beach these days. Here are a few tips of what to do on and off the course when money is no object.
High-end Myrtle Beach golf: Where to stay
Kingston Plantation: This 145-acre resort has two hotels, the Hilton Myrtle Beach Resort and an Embassy Suites, plus the Myrtle Beach Condos. It's close to great shopping and a variety of restaurants at Broadway at the Beach; the House of Blues live-music venue is also close by. It even has a water park. Rooms run $150-$200 a night in the summer.
>Myrtle Beach Marriot Resort at Grande Dunes: Nearly all the rooms at the Marriott have ocean views. It also has the Ocean's on 82nd restaurant, a coffee house, a spa and a two-tier pool. Rooms go for about $200 a night.
High-end Myrtle Beach golf: Where to play
Barefoot Resort, Love course: Ranked 38th in Golf Digest's 100 Greatest Public Golf Courses 2005-2006, this 7,157-yard track was designed by Carolinas native Davis Love III. Fairways are spacious, and the landing areas provide plenty of breathing room.
The Dunes Golf and Beach Club: This Robert Trent Jones Sr. design is one of the most sought-after and respected courses on the Grand Strand.
"You play through live oaks, rolling coastal terrain and the roar of the Atlantic in your ears," Tim McDonald wrote in TravelGolf.com story naming the Dunes one of Myrtle Beach's best courses. "You'll need to be both long and smart off the tee and be careful around the greens, many fronted by large, penal bunkers."
Tidewater Golf Club and Plantation: This gorgeous course stretches out along the Intracoastal Waterway. It features overhanging oaks, high bluffs over the water and challenging terrain that makes it feel will make it feel even longer than its 7,000-plus yards.
High-end Myrtle Beach: Where to dine
Greg Norman's Australian Grille: The Shark's place dishes up exotic Australian cuisine and boasts a wine list that received an award of excellence from Wine Spectator magazine. Splurge on the lobster-crusted swordfish with herbed barley risotto, fresh asparagus and roasted red pepper coulis. Entrees range from $20 to $30.
Thoroughbreds: Thoroughbreds specializes in meat and seafood, sometimes on the same plate, like Angus beef filet paired with a Lowcountry crab cake for $36.
More photos
«
»
October 11, 2006