Myrtle Beach golf: A bachelor duffer's paradise
By
S. Adam Cardais
,
Contributor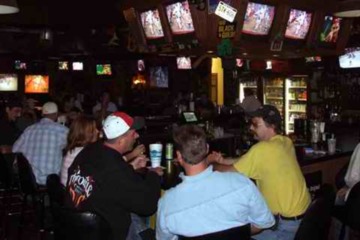 View large image | More photos
Veteran Myrtle Beach golfers know Murphys's Law is a Grand Strand institution. (Brandon Tucker/TravelGolf)
While Myrtle Beach, South Carolina is home to some of the most sought after golf courses in the Southeast, it is also one of the country's most popular spring break destinations, so it's safe to say bachelors will find plenty to do both on and off the links.
Christmas is wonderful, but more often than not shoppers are waylaid by the endless yuletide promotions, meaning fathers tend to get stuck with a tie, or a singing fish he can mount on his wall. Birthdays are often no better, as emotion takes over and "World's Best Dad" shirts, mugs and hats suddenly come in vogue.
There are more than 100 golf courses in Myrtle Beach, but it also has around 1,800 restaurants and an endless selection of sports bars.
It also has plenty of adult clubs with varying degrees of moral fiber.
You can also take advantage of the many affordable golf villas that litter the Grand Strand.
"There are many courses where you can stay at a villa and have anywhere from four to up to 12 or 16 guys under one roof," says J.T. Kobelt, who works with a local golf packager. "You can stay home and play some cards at night, or if you're in a central location, you're right next to an endless amount of sports bars and strip clubs, it's a perfect setting."
Whether you're a die-hard golfer who wants to play 36 holes a day or would rather mix a bit of shopping and nightlife in with your time on the course, Myrtle Beach has plenty of options. Here are a few tips on where to golf, where to unwind, and, well, where to get a little crazy.
Myrtle Beach golf courses
Pine Lakes Country Club: The oldest course on the Grand Strand, Pine Lakes refers to itself as "The Grandaddy." Rocking chairs line the front porch of this 62-room antebellum club, and mimosas are served on the first tee when it's hot. At No. 7, a chatty man named "Dog" serves clam chowder.
Tidewater Golf Club Plantation: Only a few of the 100 courses on the Grand Strand really stand out from the competition, but Tidewater is one of them. Stretched out just above North Myrtle Beach on the Intracoastal Waterway, this course is rich in scenery and shots.
Thistle Golf Course: With 12-minute intervals between tee times, Thistle is known for its relaxed pace of play, which will be a luxury if you were up a little late the night before.
Eating, Drinking and Shopping
Broadway at the Beach: With 350 acres of shops and restaurants, Broadway at the Beach is a great place to do a little shopping or catch a bite to eat after a long day of golf. Relax with a cold margarita at Senor Frogs or take in some movie memorabilia at Planet Hollywood.
Murphy's Law Sports and Raw Bar: Murphy's is a Myrtle Beach institution. It's a great place to catch a game, and happy hour runs from 4-8 p.m. Mon. - Fri., with dollar draft and 35-cent wings.
Chianti South: For a bit of upscale dining, check out Chianti South, which has some of the most authentic Italian cuisine on the Grand Strand. The menu features pasta, fresh seafood and steaks. Main courses go for around $20.00, and the restaurant is open 5-9 p.m. Tue-Sun.
Nightlife in Myrtle Beach
Crazy Horse: Voted the top adult club in the world in 2005, Crazy Horse Myrtle Beach has 80-100 strippers every night, three bars and VIP and Presidential rooms. Happy hour is from 4-7 p.m. Mon-Fri, with $2 longnecks. Every Saturday, there is a car wash from 4-7 p.m.
House of Blues: Opened in 1997, House of Blues is one of the hottest music venues in Myrtle Beach. It also has a restaurant with international and southern cuisine.
More photos
«
»
August 10, 2006