Myrtle Beach golf weekend: Three days of the Southeast's best fairways and greens
By
S. Adam Cardais
,
Contributor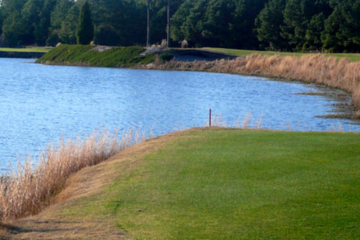 View large image
No. 3 is one of the more dramatic holes on Legends' Moorland Course, an excellent place to play during a Myrtle Beach three-day golf weekend. (Chris Baldwin/WorldGolf.com)
Combining more than 100 golf courses and a burgeoning resort and restaurant scene, Myrtle Beach, S.C., is a choice destination for a three-day golf weekend.
Indeed, travelling golfers can choose from first-class accommodation such as Litchfield Beach & Golf Resort, voted one of the "World's 50 Best Golf Resorts" by Conde Nast Traveller Magazine, and golf courses such as the revered Dunes Golf and Beach Club.
To make the planning a little easier, here's a three-day Myrtle Beach golf itinerary that won't disappoint.
Friday
Litchfield Beach & Golf Resort is a great place to stay if you're travelling with the family. It's got something for everyone, including golf, tennis, dining and other entertainment options.
Its 96 rooms come with either lakeside of poolside views. If you need more space, choose from a two-room suite, condominium, villa or fairway cottage. Plan to pay around $100 a night for a one-bedroom suite.
The Myrtle Beach Marriott Resort at Grande Dunes is another great option. Nearly all the rooms here have ocean views, and the resort boasts the Ocean's on 82nd restaurant, a coffee house, spa and a two-tier pool. Rooms run about $200 a night.
Once you've checked in, dust of your golf clubs and head to the Legends for a round on its Moorland Course. P.B. Dye, son of golf course design legend Pete Dye, crafted one hell of a fun golf course at Moorlands. Carrying a 134-slope rating, this is anything but a pushover, but it's not such a ball-buster that you'll contemplate giving the game up for bowling after your round.
Moorlands is full of interesting, unique holes, such as No. 4, which requires you to shoot over a waste area to the raised fairway while avoiding a bunker named Big Bertha. You'll also enjoy the quiet at Moorlands, where you'll hear virtually no traffic noise, something unheard of in tourist-heavy Myrtle Beach.
For dinner Friday night, try the Aspen Grill, which serves up sophisticated low-country food in an unexpected location: one of the dozens of strip malls on Kings Highway. Warm up with the bisque before moving on to the crab cake main course.
Saturday
On your second day, play arguably the area's most respected round of golf: The Dunes Golf and Beach Club. Designed by famed golf course architect Robert Trent Jones Sr., the Dunes is one the most beautiful golf courses on the Grand Strand.
"You play through live oaks, rolling coastal terrain and the roar of the Atlantic in your ears," wrote Tim McDonald in a review for TravelGolf.com. "You'll need to be both long and smart off the tee and be careful around the greens, many fronted by large, penal bunkers."
Built up an appetite at the Dunes? Then head to Thoroughbreds that night for great meat and seafood. The Angus Beef filet, which is paired with a Lowcountry crab cake, runs $36 and is an excellent choice.
Sunday
End your trip with another visual stunner. Few golf courses in Myrtle Beach compare to the Scottish-themed Glen Dornoch Waterway Golf Links.
Designed by Clyde Johnston, Glen Dornoch boasts picturesque views of the surrounding marshes and excellent conditioning. It's also challenging without being overbearing. Watch out for the 16th, an excellent strategy hole with a hill on the right and a fairway that narrows to a sliver on the left.
July 5, 2007