Golf in Scotland: Great modern links in a historic destination

By
Brandon Tucker
,
Managing Editor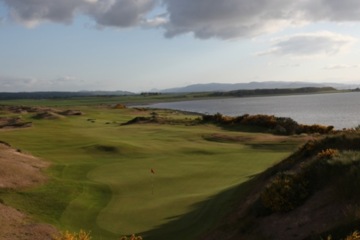 View large image | More photos
Castle Stuart Golf Links is a new links in the Highlands capital of Inverness. (Courtesy of Castle Stuart)
ST. ANDREWS, Scotland -- Whenever the British Open Championship is staged in Scotland, the venue is a historic links: the Old Course in St. Andrews, Carnoustie, Royal Troon, Turnberry and Muirfield.
These prestigious names tell only the beginning of Scotland's unmatched place in golf. While 19th-century links clubs are the main draw, the country's modern golf product is one of the best in the world. Many of these modern courses are set on equally -- if not superior -- coastal settings. Some developers of these properties found pure links land, while others transformed coastal farmland into faux dunes to produce similar humps and bumps of old-world links. These complements are hardly inferior to the coveted 19th-century clubs. In fact, no Scotland golf tour is complete without one.
Kingsbarns Golf Links
Just seven miles from St. Andrews, the Kingsbarns Golf Links delivers an experience so good -- from conditions to layout, scenery and amenities -- they can charge nearly $100 more than the nearby Old Course. And 2011 was Kingsbarns' most successful year yet.
Opened in 2000, developer Mark Parsinen took the site of a golf course abandoned decades ago and transformed it with the help of designer Kyle Phillips, building three tiers of golf holes that play beside the coast to create an amphitheater effect. So, unlike the St. Andrews Links Trust courses in town, the sea is always in view -- and even comes into play on a few holes.
Coupled with unrivaled course conditions, a layout tough enough to host the Alfred Dunhill Links Championship (with the Old Course and Carnoustie) each fall, and top clubhouse and practice-area amenities, Kingsbarns has emerged as Scotland's most coveted 21st-century design.
St. Andrews, Castle Course
Operators of the six links courses in town for more than a century, the St. Andrews Links Trust turned its eyes a mile north of town to an old farm dramatically perched over the sea and overlooking the skyline of St. Andrews for No. 7, which opened in 2008 as the Castle Course.
As marvelous as the views of the sea and town from this spot can be, the design by David McLay Kidd demands all eyes turn back toward the turf. The once flat land was converted into rows and rows of dunes and hummocks, where nary a flat stance -- or a flat putt for that matter -- can be found. It's where suffering short games go to die.
Machrihanish Dunes
While Kidd created links golf at the Castle Course, he was given pure, untouched dunes to work with at Machrihanish Dunes on the Kintyre Peninsula. He wasn't allowed to move much earth in the process, either. The Dunes, which opened in 2009, marks a 360-degree return to the game Old Tom Morris helped found. Though this gem has 21st century touches like a driving range, many different tee boxes and over 7,000 yards of length.
Castle Stuart Golf Links
An entirely different type of links awaits just south of Royal Dornoch in the Highlands capital of Inverness. Parsinen's follow-up effort to Kingsbarns, he (along with architect Gil Hanse) plotted out a course with spectacular scenery at every point along the Moray Firth. Castle Stuart Golf Links features six low-lying holes beside the firth, with the remainder on a natural shelf high above. Wide landing zones let visitors swing for the fences off the tee, but the green surrounds are some of the craftiest in Scotland and serve as a worthy defense when hosting the European Tour's Scottish Open.
Fairmont St. Andrews, Torrance and Kittocks
Sandwiched between the Castle Course and Kingsbarns is 520 acres, home to 36 holes and the Fairmont St. Andrews Resort. Former Ryder Cup captain Sam Torrance laid out the Torrance Course, an Open qualifying test with sod-walled bunkers and some of the finest green complexes in the country. Meanwhile, the Kittocks Course (formerly named the Devlin until a 2008 redesign) features a collection of Fife's most spectacular, seaside holes on the dramatic cliffs just outside St. Andrews.
Crail Golfing Society, Craighead Links
Hanse designed the Craighead Links, a complement added in 1998 to the 19th-century Balcomie Links at Crail Golfing Society. The Craighead's green complexes and length (more than 6,700 yards) are tough enough to defend the best 21st-century games, while little touches like an old stone wall that dates back to the Vikings provides the loop a little old-world charm.
Turnberry Resort, Kintyre Course
The Kintyre Course at Turnberry is a new links in a neighborhood full of prestigious Open Championship courses like the next-door Ailsa Course, plus Prestwick and Royal Troon just up the road. Architect Donald Steele, perhaps the most common name of all the modern links courses and redesigners in the isles, revamped the original Arran Course, which dates back to 1909. The result is a test of just less than 7,000 yards that was worthy of hosting Open Championship qualifying in 2004.
Craigielaw Golf Club
A small stone wall separates 19th-century Kilspindie Golf Club from Craigielaw Golf Club, a new club in East Lothian aimed at delivering all the things its traditional neighbors can't: top-flight practice facilities, a brand new clubhouse and even a little real estate beside the course. Another Steele design, its green complexes (complete with steep, large sod-walled bunkers) are among the toughest to navigate in legendary East Lothian, where Gullane, Muirfield and North Berwick are the A-listers.
The Renaissance Club
Just a chip shot from Muirfield, The Tom Doak-designed Renaissance Club is a private club (prospective members can stay and play at the lodge here) that sits on sandy, rolling soil on high ground beside the sea. While mostly inland and with some tree-lined holes, its playability is firm and sandy turf undoubtedly resembles the great links nearby. The course is also in the midst of adding three holes exposed on a peninsula beside the sea.
Dundonald Links
After designing Kingsbarns, Kyle Phillips was called upon by the owners of Loch Lomond Golf Club to build Dundonald Links (originally named Southern Gailes), which opened in 2003. The new links sits on land that was a golf course until World War II, when like nearby Turnberry it was plowed over to create an air strip. The new links now plays over 7,100 yards and has served as a qualifying venue for the Senior Open Championship and European Tour.
Trump International Golf Links
Nearly a decade in the making, Trump International Golf Links will finally open on the northeast shores of Aberdeenshire in the summer of 2012. The site is unquestionably spectacular, full of the same type of towering dunes that have made Royal Aberdeen a major championship and Walker Cup test. The sky is the limit for Trump Scotland, which to go with the Martin Hawtree-designed course will open a hotel, residences and spa, making a golf tour to the northeast coast -- where Royal Aberdeen, Murcar Golf Links and Cruden Bay all reside -- that much more appealing.
More photos
«
»
April 11, 2012
Brandon Tucker is the Managing Editor for Golf Advisor. To date, his golf travels have taken him to over two dozen countries and over 500 golf courses worldwide. While he's played some of the most prestigious courses in the world, Tucker's favorite way to play the game is on a great muni in under three hours. Follow Brandon on Twitter at @BrandonTucker and on Instagram at BrandonTuckerGC.