Modern marvels: Some of Ireland's best links aren't all that old

By
Jason Scott Deegan
,
Senior Staff Writer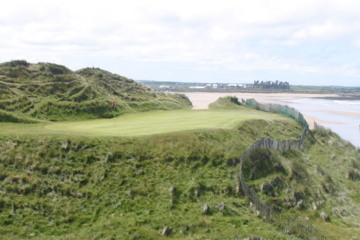 View large image | More photos
The 100-yard 14th hole at Doonbeg Golf Club is beautiful - and treacherous. (Jason Scott Deegan/TravelGolf)
Links golf has been an Irish tradition for what seems like forever.
It goes back to the 19th century when Royal Dublin was founded in 1885. Royal Belfast reigns as the oldest Irish golf club, founded in 1881, but the club in Northern Ireland is not a links.
Royal Portrush Golf Club was laid out as a nine-holer in Northern Ireland in 1888, long before Harry S. Colt designed the famous Dunluce Links in 1929. The Royal County Down Golf Club and Dooks Golf Club (both established in 1889); The Island Golf Club (1890); and Lahinch Golf Club and County Louth Golf Club (both 1892); Ballybunion Golf Club and Rosapenna Hotel & Golf Resort (both 1893); and Portmarnock Golf Club, County Sligo Golf Club and Portstewart Golf Club (all 1894) also qualify as ancient clubs that boast wonderful links.
These classic courses -- most have had their routings altered, been renovated or added new holes over the years -- remain timeless attractions.
Irishman Eddie Hackett ushered in a new era of links golf in the 1970s. Hackett helped three Irish clubs -- Donegal Golf Club, Waterville Golf Club and Enniscrone Golf Club -- create dynamic links at new sites littered with dazzling dunes.
Over the span of the past three decades even more modern-day links have been discovered along the coast.
Pat Ruddy carried on Hackett's tradition of an Irish-born architect who understands links golf better than most, but a foreign invasion led by Greg Norman, Robert Trent Jones Sr. and Arnold Palmer joined the fray as well.
Some of Ireland's best links have been designed after 1980. They are truly modern marvels.
Cashen Course at Ballybunion Golf Club
The 6,306-yard Cashen Course at Ballybunion, built in 1982, seems to divide golfers into a love-it/hate-it crowd. The only foray into links golf by RTJ Sr. continues to be somewhat controversial. The dunes and valleys of southwest Ireland are so severe in spots that some critics believe too many holes were shoehorned into the setting. Supporters say the wild ride complements the purity of Ballybunion's Old Course. Play them back to back for a wonderful 36-hole day of links golf to decide which team you support.
Tralee Golf Club
Even Palmer admits that "God designed the back nine" at Tralee Golf Club, which opened in 1984 in County Kerry near Ballybunion. This nine is widely hailed as one of the best loops in links golf (rivaling the front nine at Royal County Down). The yawning chasms at No. 12 and No. 13 are deep and deadly. The par-3 16th is called "Shipwreck" and crashes many a round. Don't discount the front nine, either. It boasts two epic challenges -- the par-5 second wraps around cliffs along the coast and the par-3 third features a green with a castle turret as a backdrop.
The European Club
Opened in 1992, The European Club launched Ruddy's fame, leading to a handful of successful future projects. The 20-hole routing just 30 minutes south of Dublin in County Wicklow feels balanced and thoughtful. Two extra par 3s allow players more opportunities for fun -- and disaster -- in the dunes. Railroad ties line the penal bunkers. If low-handicap players were given one links to play the rest of their lives, this might be it.
Carne Golf Links
Hackett's final gift to links lovers might be his best. Carne Golf Links opened its front nine in 1992 and back nine in 1993 to boost tourism in remote County Mayo in northwest Ireland. Golfers must work hard to find this place. The rewards are dunes as dramatic as Ballybunion and a more friendly welcome in the clubhouse.
Glashedy Links at Ballyliffin Golf Club
Dozens of new sod-walled pot bunkers line the fairways and greens of Ballyliffin's Glashedy Links, a 7,200-yard course designed by Ruddy and Tom Craddock in 1995 on the Inishowen Peninsula in the northern tip of Ireland. They were added the past two years to better define holes and defend par, although the narrow corridors through the dunes do just fine on their own. The layout climbs gloriously to the green of the par-5 13th hole for a great view of Glashedy Rock off the shore. The par 3s at No. 7 and No. 14 deliciously drop from elevated tees, demanding punch shots under the ever-present wind. A new irrigation system ensures that Ballyliffin remains among the best-conditioned links in the world.
Doonbeg Golf Club
Doonbeg Golf Club -- an original 6,911-yard, wind-swept links designed by Norman -- was cruel and unruly when it opened in 2002. Blind shots, excessive bunkering and rough and severely elevated greens devoured even the best of players. Improvements have brought the playability up to par with the gorgeous setting just south of Lahinch. Caddies help players navigate the blind tee shots at the par-4 second, par-5 13th and par-4 finishing hole and warn of the hidden pot bunker in the middle of the 12th green. The drivable sixth hole (it plays 285 yards from the white tees, where most players tee off) and the 451-yard par-5 13th hole are great for risk-reward. A wedge shot either finds the tiny shelf of a green or disappears into the dunes at the 111-yard 14th hole, one of the best short par 3s in the world.
Sandy Hills course at Rosapenna Hotel & Golf Resort
The Sandy Hills Course at Rosapenna in County Donegal in the northwest of Ireland is the perfect example of a modern links. There's no way such a course could have been cut through these heaving dunes back in Hackett's day. Ruddy did his best to tame the site, opening the course in 2003, but the trimming back of rough to make it more playable continues today. Much like Glashedy Links, Sandy Hills has built more bunkers to enhance corridors and shot lines among the dunes. At least 12 new bunkers have been constructed on the front nine within the past year and more will be added to the back nine in 2013.
More photos
«
»
August 21, 2012
Jason Scott Deegan has reviewed more than 700 courses and golf destinations for some of the industry's biggest publications. His work has been honored by the Golf Writer's Association of America and the Michigan Press Association. Follow him on Twitter at @WorldGolfer.