The toughest golf courses in Miami will have you shaking on the first tee
By
S. Adam Cardais
,
Contributor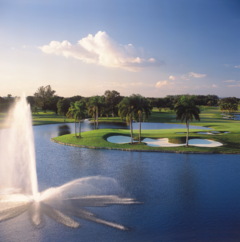 View large image | More photos
Doral's Blue Monster has been hosting PGA Tour events for 40 years. (Courtesy of Doral Golf Resort & Spa)
If you're looking to play some seriously difficult golf, the kind that makes your hands shake when stepping up to the first tee, Miami has just the ticket.
Just take a look at the name of its most famous golf course: The Blue Monster. The flagship of the Doral Golf Resort and Spa, this track has hosted PGA Tour events for the past 40 years. If it's tough enough to test the pros, just imagine what it will do to you (you might not want to know.)
And while the Blue Monster may be the toughest game in town, it isn't the only game in town. Miami has other courses that will make the hair on the back of your neck stand up.
Here's a bit more about the biggest ball busters in Miami ...
The Blue Monster at Doral Golf Resort & Spa
You know what they say, if it's tough enough to host the pros, it's tough enough for us mortal golfers. For the past 40 years Doral's Blue Monster course has been hosting PGA Tour events, making it one of the most televised courses in America.
Originally designed by Dick Wilson and restored by Raymond Floyd, the Blue Monster reopened in September 2006 after a four-month renovation project to prepare it for the WGC-CA Championship in 2007.
This 7,125-yard course with a 130-slope rating has many strategic bunkers, long fairways, undulating greens and some seriously thick rough, the most formidable feature of the track, according to golf writer Tim McDonald.
"Many first-timers try to play the Monster 'like the pros' - that is, they blast off from the tee," McDonald, who recently played the course, wrote in a story for TravelGolf.com. "Think again. Doral's difficulty lies in its thick Bermuda rough and bunker-and-water-squeezed landing areas. You must be long and accurate or - like the pros - wily."
Crandon Park Golf Course
This 7,180-yard track carries a slope rating of 129 from the black tees. Crandon Park Golf Course has extremely long tee boxes, and the wind also becomes a factor to be reckoned on many holes, according to McDonald.
Designed by Bruce Devlin, this municipal track is located on Key Biscayne, only a few minutes drive from downtown Miami. It's one of the best munis in the state, with a beautiful island environment. The course boasts seven saltwater lakes, vistas of the Miami skyline, and it is filled with palms and other tropical flora.
Great White at Doral Golf Resort and Spa
Greg Norman turned an uninteresting, 6,208-yard course into a challenging, visually impressive track when he was commissioned to redesign Doral's white course in 2000. The resulting Great White course is a 7,171-yard ball buster of a track, featuring palm tree-lined fairways, water on 14 holes and more than 200 pot bunkers, similar to the ones Norman grew up playing in Australia.
This course is so difficult golfers either love it or hate it, but it is the only other track at Doral that can hold a candle to the Blue Monster.
More photos
«
»
January 29, 2007