Gamblers will want to test their luck on the golf courses in Mesquite, Nevada

By Wes Gilbertson,
Contributor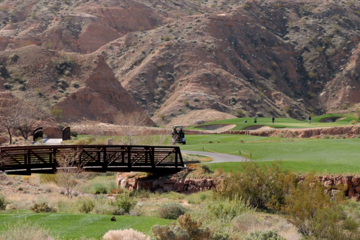 View large image | More photos
Lucking out once doesn't mean you're in the clear on the sixth hole at Conestoga. (Wes Gilbertson/TravelGolf)
MESQUITE, Nev. -- Las Vegas gets all the attention, but it's certainly not the only spot you can hit the jackpot in the Silver State.
Just a guess here, but chances are you're headed to Nevada for a dose of golf and gambling. Mesquite, located 90 miles northeast of Las Vegas and the site of the annual RE/MAX World Long Drive Championship, is a good bet for both, with more affordable green fees and lower table limits than you'll often find in Sin City.
So what's the risk? Before you belly up to the blackjack or poker table, get your adrenaline rush on the fairways and greens on some of Mesquite's best tests for the gambling brigade:
Conestoga Golf Club, hole 6
The sixth hole at Conestoga Golf Club could be compared to splitting a pair of sevens at the blackjack table -- lucking out once doesn't mean you're in the clear. Between the tee box and green on this 536-yard brute, you'll have to carry Abbott Wash three times. As long as you get some air under your drive, the first clearing should be no big deal. That's when the fun starts. Don't count your chips until you sink your last putt, because this hole has been known to deal big numbers.
Wolf Creek Golf Club, hole 7
The sports book doesn't pay the same for the so-called "safe bets." This is a long shot -- literally -- but you figure your driver can cover the spread. After all, the seventh green at Wolf Creek Golf Club is only 281 yards from the blue tees and the slope of the putting surface provides a bit of a backstop for big hitters. With a creek in front of the green, your partners are playing it safe. And you? You're a gambler, so tee it high and let it fly. The payoff could be an eagle putt.
Falcon Ridge Golf Club, hole 12
So your drive came up aces? That's a good start, but don't put away the poker face just yet. There is trouble lurking from start to finish on the 12th hole at Falcon Ridge Golf Club. Just like the best hand in a game of Texas Hold 'em has to survive the flop, the turn and the river to claim the pot, you'll still need to avoid water to the left, then water to the right, then drop your approach onto a narrow green before you get too excited about your luck on this 525-yard doozy.
Palms Golf Club, hole 7
Red or black. Odd or even. Success or splooosh. Just like playing the outside of the roulette table, it's all or nothing on the seventh hole at Palms Golf Club. This picturesque assignment stretches to 201 yards, with water waiting to swallow any shot that is either short or long, bringing the intimidation factor of an island green to these dusty desert surroundings. There's a wee bit of room to miss left and right, but you'll need to hit the dance floor to have any hope of a birdie.
Palmer Course at Oasis Golf Club, hole 8
The slot-machine selection at a casino is all about visual appeal. Just because it's easy on the eyes doesn't make it easy money. From an elevated launch pad, you'll probably want to snap a few photos before you tackle the 541-yard eighth hole on the Palmer Course at Oasis Golf Club. The scenery is spectacular, but with trouble on both sides of the fairway and a water hazard that wraps around the green, you'll waste a few coins -- or lose a few golf balls -- if you get distracted.
Wolf Creek Golf Club, hole 3
This assignment is basically a roll of the dice. They say some of the best odds in a casino are found at the craps table, so maybe a blind shot is your best chance at a birdie? From the third tee box at Wolf Creek Golf Club, all you can see are the edges of a couple of sand traps and the top of the flagstick. Consult the pin sheet, select a club that will cover the distance -- it's a 175-yarder from the blue tees, plenty challenging for most golfers at this notoriously tough set-up -- and try your luck.
More photos
«
»
October 22, 2013
Wes Gilbertson covers the NHL's Calgary Flames and writes golf features for Postmedia in Calgary, Alta. When the snow melts, he's living proof that thin mountain air doesn't turn everybody into a long-drive specialist. Follow Wes on Twitter at @WesGilbertson.