Marriott makes St. Kitts a Caribbean golf destination worth discovering

By William K. Wolfrum,
Contributor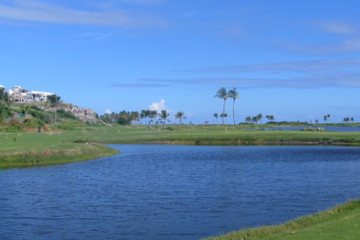 View large image
At the St. Kitts Marriott Resort and Royal Beach Casino, water will be a scenic and threatening companion for golfers. (Tim McDonald/GolfPublisher.com)
The Marriott Resort & Royal Beach Casino in St. Kitts is the driving reason why this little nation has gone from being a complete afterthought for golf travelers to a Caribbean golf destination many are willing to try. With a West Indies flavor, this golf resort offers something for everyone.
St. Kitts and its many fans like to promote this tropical playground as the last great undiscovered island in the Caribbean. It's a wonderful catchphrase, except for one thing: People keep discovering St. Kitts.
St. Kitts and nearby Nevis make up a two-island nation that has a seat at the United Nations. But, while Nevis is better known to those shifting money around - it's a popular home for offshore banking and has more than 9,000 offshore businesses (about one per resident) - St. Kitts is drawing tourists to its shores for another reason: the Marriott.
Having a long history as the center of the British sugar trade in the West Indies, St. Kitts is now out of the sugar cane business and is looking to make up the difference with its tourism industry. The island is looking for a long-term investment in its tourism infrastructure, with plans for more resorts, racetracks, casinos and golf courses.
St. Kitts harvested its final cane crop last year. The end of European sugar subsidies to African, Caribbean and Pacific states, coupled with the inefficiency of state-run sugar companies, caused a massive upheaval, as the crop once drove Caribbean economies.
But, while the plans are in the works to make St. Kitts as tourist-friendly as possible, there're still plenty of tourists who make their way to the this dazzling island. And it's the St. Kitts Marriott Resort & Royal Beach Casino that's bringing in those looking for golf, sun and fun. Here's a look at this St. Kitts gem.
St. Kitts Marriott Resort & Royal Beach Casino
The Marriott has hit a home run in St. Kitts, which is a driving reason why St. Kitts and neighboring Nevis have slowly gone from being a complete afterthought for golf travelers to a destination many are willing to try. With a West Indies flavor, the St. Kitts Marriott Resort & Royal Beach Casino offers something for everyone, from golfers who want the most spectacular scenery they can find to gamers who want to make themselves comfortable in the casino.
Eight restaurants and three lounges give visitors plenty of opportunity to try food and drink from the island, as well as more traditional fare. And the dining funnels right into the Royal Beach Casino. There you'll find popular poker games like Texas hold 'em, as well as a large variety of slot machines and video poker games and a spectacular sports and race book.
With so much offered in the resort, it might be tough to get out and about, but Royal St. Kitts Golf Club will have golfers enjoying the tropical island air. With its long-awaited renovation now complete, Royal St. Kitts has 18 holes of golf that will dazzle duffers.
The course opened for full 18-hole play in Nov. 2004, and now gives golfers the unique opportunity to play two holes of golf next to the Caribbean Sea and three holes next to the Atlantic Ocean.
Canadian golf architect Thomas McBroom was in charge of the redesign, and, while the course does have a links course feel, it can't overcome it's scenic Caribbean setting.
"Royal St. Kitts, laid out on a sandy peninsula, tries for a links-style feel; it's much flatter, and the experience with the sea and ocean is much more intimate: You can hear the roar of the surf in your ears, and you're likely to deposit one, two or several of your golf balls in salt water," TravelGolf.com's Tim McDonald wrote about the course.
Overall, the course plays to 6,900 yards from the back tees, and water hazards, bunkers and coconut palm trees add to the danger, giving the course a challenging 129 slope rating.
The time has never been better to visit St. Kitts, as the Marriott has consistently offered great deals to lure travelers, and golf packagers are always awaiting the chance to add this stellar location to a Caribbean golf package. To find out more about golf in the Caribbean, head over to CaribbeanGolf.com to get golf course reviews, features and more.
September 26, 2007
William K. Wolfrum keeps one eye on the PGA Tour and another watching golf vacation hotspots and letting travelers in on the best place to vacation. You can follow him on Twitter @Wolfrum.