Horse racing fans, don your golfer's hat while in Louisville during the Kentucky Derby

By
Brandon Tucker
,
Managing Editor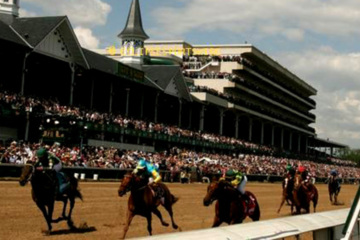 View large image | More photos
Place your bets at the Derby, and place your tee times on Louisville's many public golf courses. (Scott Serio/Eclipse Sportswire)
The city of Louisville knows a thing or two about being in the epicenter of the sporting universe.
Not only is it home to the Kentucky Derby every May; last fall it hosted the Ryder Cup Matches at Valhalla Golf Club (a former PGA Championship host).
The Derby and the Ryder Cup Matches have more than Louisville in common, though: namely, funny hats. Fans at the Ryder Cup sport colorful, huge hats from their home countries, while at Churchill Downs a woman feels naked without her flashy, traditional derby hat, known for their large brims and spring colors.
The Derby is also an ideal time of year for golf in Louisville. Temperatures in the spring are moderate, and golf course conditions are coming into their own.
Golf around Louisville
Valhalla is a private club owned by the PGA of America and by far the best course in town (especially when you've got 40,000 fans swarming the back nine on Ryder Cup Sunday). But if you don't have the hook-up here, there are other options both within Louisville and its environs.
Louisville is bordered by the Ohio River to the north and west, and just across the river in southern Indiana is the Horseshoe (formerly Caesar's) casino and hotel. It has a modern 18-hole course, Chariot Run, an equestrian-themed, championship course stretching more than 7,200 yards. As you'd expect with a Harrah's brand casino course out to attract the whales, the club boats tip-top amenities, including dazzling bent grass greens. Stay-and-play packages start at $230 a night.
Quail Chase Golf Club features 27 holes of well-manicured golf set in a wooded, parkland setting overlooking Lake McNeeley, and its fairways are lined with matured scotch pine, maple and oak trees. The David Pfaff design has five sets of tees, and Golfweek rated it No. 2 in the state in 2002. Green fees: $36-$42
Northeast of the city off Highway 71 in Prospect, Nevel Meade Golf Course is designed after the rolling heathland courses of Scotland, thanks to its rolling landscape, tall heather grasses and deep bunkering. Green fees: $31-$47
Louisville also has nine golf courses in its metro parks golf system. All are affordable, and some are quite good. Charile Vettiner Golf Course is minutes from the heart of town in a rolling, parkland setting. There have been some consistent improvements to the course in recent years. It plays to 6,905 yards, long enough to host some top state events, so it will challenge all skill levels. While hilly, the course is very walkable. Green fees: $15-$30.
Or head over to popular Seneca Golf Course, where Gary Player won his first U.S. tournament, in 1958 at the Derby City Open. Green fees: $15-30.
Louisville off-course: Urban Bourbon Trail
Kentucky is bourbon country, and whether you're toasting a big win at the track or in your foursome's nassau, you can celebrate on Louisville's Urban Bourbon Trail. Seven area bars participate, including some historic venues like the Old Seelbach Bar. (Find all trail venues at www.justaddbourbon.com)
If you're not necessarily a bourbon drinker, but are just looking for the best in Louisville nightlife, head to 4th Street, a historic area between Liberty St. and Muhammad Ali Blvd. downtown. There are loads of bars, restaurants, waterfront parks and much more.
French Lick Springs Resort
About 50 miles west of Louisville is the area's best golf resort, which has gotten significantly better in recent years thanks to new ownership reviving the once struggling hot springs town.
Today, the French Lick Springs Resort boasts a Donald Ross Course from the 1920s and a brand new Pete Dye Course, opened this spring.
The courses are shockingly different, with the Ross featuring pot-and-kettle style designs and many elevated tees and greens with fairways often well below. Dye's test is set on some of Indiana's highest ground and offers expansive views of the surrounding hillsides (Indiana is anything but flat this far south). The course can stretch to more than 8,000 yards.
Just be sure to save time to visit the natural hot springs, or book a spa appointment at the reopened West Baden Springs Hotel. Thanks to its massive dome, the hotel has one of the all time great lobbies.
More photos
«
»
April 27, 2009
Brandon Tucker is the Managing Editor for Golf Advisor. To date, his golf travels have taken him to over two dozen countries and over 500 golf courses worldwide. While he's played some of the most prestigious courses in the world, Tucker's favorite way to play the game is on a great muni in under three hours. Follow Brandon on Twitter at @BrandonTucker and on Instagram at BrandonTuckerGC.