Laughlin, Nevada is growing into a great town for golfers

By
William K. Wolfrum
,
Contributor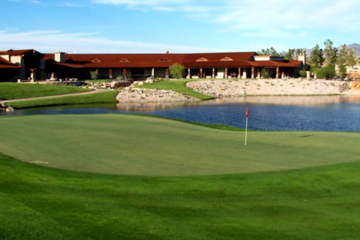 View large image
Laughlin Ranch Golf Club is rated one of America's top upscale courses by Golf Digest. A second, resort-style track is in the works. (William K. Wolfrum/TravelGolf)
You can still see Don Laughlin walking through his Riverside Resort, more than 40 years after a fateful airplane flight took him over this region straddling the borders of California, Nevada and Arizona.
It was in 1964 that Laughlin bought up this land by the Colorado River. Since then he's watched as it took on his name and developed into an area of seemingly limitless growth. With high temperatures, great golf, river fun and waterfront casinos, Laughlin has become a top tourist destination as well as a place where snowbirds flock to escape the colder climates come winter.
Laughlin is due for more courses in the years to come, but there's plenty here already to challenge golfers - yet another thing of which the ever-present Don Laughlin can be proud.
Top Laughlin golf courses
If you want to see the future of Laughlin-area golf, look no further than Laughlin Ranch Golf Club. Located a stone's throw from the Colorado in Bullhead City, Ariz., this golf course has been drawing raves since its 2004 opening.
Named one of the top upscale courses in America by Golf Digest, Laughlin Ranch comes in at a healthy 7,155 yards from the tips with a 73.9 course rating and 132 slope. Ninety bunkers, water in play on several holes and plenty of wide-open and out-of-bounds desert spaces give visitors solid test.
"There are a lot of elevation changes," Assistant Professional Paul Carr said. "It can be as hard or easy as you want; you just need to know your limitations."
The undulating greens run fast and difficult - expect your round at this scenic beauty to feature a few 100-feet-plus. A second course with a more resort-golf feel is in the works.
Mojave Resort Golf Club, about 10 minutes from downtown Laughlin at the Avi Resort, offers excellent conditioning, scenic views and a course that's playable for golfers of varied skill levels.
Designed by Pete Dye associates Brian Curley and Grant Haserot, Mojave is a strong play running about 7,000 yards from the tips. The slope rating is a relatively friendly 126, but there are 80 bunkers to get in your way. A resort course it may be, but the 18th here will challenge any golfer, with two forced water carries to negotiate (hence the hole's name - "Doublecross").
Just about 10 miles from the Laughlin "strip" is El Rio Country Club, another scenic course sporting a Matt Dye design. Captivating mountain views will dazzle golfers, and the finishing three holes will test whether you brought your game.
Desert Lakes Golf Course in Bullhead City is a throwback track that comes in at just over 6,500 yards and a 119 slope rating, Desert Lakes combines solid conditioning with tree-lined fairways for golfers looking to enjoy a day in the Arizona sun.
Also worth playing
Bullhead City offers a some other highly playable options in Chapparal Country Club and Riverview Golf Course. If you're willing to travel a bit, make the 45-minute drive to Needles, Calif., where you'll find one of Southern California's better munis, Needles Municipal Golf Course.
February 9, 2007
William K. Wolfrum keeps one eye on the PGA Tour and another watching golf vacation hotspots and letting travelers in on the best place to vacation. You can follow him on Twitter @Wolfrum.