Las Vegas is a blast for a bachelors' golf trip
By
S. Adam Cardais
,
Contributor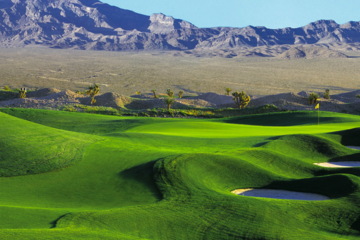 View large image
Challenge your buddies to a long-ball contest at the 7,604-yard Wolf course at Las Vegas Paiute Resort. (Courtesy Las Vegas Paiute Resort)
Single guys are looking for three things in a bachelors' golf weekend: world-class courses, great restaurants and bars, and plenty of opportunities to see women in tight clothing.
Las Vegas has all three, in droves. Whether you want to spend the whole time trying to out-drive your buddies on monster tracks such as the Wolf course at Las Vegas Paiute Resort or play a quick nine before heading to the Playboy Club, Sin City will not disappoint.
To make sure you make the most of your next buddies' trip to Las Vegas, here's a quick guide to what to do on and off the course.
Las Vegas golf courses
The Wolf at Las Vegas Paiute Resort: Looking to prove yourself the big man of the trip? Look no further.
Nevada's longest course at 7,604 yards, the Wolf boasts an equally whopping 149 slope rating, making it arguably Sin City's toughest track. Maniacal course architect Pete Dye had fun here, filling the Wolf with swales, fake fairways, alternate landing areas and uneven lies.
"They should never have let Pete Dye loose in the desert," Tim McDonald wrote in a LasVegasGolf.com review. "[The Wolf] brings out the darkest side of Dye … so treacherous, it's almost mystical."
Badlands Golf Club: Feeling a little rough after a long night out? Why not play nine?
Badlands has three short tracks. Outlaw is the newest, and reputedly the easiest. The combined Desperado/Diablo is reckoned one of Vegas' most challenging 18s, a Johnny Miller/Chi Chi Rodriguez collaboration with a 133 slope rating.
Las Vegas National Golf Club: Built in 1961, Las Vegas National is true Vegas old school, but the place wouldn't have survived this long without having something to offer.
Las Vegas National "is anything but a tired track," TravelGolf.com's Chris Baldwin asserted. "This is the kind of place Frank Sinatra and Bob Hope would love, with towering palms trees, green as far as the eye can see and lakes spread around. It's about as desert-looking as San Diego."
Las Vegas restaurants
Picasso, Bellagio: This is a meal you can brag about back home. Master chef Julian Serrano serves French-Mediterranean cuisine in a four-course tasting menu for $90 a person and a five-course Chef's Degustation for $100.
SW Steakhouse, Wynn Las Vegas: SW Steakhouse is a great place to go for a prime cut of meat. Chef David Walzog, a three-time nominee for the James Beard/Perrier Jouet Rising Chef Award, offers a unique twist on the classic American steakhouse.
Going out in Las Vegas
Playboy Club, the Palms: Opened late last year, this is Playboy Enterprises' first new club in 20 years. Filled with dozens of Bunnies, the Playboy Club is a must-see for any bachelors' party in Vegas.
Hooters Casino Hotel: Hooters filled a casino with its amply endowed employees. 'Nuff said.
March 14, 2007