Las Vegas' toughest golf courses will eat up all your luck
By
S. Adam Cardais
,
Contributor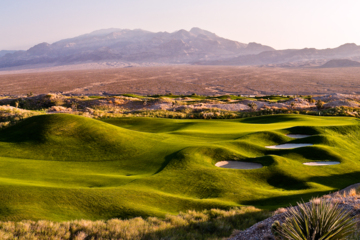 View large image | More photos
Las Vegas Paiute Golf Resort's Wolf Course is Vegas' ball-buster of ball-busters. (Courtesy of lvpaiutegolf.com)
In a town called Sin City, you know there's got to be some devilishly difficult golf around.
Just look at the names of some of Las Vegas' premier golf courses: the Wolf, Badlands, the Falls. You know you're in for trouble.
Indeed, the craps table isn't the only place in Vegas you're liable to be reduced to a dribbling spectacle. The town has golf courses that could rival any in the nation in difficulty. If you're feeling lucky, or just plain masochistic, check out these stifling Vegas golf courses.
Las Vegas Paiute Golf Resort - Wolf Course
Lumbering in at 7,604 yards (the longest golf course in Nevada) with a 149 slope rating, the Wolf Course at Las Vegas Paiute Golf Resort is Vegas' ball-buster of ball-busters. You can bet legendary hacker-tormenter Pete Dye had fun here.
"They should never have let Pete Dye loose in the desert," Tim McDonald wrote in a LasVegasGolf.com review. "[The Wolf] brings out the darkest side of Dye, probably the most controversial golf course architect of his time. The course is so treacherous, it's almost mystical."
TPC Las Vegas
You'd better be comfortable shooting over canyons if you want to play TPC Las Vegas. This Bobby Weed layout is replete with forced carries.
"This is a course where you can run through ProV1s like they're range balls, racking up an astronomical hidden round charge," Chris Baldwin wrote at LasVegasGolf.com. "Five holes in and you're already starting to wonder when the tests of manhood are going to stop."
Additional, subtler challenges - numerous small ravines and bushes, elevated greens as likely as not to spit back your best approach shot - add to the likelihood TPC Las Vegas will put you in your place.
Badlands Golf Club
Representing two-thirds of the 27 holes at Badlands Golf Club, the Desperado and Diablo tracks will indeed leave you desperate and bedeviled. (The newest of the club's nines, the Outlaw, is considered a mite tamer.)
Co-created by Johnny Miller and Chi Chi Rodriguez, this 18, just shy of 7,000 yards with a 133 slope, "can only defined as the ultimate in target golf," according to Doug Saunders' review.
"The target is there in front of you, all green and inviting, but to miss the mark sends your ball off to the dramatic wasteland of arroyos, crevices and rock-strewn desert expanses."
The Falls
Measuring 7,250 yards from the blacks with a 136 slope rating, The Falls Golf Club in Lake Las Vegas is easier to handle than Dye's torture chamber at Las Vegas Paiute Golf Resort, but not much.
The Tom Weiskopf design is one of the most ambitious and visually intimidating in town. Dramatic elevation changes present beautiful views of the Vegas skyline, and lightning-fast greens and some serious bunkering will test all your skills.
More photos
«
»
January 8, 2007