A quick guide to planning your Las Vegas golf vacation
By Ian Lenton,
Contributor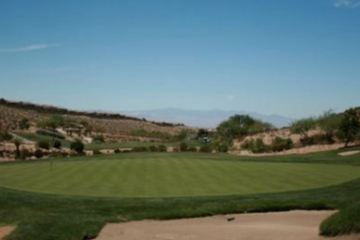 View large image | More photos
The Lexington Course at Revere Golf Club winds through valleys and upwards with some great views from most tee boxes. (Courtesy of Revere G.C.)
Carefully planning out a vacation to Las Vegas is not what this freewheeling city is all about. Folks come here to gamble after all. But with so many varied choices, the odds of you lining up tee times at Las Vegas golf courses or checking into a hotel room that just doesn't suit your needs can be quite high. So your best bet is to buckle down and do a little pre-trip planning so you'll be sure to enjoy Sin City.
Las Vegas golf courses
A little out of town but well worth the trip, the newer of the two Primm Valley golf courses, the Desert Course, was designed by Tom Fazio to be desert in name only. Created to be fun but challenging from the start, the par-4 first with an extremely narrow fairway and water hazard will keep you on your toes.
If you are not on a high already, Revere Golf Club's Lexington Course will take you there. Built 1,000 feet above the city, the course winds through valleys and upwards with some great views from most tee boxes.
Old school Las Vegas is very evident at Las Vegas National. This course is a reminder of vintage Las Vegas and a pleasing round of golf.
Las Vegas hotels
Cool and comfortable, Treasure Island Hotel has great variety in its accommodation. Rooms are available with views over the Vegas Strip or even panoramas from all corners of the hotel, through to an 1,800-square-foot luxury penthouse.
The rooms at the Rio All Suite Hotel are not the reason why you stay there. Don't get me wrong, they are pretty good, but everything that's happening downstairs is pure vacation. Check out the tiny kilt skirts in the Tilted Kilts bar.
Do you want to feel like you are in Europe when visiting Sin City? Paris Las Vegas, right on the strip, surrounds you with decor reminiscent of the city of Love, complete with a replica Arc de Triomphe.
Las Vegas dining
Located at the magnificent MGM Grand in Las Vegas, Wolfgang Puck Bar and Grill features a contemporary menu that's inspired by everyone's favorite grill foods.
If you can imagine a combination for burger, then Burger Bar in the Mandalay Bay Mall has got it, and some you probably can't imagine. You can spend anywhere from $14 to over $60 on a burger here so choose carefully.
Off the Strip and in the Hyatt Regency Hotel, Japengo offers Pacific-Rim inspired cuisine including a full sushi bar with some items flown in daily.
Mon Ami Gabi is a very reasonable French bistro offering better food than many of the $300 a dinner type spots. They have also avoided falling into the touristy stereotype of some of their competitors.
If you don't want to blow all of your money on your first meal, avoid going to Bradley Ogden's and its overblown reputation.
Clubbing in Las Vegas
If you have brought your dancing gear, then take the tunnel of light to Rain Las Vegas in the Palms and arrive above the shooting fountains.
Mix with the likes of Paris Hilton at Pure in Caesars. This huge club over two stories has an outdoor area overlooking the Vegas strip.
Coyote Ugly has the bar dancing girls and liquor shots to go with them. Low cover charge and dress code lets you party straight from the golf course if you're up to it.
Now you have the tips, it's up to you to make the most of your time in Vegas. So many options, so little time and it doesn't have to cost you the earth.
More photos
«
»
July 3, 2006