Playing nine in Las Vegas: Beat the heat and get back to the tables
By
S. Adam Cardais
,
Contributor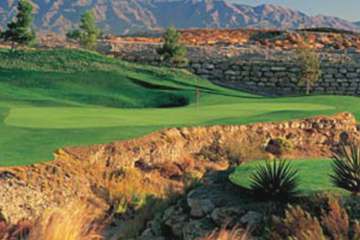 View large image | More photos
Short doesn't mean easy: Badlands Golf Club's nines are considered to offer some of Las Vegas' toughest golf. (Courtesy of Badlands G.C.)
Nine might not be a lucky number on the craps tables in Las Vegas, but it is on the golf scene.
Nine-hole tracks may be out of fashion elsewhere, but Vegas serves up a handful of top-rate clubs catering to short-round golfers. Badlands Golf Club and Black Mountain Golf and Country Club both have three sets of nine, offering players an alternative to five hours in the blistering Nevada heat.
If you're in the mood to break away and blaze your own trail, here are a few of the best nine-hole golf courses in Las Vegas.
Badlands Golf Club
Badlands Golf Club, a 27-hole collaboration between Johnny Miller and Chi Chi Rodriguez offers some of Vegas' toughest play, especially on the original Desperado and Diablo nines (the newer Outlaw course at Badlands is considered a bit tamer).
"The original [tracks] can only be defined as the ultimate in target golf," Doug Saunders wrote in a LasVegasGolf.com review of Badlands. "The target is there in front of you, all green and inviting, but to miss the mark sends your ball off to the dramatic wasteland of arroyos, crevices and rock-strewn desert expanses."
Boulder Creek Golf Club
Opened in 1993, Boulder Creek Golf Club aimed to be nothing less than the best municipal golf course in the country. The three Mark Rathert-designed nines offer different experiences: Desert Hawk is laid out along the rolling desert terrain, Coyote Run boasts wide, spacious fairways and Eldorado Valley will give long players a challenge.
Another upside to Boulder Creek is the price tag: In a region where a round can run you $500, green fees here are around $50.
Black Mountain Golf and Country Club
Located off the Strip in Henderson, Black Mountain Golf and Country Club opened in 1959 with a single nine. The original Founders course was soon supplemented by the Horizon.
The Desert Nine, added in late 2002, is a target-style track considered the most difficult of the three. No. 4 on the Desert Nine, with its narrow fairway and many well placed bunkers, may be the club's most popular hole.
More photos
«
»
September 25, 2006