Kauai Island in Hawaii has great golf, unbeatable resorts

By Joel Zuckerman,
Contributor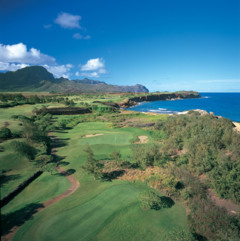 View large image | More photos
An aerial view of the coastline holes at Poipu Bay, one of Kauai's most spectacular courses (Courtesy of Poipu Bay Golf Resort)
In terms of Hawaiian golf, you can't get more remote - or more beautiful - than Kauai Island, a small tropical paradise rich with lush jungles, towering cliffs and bottomless canyons. The northern most of the Hawaiian islands (and only little Niihau is more west), it might take some effort to get here. But as our correspondent writes, you'll be glad you did, as Kauai's world class golf is second to none.
Kauai Island in Hawaii might be privately held, populated only by native Hawaiians and virtually bereft of visitors, but that should not stop the adventurous golfer looking for some of the best golf resorts in Hawaii.
Kauai Island is 552 square miles of tropical paradise comprised mainly of lush vegetation, brilliant foliage, towering cliffs, seemingly bottomless canyons and 90 miles of coastline. No wonder Kauai's nickname is the Garden Isle. You might also consider it the Golf Isle.
Magnificent championship golf courses dot the landscape, dazzling golfers with their seaside beauty and inherent challenge.
Here are some of the best of Kauai Island golf resorts.
Princeville
Princeville is the northernmost resort complex on this circular island. It's also at the top of the golf food chain, primarily because of the heart-stopping challenges of the Prince Course.
Not for the faint of heart, the Prince sprawls over nearly 400 acres of ocean bluff plateau, encompassing tropical jungles, deep gullies, pristine streams and waterfalls. It chugs uphill, careens downhill and leapfrogs dark, foreboding ravines.
Designed by Robert Trent Jones, Jr., most players will feel more like Indiana Jones, negotiating all manner of exhilarating, sometimes terrifying terrain. It's an exceptionally memorable test of the game, the finest on Kauai.
Less stringent in its demands but nearly as entertaining is the Makai Course. Closer to the resort proper, the 27-hole facility is comprised of three separate 9-hole tracks whose names are self-explanatory: The Lakes, Woods and Ocean. The Ocean, no surprise, is the dazzler. The seventh in particular, a long par-3 over a gaping chasm, the turquoise Pacific waters churning below, is the most memorable and thrilling of all 45 holes at the unforgettable Princeville complex.
Poipu Bay
Poipu Bay has long been the host of the most exclusive professional golf tournament in existence, so restrictive in its requirements it makes the Masters look like an open audition. This 18-hole seaside beauty sits on 210 manicured acres adjacent to the Grand Hyatt Kauai Resort and Spa, with its dramatic open-air lobby looking out to the Pacific.
Laid out by Robert Trent Jones Jr. between lush mountains and rugged ocean bluffs, with 30 acres of vibrantly landscaped tropical plants and flowers, it's one of Hawaii's most colorful, not to mention enduring, golf venues.
So is its roster of champions. Once-and-future Hall-of-Famers named Woods, Norman, Crenshaw, Els, Lehman, Mickleson and Furyk have all tasted victory at Poipu Bay, as from 1994 through 2006 the course played host to the annual PGA Grand Slam of Golf, open only to the winners of that season's four Major championships.
Kauai Lagoons
Kauai Lagoons is testament to the expertise of the great Jack Nicklaus. The Bear struck Gold on this 750-acre parcel on the island's southeast corner. The attention-getter is the Kiele Course, teetering above Nawiliwili Harbor, dotted with 40-acres of freshwater lagoons.
There are a dozen scintillating holes at the very least. But the one-shot gauntlets at the fifth and 13th, where the ball must soar over mango forests and roiling ocean, respectively, walk an indelible line between exhilarating and unnerving.
The understudy, for lack of a better term, is the Mokihana Course, something of a tropical links, with open fairways and few forced carries. Individually they are delightful, but in tandem make up one of the finest multi-course complexes in the Pacific.
Puakea
Architect Robin Nelson designed Puakea, and it's a true strategic challenge. It was initially a 10-hole truncation thanks to Hurricane Iniki, which halted course development in mid-stream and wreaked havoc on the local economy, forcing the golf course to change hands before completion.
But the completed layout debuted in 2003 and it is better for the delay. This is because Nelson used the knowledge he gained from playing the existing 10 holes -- more than 20 times before the final eight holes were completed -- about the prevailing winds and other course idiosyncrasies to tweak his original design and integrate this information for a more strategic set-up.
The inward nine is more remote and spectacular, with a series of tough par 4s, varying length par 3s and some slam-bang par 5s, the split-fairway 11th, in particular.
More photos
«
»
April 30, 2007
Joel Zuckerman is based in Savannah, Georgia and Park City, Utah. He is the author of five books, and his golf and travel stories have appeared in more than 100 publications around the world, including Sports Illustrated, Golfweek, Travel+Leisure Golf, Continental and Golf International.