Two years later, look what's new with the golf and resorts on Kauai

By
Brandon Tucker
,
Managing Editor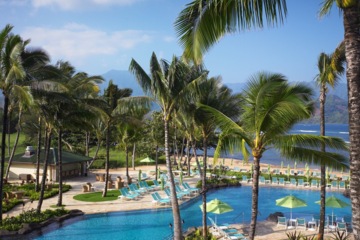 View large image | More photos
The Princeville Resort has reopened as a St. Regis brand hotel and features a new pool. (Courtesy of St. Regis Princeville Resort)
I visited Kauai two springs earlier, so why go back so soon?
First, no sane man turns down the opportunity to go play golf in Hawaii for a week.
Second, a lot has changed on Kauai. Residents of the slower, less developed island like to keep its growth at a minimum. Buildings aren't allowed higher than palm trees, and when new developments are proposed, they go through the gauntlet before gaining approved.
So rather than build new, properties often elect to rebuild, renovate and enhance. It's happened a lot in the past two years. If you haven't checked out Hawaii's Garden Isle, here's a rundown of finished projects and the golf courses and resorts that remain as works in progress.
Makai Golf Club at St. Regis Princeville returns to full operation
The most significant upgrade in Kauai golf, the new Makai Golf Club underwent renovations in conjunction with the upgrade of the St. Regis Princeville Resort. The golf course closed two of its three nines for 18 months to redesign and reseed the seashore paspalum, which yields a faster, year-round playing surface. While lower handicaps once had their way with Makai, it now plays more than 7,200 yards, and many of the green surroundings were toughened and enhanced.
The old clubhouse was bulldozed and replaced with a temporary structure. The golf course is also waiting on its order for GPS systems in the golf carts and sprinkler head markings, set for installation by the summer of 2010.
St. Regis Resort Princeville
A Starwood property, the Princeville Resort upgraded to St. Regis brand hotel -- Starwood's highest classification -- the first of its kind in Hawaii. The resort's great North Shore setting remains intact. From the outside, the building doesn't look much different. Balconies overlook the Napali Coast out to Bali Hai and its own secluded beach.
A Hawaiian motif replaced the white marble of the lobby, and the property added dining venues with fresh menus. Guest rooms received upgrades, redecorated with new appliances, showers and bedding.
Guests of the St. Regis can receive free, luxury transportation to nearby Hanalei Bay, the beach shops and the two Princeville golf courses.
Kauai Lagoons Golf Club and Kauai Marriott move along
Work on the Ritz-Carlton Residences at Kauai Lagoons is on hold -- evident by the abandoned construction site near the oceanfront 16th tee on the Kiele Course. The golf courses at Kauai Lagoons Golf Club have remained in transition for a few years now. Of the original 36 holes, you can currently play an 18-hole route. It consist of the Kiele's front nine, the original, three-hole closing stretch, plus six holes from Mokihana, also a Nicklaus design of a slightly more forgiving, open style.
The golf club hopes to resume renovations in the summer of 2010 and revive the signature, par-3 13th hole at the Kiele, add length and unveil a new No. 14 along the coast by 2011.
Next door, the Kauai Marriott Resort has also upgraded its guest rooms, which now feature new, contemporary décor and LCD televisions. And unlike the other resorts on the island, the Marriott hasn't lost its coffee makers that feature Kauai coffee. Free WiFi is also available in public areas.
Poipu Bay Golf Course closes for renovations
Poipu Bay Golf Course closed April 1, 2010, to join the paspalum turf revolution in Hawaii. Some smaller tweaks to the golf course are also planned, though it's nothing compared to the complete redesign of the Makai Golf Club.
Poipu Bay is set to reopen Jan. 1, 2011.
Grand Hyatt remains under renovation
As Poipu Bay stays closed for the rest of 2010, the Grand Hyatt next door renovates its guest rooms one wing at a time.
Accommodations have improved from two years ago with the installation of LCD TVs, but the resort is set for a full renovation that began in the spring of 2010. The bathrooms top the list of projects -- entirely redone with marble counters and rain-style showers. Some rooms will feature walk-in showers, while others will include a bath-shower combo.
All work is expected done by 2011.
Kukui'ula development and golf course on Kauai's South Shore
Near the Grand Hyatt on the South Shore, a new outdoor shopping mall, Kukui'ula Village Mall, features a variety of shops and restaurants on the coast. It's also home to the popular Merriman's restaurant, which also offers locations on Oahu and Maui and specializes in farm-to-table, sustainable ingredients, heavy in fish, of course. For drink, try the specialty island cocktails or something from the 1,000-bottle-deep wine cellar.
The Kukui'ula development plans a Tom Weiskopf-designed golf course, which has moved forward with construction. Six holes are complete, and the layout may open for play before 2011.
More photos
«
»
May 14, 2010
Brandon Tucker is the Managing Editor for Golf Advisor. To date, his golf travels have taken him to over two dozen countries and over 500 golf courses worldwide. While he's played some of the most prestigious courses in the world, Tucker's favorite way to play the game is on a great muni in under three hours. Follow Brandon on Twitter at @BrandonTucker and on Instagram at BrandonTuckerGC.