Jacksonville, Florida golf vacations on three different budgets

By Mike Bailey,
Senior Staff Writer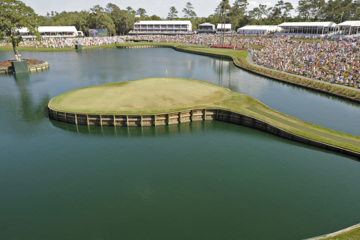 View large image | More photos
The Players Stadium Course at TPC Sawgrass is the ultimate golf experience in the Jacksonville area. (Chris Condon/Getty Images)
JACKSONVILLE, Fla. -- They call it Florida's First Coast of Golf, and with good reason.
The PGA Tour is based here, as is the World Golf Hall of Fame. And with more than 30 golf courses to choose from in a 75-mile stretch that includes Amelia Island, Clay County, Jacksonville, Ponte Vedra Beach, St. Augustine and Flagler County, golfers have a wide selection.
Like most areas, of course, that variety also comes with many price points. Fortunately, you don't have to spend a lot for a Jacksonville-area golf vacation. But if money is no object, this is a pretty good place to be as well.
Here are three sample itineraries for golf in the Jacksonville area on three different budgets:
Jacksonville-area golf on a high-end budget
This is easy. If money is no object, and especially if you've never played there before, the destination is TPC Sawgrass in Ponte Vedra Beach. The home of The Players Championship, the Players Stadium Course at TPC Sawgrass has really become an American classic and should be on the bucket list for American golfers.
This Pete (and Alice) Dye creation has only gotten better with time, and it's a great test for serious golfers. Known for perhaps the most famous par 3 in golf, the island-green 17th suggested by Alice Dye, it's an experience golfers never quit talking about -- no matter how they played.
Even better, though, the golf experience doesn't end there.
Dye's Valley Course at Sawgrass, which is home to a Nationwide Tour event, is pretty salty as well and recently underwent a renovation. And if you stay at the Sawgrass Marriott, you have six more golf courses you can play, including Sawgrass Country Club, a terrific Ed Seay design that hosted The Players from 1977-1981.
The Sawgrass Marriott Resort and Beach Club is also located just a few minutes from the spectacular 77,000-square-foot, Mediterranean-style clubhouse at TPC Sawgrass. The clubhouse, which sort of doubles as a museum for the PGA Tour and its Championship, has tons of memorabilia and artwork displayed throughout. There's a terrific happy hour and fantastic dining. The same holds true for the Sawgrass Marriott, which features several excellent restaurant options, a full-service spa, comfortable modern rooms and suites and a beach club right on the Atlantic.
If you've already done the TPC Sawgrass, a good alternative for the high-end traveler would be the five-diamond oceanfront Ponte Vedra Inn & Club. The golf courses, which include the Ocean Course and Lagoon Course, have undergone recent renovations, and they're pretty spectacular in their own right. And be sure to take in the spa at this century-old luxury resort. It's an experience you won't want to miss.
And if you're looking for a couple more fine-dining options, try Marker 32 in Jacksonville Beach or Medure's in Ponte Vedra.
Jacksonville-area golf on a mid-range budget
Jacksonville is an underrated city with its waterways, shopping, restaurants and views, so why not rent a car, stay downtown and venture out to the great variety of daily-fee courses the area has to offer.
A good base would be the Hyatt Regency Riverfront. Set along the St. Johns River within the heart of the city's business, entertainment and sports districts, the Hyatt is adjacent to the Jacksonville Landing, a hotspot for dining and entertainment, and within minutes of famous white sand beaches. Among the dining options is the Cafe Nola in the MOCA Museum.
From there, it's an easy drive out to Amelia Island Plantation, which offer several good courses, including the Pete Dye-designed Oak Marsh Course. You could also try the private and unique Palencia Club in St. Johns County, bookable through Florida's First Coast of Golf (www.florida-golf.org).
Jacksonville-area golf on a value budget
The value golfer needs clean and comfortable accommodations, but nothing fancy. After all, it's about the golf, the dining and the entertainment options more than where you stay.
A great choice here would the Comfort Suites at World Golf Village in St. Augustine. From there you could head up to the Champions Club at Julington Creek or Windsor Parke Golf Club. You also have the courses at World Golf Village, which are often discounted during the offseason (summer, early fall).
For the best crab cakes in the area, check out Barbara Jean's in Ponte Vedra. And be sure to check out the Murray Brothers Caddyshack at World Golf Village for dinner or drinks. It's right across from the World Golf Hall of Fame (another must for first-time visitors) and packed full of history. Owned by actor Bill Murray and his five brothers, the inside of the joint is full of memorable photographs of the family and memorabilia from the movie, "Caddyshack."
More photos
«
»
September 8, 2011
Mike Bailey is a senior staff writer based in Houston. Focusing primarily on golf in the United States, Canada, the Caribbean and Latin America with an occasional trio to Europe and beyond, he contributes course reviews, travel stories and features as well as the occasional equipment review. An award-winning writer and past president of Texas Golf Writers Association, he has more than 25 years in the golf industry. Before accepting his current position in 2008, he was on staff at PGA Magazine, The Golfweek Group and AvidGolfer Magazine. Follow Mike on Twitter at @MikeBaileyGA and Instagram at @MikeStefanBailey.