Jackonsville is a perfect place to play top 'designer' golf courses
By
S. Adam Cardais
,
Contributor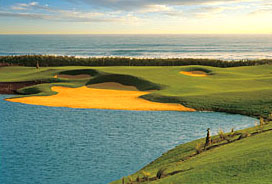 View large image | More photos
Jack Nicklaus built elevation into the tees and greens to create beautiful ocean views at the Ocean Hammock Golf Club. (Courtesy photo)
Jacksonville isn't yet a big name golf destination like Palm Springs or Scottsdale, but there are plenty of "big name" courses there.
All of the famous golf course architects, from Pete Dye to Jack Nicklaus, have tracks in Jacksonville. The city even has something few others can claim: a design collaboration between two of the greatest names in golf, Nicklaus and Arnold Palmer, in the King & Bear.
Regardless of who your favorite designer is, you'll find their work in Jacksonville. Here are some of the best "brand name" courses to check out.
Jacksonville's big name course
King & Bear: This course has two of the greatest names in golf attached to it in Nicklaus and Palmer. Located in the World Golf Village, the course is also said to be one of the few true collaborations between great golfers. Arnie and Jack reportedly walked the layout together and even played it together. The result is a course with aspects of both men, particularly their power.
"That this is a 'driver's' course should come as no surprise as both Palmer and Nicklaus wielded awesome power games in their primes," Derek Duncan wrote in a review for GolfFlorida.com..
Stadium Course at the Tournament Players Club at Sawgrass: This Pete Dye-design is home to The Players Championship every year, where they face three of the most difficult finishing holes in golf. This shouldn't be a surprise, as Dye is the man behind the track.
The Stadium Course is full of tricks, turning good shots into 'what the hell happened" shots. This makes precision a must. It also means you'll have to keep your cool.
"[T]he character of the Stadium Course isn't found in the hazards themselves but rather in how the player reacts to the trouble that will inevitably come," Duncan wrote. "It takes a stout constitution to remain level-headed when a good play ends up in a bad spot."
Ocean Hammock Golf Club: Designed by Jack Nicklaus, this course ranked first in TravelGolf.com's Jacksonville Top-10, and Links Magazine named it a modern classic.
Nicklaus built elevation into the tees and greens to lift them above the dune line for better ocean views.
"The results are breathtaking," Duncan wrote. "The six holes created along the dunes that offer unfettered views of the Atlantic Ocean are as inspiring as any in Florida. Only the most jaded and spoiled of golfers will not appreciate the beauty this massive land rearrangement has afforded."
Creek Course at Hammock Dunes: Rees Jones was able to do something in the Creek Course that few designers can: upstage Tom Fazio, the legendary golf course architect who designed Hammock Dunes other track.
Opened in 2003, the 7,355-yard course is built on a beautiful stretch of land in a conservation zone, so there isn't a house anywhere in site.
The setting is stunning, with marsh and creek views complimenting the cypress and slash pine trees growing on the course.
More photos
«
»
November 1, 2006