Planning next year's Ireland vacation? Here are some can't-miss golf courses to play

By
Brandon Tucker
,
Managing Editor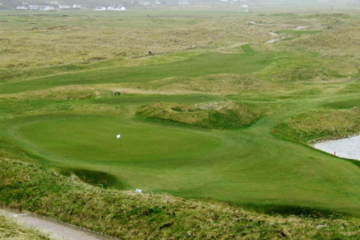 View large image | More photos
Groups in search of the undiscovered will want to start in Ireland's northwest region and remote Ballyliffin. (Brandon Tucker/WorldGolf.com)
It's never too early to plan your next Ireland golf vacation. From the northwest and Ballyliffin to Northern Ireland's Royal County Down, here are some tips on hitting the best golf courses in Ireland.
So your group has finally made the difficult choice between Scotland, Ireland, England and Wales for your once-in-a-lifetime links golf trip next year.
After careful consideration, you've chosen to follow the flow of Guinness to the Emerald Isle. We don't blame you. Ireland will knock anyone's socks off.
But the decision-making isn't over yet. For the most jam-packed Ireland golf tour, you'll want to narrow the itinerary down to one region.
Though it's hard to go wrong anywhere in Ireland, we've compiled four snapshots of what to expect from each of Ireland's four main regions. Most golf tour operators usually combine at least two regions, but sticking to one will minimize driving and maximize the golf and off-course activities.
Golf in Northwest Ireland
Pros: Ireland's most rural region, the northwest is also the most rapidly growing tourist spot, though still well undiscovered versus the rest of the Emerald Isle. This is where golfers return from their trip boasting of spectacular courses off your buddies' radars.
Recent additions to the Northwest include new non-stop flights to West Knock Airport from the east coast, and over €500 million is being invested over the next few years to develop the region further. Jack Nicklaus and Jim Engh are also currently building courses.
The Northwest also holds spectacular value. The best golf courses here are €50-80, much lower than the €150-300 range you'll find in other parts.
Cons: Driving can be an adventure on some of the most primitive roads, and the names here lack the star-power found in some other regions. The golf is just as good, you're just not going to see the pros on TV in these parts ... for now.
Top golf courses: Ballyliffin, Enniscrone, Rosses Point, Carne, Connemara.
Golf in Northern Ireland
Pros: There is no better one-two punch for links golf than Royal County Down and Royal Portrush in any region in the world, but Northern Ireland's headliners are complimented by some lesser-known gems along the way, and a very stunning A1 coastal route that features natural wonders like Giants Causeway and the Carrick-a-rede rope bridge.
Cons: Northern Ireland's currency is the British pound, which for American travelers can mean it's a little more pricy than the euro when factoring in meals and hotels (though given the euro's gaining strength, the difference is becoming pennies). But it can be more difficult finding cheap flights to Belfast from North America versus Shannon and Dublin airports.
Top golf courses: Royal County Down, Royal Portrush, Portstewart, Castlerock, Ardglass.
Golf in Southwest Ireland
Pros: This is the most popular region for golf tours in Ireland, and it should be. You'll find a trail of Eire's most revered courses. Ballybunion and Lahinch are historic, definitive links on striking dunesland as good as Mother Nature can create.
There are some modern gems too, like the jaw-dropping Old Head on a south coast promontory, Greg Norman's Doonbeg and Tom Fazio's redesign of Waterville.
Cons: Being the most trafficked region also means the Southwest can often be the most touristy. Some groups complain about running into too many other Americans in pubs - rather than the Irish themselves. These links are also usually the most difficult and most expensive to book.
Top golf courses: Ballybunion, Waterville House & Golf Links, Tralee, Lahinch Golf Club, Old Head, Doonbeg.
Golf in Dublin, Midlands
Pros: Making your hub Ireland's capital is a no-brainer for those groups out there looking to sight-see or get a little rowdy in one of countless pubs in town. The Midlands are also home to some of the isle's most prestigious parkland venues.
The Midlands are Ireland's most populous region, which also means you'll find a hidden gem around every corner.
Cons: If you're staying in the city center, it's still going to take a good hour or more to drive to many of the links south of Dublin. The dunesland is also in many places not as dramatic as the jaw-dropping spectacles to the north and west.
Top golf courses: The European Club, K Club, Portmarnock, Mount Joliet, Druids Glen Golf Club.
More photos
«
»
November 30, 2007
Brandon Tucker is the Managing Editor for Golf Advisor. To date, his golf travels have taken him to over two dozen countries and over 500 golf courses worldwide. While he's played some of the most prestigious courses in the world, Tucker's favorite way to play the game is on a great muni in under three hours. Follow Brandon on Twitter at @BrandonTucker and on Instagram at BrandonTuckerGC.