Hidden gems are sprinkled through the Irish countryside

By
Jason Scott Deegan
,
Senior Staff Writer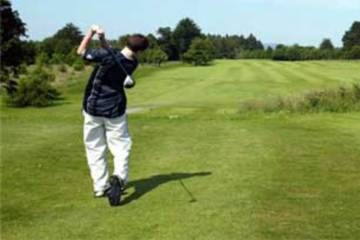 View large image
History comes alive at Dundalk Golf Culb, which celebrated its 100th anniversary in 2005. (Courtesy Photo)
Expectations can be a dangerous thing. When a golf course or resort lands one of those coveted rankings or awards, it has to live up to its new, lofty status. And sometimes, it just doesn't happen.
That's why some of the best things in life are surprises. No hype, no expectations, just a great play or stay. And with more than 400 courses, Ireland is full of surprises. Here are a few within a short drive of Dublin.
Golf almost plays second fiddle at Ballymascanlon House Hotel in Dundalk - it was one of the last amenities added to this country estate-turned-resort that also offers an indoor pool, sauna, fitness gym, Jacuzzi and outdoor hot tub.
The 5,763-yard, par-68 course, designed by the popular Irish duo of Pat Ruddy and Tom Craddock, isn't a championship layout, but it has personality and charm. There's just one par 5, but you'll remember arduous par 4s like the 415-yard 18th.
One of the many treasures on the course is the 4,000-year-old Proleek Stone. Scholars and scientists alike are still puzzled as to how the ancient inhabitants managed to raise a 46-ton capstone to rest on two fragile-seeming support stones.
History comes alive at Dundalk Golf Club, which celebrated its 100th anniversary in 2005. The course has made many changes over the last century, starting with a redesign by the legendary Irish architect and five-time British Open champ James Braid in 1934.
"We've done a lot the last five years to pull up our standards," club President Aubrey Halley said. "For the centennial celebration, we rebuilt this place. We have a new kitchen, new bar, new ladies locker room."
Four holes stand out. The recently renovated par-5 seventh plays to a new green tucked behind water. The par-4 eighth climbs uphill to a green hidden behind two dunes. A harrowing tee shot at the par-3 No. 9 must find an elevated green stuffed between two trees; it's almost like kicking a field goal. The short par-4 14th requires a blind tee shot over a massive hump in the fairway.
Founded in 1894, Mullingar Golf Club also has a history of perseverance and change, moving five times before finding its home among the hills of Belvedere.
If your score suffers on what looks like a docile 6,478-yard layout, don't feel bad: It's tough enough to host the Mullingar Scratch Trophy, which has a history of identifying up-and-coming Irish players. Past winners include Darren Clarke in 1989, Paul McGinley in 1991 and Padraig Harrington in 1994.
Set on 530 acres of rolling County Wicklow pastureland, Rathsallagh House Hotel and Golf Club offers elegant rooms and a spa to complement the 7,200-yard Christy O'Connor Jr./Peter McEvoy course, which rambles around trees and over creeks. The dining hall serves country cooking, specializing in fresh fish and game.
Rathsallagh gets little attention because of its remote setting, but it's a true destination any seasoned traveler will find memorable. The same goes for the grounds surrounding Ballymascanlon, at the foot of the Cooley Mountains. If golf is your chief concern, Mullingar and Dundalk are the best of the four courses.
August 22, 2006
Jason Scott Deegan has reviewed more than 700 courses and golf destinations for some of the industry's biggest publications. His work has been honored by the Golf Writer's Association of America and the Michigan Press Association. Follow him on Twitter at @WorldGolfer.