Innisbrook Resort and Golf Club's Copperhead course: Not just for the pros on the PGA Tour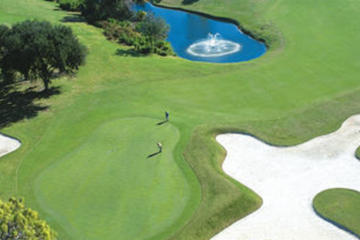 View large image | More photos
Each March the PGA Tour pros come to Innisbrook to take on the Copperhead course. (Courtesy of innisbrookgolfresort.com)
PALM HARBOR, Fla. - We amateurs don't usually need the pros to tell us which golf courses to play. After all, we play a different game than the pros.
But, sometimes it's instructive to hear what they have to say. This is what they've said about the Copperhead course at the Innisbrook Resort and Golf Club, the most famous of the venerable golf resort's four courses.
"If I could only play one course the rest of my life, it would be Copperhead," said Curtis Strange. "It has that much character."
And this, from 2008 U.S. Ryder Cup captain Paul Azinger: "Copperhead is the best course we play on tour."
What's great is that the Copperhead is a course the mid-handicapper can play and have as much fun as the pros. Just as important, the average Joe can play Copperhead and not get beat up, unlike many PGA Tour layouts.
What everyone will enjoy, pros and hacks alike, is the sheer beauty of the place. The Copperhead course is laid out on tree-lined, rolling terrain that is atypical in this part of Florida, so close to the Gulf of Mexico. There are no homes around to mar the beauty of the graceful routing that unfolds languidly through terrain that might remind you of the Carolinas; at one point, the course reaches 70 feet.
You will all see all sorts of Florida wildlife, like alligators, fox squirrels, and exotic wading birds like the blue heron.
None of this is to say you won't take your lumps at Copperhead if you don't focus. Copperhead isn't a particularly difficult driving course, but if you're off, you can land in some nasty rough, even when it isn't grown high during the resort's annual PGA Tour PODS Championship.
Also, Copperhead puts a premium on shots after your tee ball, more so than many other championship layouts.
The course has some very interesting green complexes that can be challenging to negotiate. This is one of those golf courses where just hitting the green often isn't enough. You have to hit to the correct section. The greens are almost always fast and firm.
As with most courses that achieve the level of renown the Copperhead course has, there is great variety, the kind that keeps you eager to return. You can expect uphill and downhill tee shots, approach shots over water hazards and various options to the greens.
"Each hole is birdie-able," said mid-handicapper Pat Farrell. "But, you can also make bogey or double-bogey. Like when I'm out here a lot, I'll par a different hole every day. It's hard to get up and down if you don't put the ball in play. That's true of most courses but especially here."
At 7,340 yards from the back tees, Copperhead is one of the best golf courses in Florida and one of the finest resort courses in the country. But, it isn't resting on its laurels. Officials here like to keep the course updated, especially for the pros. They added church pew bunkers along the right fairway at No. 18 several years ago, and there are ongoing beautification projects.
The course was built in 1974 from a design by Larry Packard.
More photos
«
»
September 15, 2008