Reggie Bush, diverse golf call So. Cal's Inland Empire home

By William K. Wolfrum,
Contributor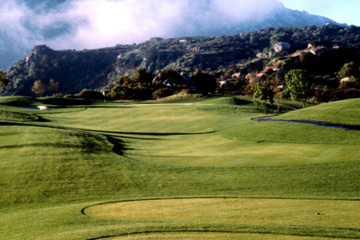 View large image
Temecula Creek Inn brings resort golf to the Inland Empire with a fun, challenging Ted Robinson design. (Courtesy Temecula Creek)
Inland Empire has long been known as a powerful economic force in Southern California, but golfers are still finding out about the great golf options offered in this area that consists of the mammoth San Bernardino and Riverside counties.
Located an hour east from Los Angeles and huge geographically, the Inland Empire is two-thirds the size of the state of Connecticut and has a population approaching four million. Heisman Trophy winner and New Orleans Saints No. 1 draft pick Reggie Bush is one of the big names that call the "IE" home.
Of course, several impressive great golf courses call the "909" (the normal phone area code for the Inland Empire) home, here's a look at a few of the area's standouts.
Inland Empire must plays
Empire Lakes Golf Club was designed by the great Arnold Palmer and does little to hurt the master's reputation. Built around three lakes, this course presents forced carries over water throughout, as well as bunkers and a rustic feel. A stop on the Nationwide Tour it's also a bargain (like the vast majority of Inland Empire courses) where normally $75 or less will have you on course.
Oak Quarry Golf Club was built around an abandoned rock quarry located in the Jurupa Mountains of Riverside. But there's nothing rocky about this course designed by Dr. Gil Morgan. Voted the "Best Course in Inland Southern California" by the Riverside Press-Enterprise, Oak Quarry is more than 7,000 yards from the tips with a challenging 137-slope rating.
Redhawk Golf Course advertise itself with the tagline "Where only the strong survive," and they take the motto seriously. Located in the bucolic town of Temecula, Redhawk was named a "Must Play" in 2004 by Golf Digest, and presents players with a seriously challenging run that measures 7,217 yards from the tips with a 149-slope rating.
"Beautiful, almost perfect conditions. Wait till you see the practice green. Very, very challenging golf test with a few tricky holes. Worth the trip, " wrote Gary Martin of New Jersey after visiting the course.
More Inland Empire favorites
Temecula Creek Inn has 27 holes designed by Dick Rossen and Ted Robinson. It's a resort run that gives more diversity than anything, with the three nine-holes matching up for three interesting runs that will play from about 6,600 yards from the tips with slope ratings hovering around a worthy 130.
Oak Valley Golf Club has taken its place as the Southern California PGA Section course in Beaumont.They could hardly have chosen better, as Oak Valley offers 72 holes designed by former Pete Dye associates Lee Schmidt and Brian Curley.
"[Oak Valley is] the best course I've played in the area by far. Everything was perfect except the greens were slick as ice. Great terrain though and very scenic," wrote Jeff Stanners of Redlands, Calif.
Sierra Lakes Golf Club was also designed by Robinson, a So. Cal favorite. Located in Fontana (which is even closer to Los Angeles and down the street from the Ontario International Airport) Sierra Lakes as a course to pull out the driver and fire away, as Robinson gave golfers wide fairways to take aim at. Beware, however, as Robinson also had fun with water placement, and you'll be fishing your balls out of the drink if you let yourself get mesmerized by the stunning views of the nearby San Gabriel Mountains.
Trilogy Golf Club in Glen Ivy is La Quinta's sister course, and is one of the IE's and Robinson's most recent runs, and is noted for outstanding condition and low green fees.
August 16, 2006
William K. Wolfrum keeps one eye on the PGA Tour and another watching golf vacation hotspots and letting travelers in on the best place to vacation. You can follow him on Twitter @Wolfrum.