Gift ideas: Give your golfer cheap thrills and small vices this holiday season

By
Kiel Christianson
,
Senior Writer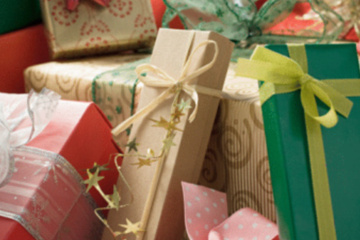 View large image | More photos
Not sure what to buy the golfer in your life this holiday season? Kiel Christianson has you covered. (Getty Images)
When I was a kid growing up on a small farm in Minnesota, my dad was fond of saying: "Learn to enjoy the cheap thrills in life, because we can't afford the expensive ones."
Given that the economy still has a serious case of the yips, I think the old man's advice is especially apt this holiday season. Arguably the only good thing about a recession this deep is that diversions like golf and minor vices - like, well, golf - that we may take for granted during better times become all the more exquisite during tough times.
Here is a list of ideas for feeding your favorite golfers' vices without losing an arm (and a leg) in the process.
Gluttony
Golf doesn't require us to ingest things that are bad for us, but it is one of those rare sports that is conducive to having a drink and a smoke while playing it.
Gentleman's Vice (gentlemansvice.com) is a 5-in-1 divot repair tool that has a built-in cigar cutter and holder, and even comes in a pouch that clips onto your golf bag. ($20, plastic; $25 stainless steel)
The newest offering from Johnnie Walker is the limited edition Johnnie Walker Black Label Centenary Pack ($50) to celebrate the 100th anniversary of this pioneering blend. Housed in black glass with the iconic label etched in gold, it'll make double-bogeys feel like pars after a couple of drinks.
Lust
There are two excellent new volumes of what I like to call "golf porn:" coffeetable books packed with lurid photos of sumptuous courses that most of us will probably never play. The first is "Planet Golf USA" by Darius Oliver (Abrams, $60), which is billed as "the definitive reference to great golf courses in America." Golf courses are grouped geographically, and feature succinct yet insightful thumbnail descriptions of the nation's best super-private and proudly public courses alike.
If your lust isn't satiated by that, check out "Golf's Dream 18" by Dave Barrett (Abrams, $50). This is a mouth-watering compendium of "fantasy courses comprised of over 300 golf holes from around the world." You'll be perfectly happy to ignore the misuse of "comprise" when your eyes behold money shots from composite courses composed of "Scenic Holes," "Historic Holes," "Holes Anyone can Play," "Bunkerless Holes" and many more. Reading this book is like being surrounded by supermodels from around the world. Oh, baby!
Anger
Ideally, anger should stay off the golf course. But should you have to throttle your opponent, you want to be sure he can't slip his pencil-neck out of your steely grip. The Xtensor (thextensor.com, $40) is a fitness aid aimed at strengthening the extensor muscles and tendons in your hands, forearms and elbows. It makes you feel a bit like Wolverine when you put it on, but the reversible bands that fit around the tips of your fingers while you extend them really do seem to provide a good workout.
The idea is that flexing the extensors counteracts the repetitive motion of gripping the club and will, somewhat couterintuitively, allow you to regulate your grip tension more effectively. Who knows, perhaps the Xtensor could have helped Tiger hold onto the steering wheel a bit tighter?
Envy
Maybe your golfer's swing will never be the envy of the rest of the foursome, but he or she can still turn heads just by looking great on the course. When everyone else is sweating like Craig Stadler in a 5K race, Antigua's Desert Dry Lite line (Antigua.com, $45-$65) will wick away moisture like no other high-tech fabric.
For the even more phasion-phorward, the new Canadian company Phresh (phreshwear.com, $50-$70) delivers ultra-light and super-comfy apparel featuring earthy colors such as clay, crystal, maize and orchid anchored by classics such as navy, white and black. This palate is presented in asymmetric patterns and weaves to make some of the most unique threads on the links.
Pride
We've all had Tin Cup moments, as our pride drives us to try again and again to clear a distant pond or simply get off the tee without going OB. Any golfer is thrilled to get new golf balls, just to be ready for the next time pride takes hold of our game. KnetGolf.com offers possibly the best deal on reclaimed golf balls anywhere, allowing you to arm your prideful golfer to the teeth with like-new balls at a fraction of the cost of new.
If you must buy new balls at a great value, Nike's Crush ($30) and Pinnacle's new Exception ($25) are excellent all-around balls.
Greed
Some of us are forced to be greedy about our golf: we want to squeeze every possible round out of our short seasons or busy schedules. On days when the weather isn't ideal but still playable, the Sun Mountain Monsoon jacket ($85) and pant (sunmountain.com, $65) feature windproof and waterproof microfiber shells with taped seams and Teflon coating for waterproof protection and taffeta lining for comfort.
Keeping your feet dry is definitely one of life's small pleasures, and the Nike Zoom Bandon shoes ($176) is the undisputed champion waterproof golf shoe on the market. It features a waterproof outer shell that reaches all the way up past your ankle and magnetic zipper sheaths to keep moisture out of the laces.
Sloth
Finally, the bane of golfers everywhere: We're too lazy to practice, too lazy to take lessons and often - in the U.S., anyway - too lazy to walk. Perhaps you can gently lead your golfer out of his or her sloth-like habits with the Sun Mountain Micro-Cart ($200). This stable, 4-wheel, ultra-light (13lbs) push/pull cart folds down to amazingly small dimensions yet saves room for a drink holder and compartment perfect for cigars (see "gluttony," above).
Finally, for fans of tour events who don't like to stay on their feet or carry bulky chairs around, the Sherpa Chair (sherpachair.com, $30) is a comfy seat with built-in shoulder straps so you can wear it like a backpack.
More photos
«
»
December 9, 2009
Kiel Christianson has lived, worked, traveled and golfed extensively on three continents. As senior writer and equipment editor for WorldGolf.com, he has reviewed courses, resorts, and golf academies from California to Ireland, including his home course, Lake of the Woods G.C. in Mahomet, Ill. Read his golf blog here and follow him on Twitter @GolfWriterKiel.