Golfers of all ages celebrate aces with fathers, sons and friends
By Staff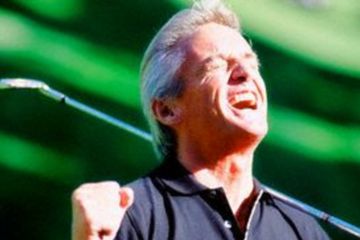 View large image
Getting an ace is a golfer's biggest thrill, especially when it happens near family and friends. ()
Ah, the hole in one, life's great equalizer. For golfers, getting an ace is the type of thing that can keep them in a good mood for the next 12 months or longer. It can be replayed in the mind over and over again, and the story can be retold endlessly, regardless of whether friends and family are tired of hearing about it. And most wouldn't trade their ace for a round playing with Tiger Woods.
At WorldGolf.com, people from all over the world tell us about their aces. Here are some of their stories, told by the happy duffers themselves, once again showing why the hole in one continues to be one of the most interesting, exciting and unexplainable occurrences in all of sports.
First one with father, second one with son
I hit a hole in one on September 5, 1986 while playing with my father. It was at Hard Labor Creek Golf Club, hole number 3, 132 yards. I hit an eight iron. My father and I were able to see the ball hit and bounce twice before rolling into the hole. On August 6, 2006 I hit my second hole in one while playing with my son. I am teaching him to play and was on a par 3 course, hole number 1. The hole is 117 yards, I hit my sand wedge and the ball did a slam dunk into the hole. My son and I were able to see the entire shot. Tore the hole up. What a blast!
Marty V. Holmes,
River Pines Golf Club,
Alpharetta, Georgia
Hole No. 1, 117 yards, using a sand wedge
A very Happy Easter
This was on Easter Sunday and on a mandatory wave-up hole. There were people eating brunch and they all got quiet when we were teeing off. This was also a water hole so I decided to put my Callaway ball in my pocket and hit a Nike ball. As I addressed the ball, my friend Bill informed me that Ii was aiming slightly to the right. I made a small adjustment and took a deep breath and let it rip. It was one of the straightest drives I've ever hit. I thought it was only going to be a good drive and it hit about a foot behind the hole and spun backward and went in. This had to happen in front of Bill and Marty my two golf buddies. I wouldn't trade this for a round with Tiger!
Efrem Hawkins
Trilogy Golf Club,
Corona, California
Hole No. 9, 177 yards, using a Callaway X-18 4 iron
First ace at 74
I'm a 74 years old who has been golfing since the age of 60. This is a really dream come true as I have never thought this accomplishment to be possible. I was golfing with a group of seniors called the Geezer's and I am the first Geezer to attain this goal since we have been golfing together which has been about seven years. I used a Top Flight ball and was wearing a pair of Footjoy shoes. I am still in shock, what a thrill.
Danny A. Davis
Black River Country Club,
Port Huron, Michigan,
Hole No. 15, 150 yards, using an Adams Tight Lie Fairway 5
First ace at 9
Skyler Young, age 9, hit a hole in one today golfing with his dad. Beginning his second 18 holes for the day on the first tee he hit 110 yards. It hit the fringe on the green, bounced to the left and rolled in the hole. Skyler has been golfing since he was 4 and without one lesson he has the makings to become a champion golfer. People stop and watch him when he golfs. This junior golfer is good. He is a natural. His dream is to become a pro golfer.
Skyler Young
Lakeside Village Golf Course,
Fayetteville, Arkansas
Hole No. 1, 110 yards, using a 6 iron
October 25, 2006