Hilton Head's toughest golf courses are sure to raise your blood pressure
By
S. Adam Cardais
,
Contributor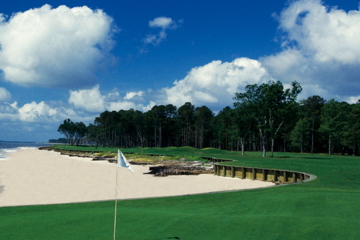 View large image
The Melrose Course at Daufuskie Island Resort boasts beautiful ocean views and a testing Jack Nicklaus design. (Courtesy photo)
One thing many people love about Hilton Head Island is its isolation from the workaday world. Life is slow and relaxed on the island, making it a great place to decompress from the mainland bustle.
But just because life is easy here doesn't mean the golf is. Hilton Head has some seriously difficult courses, headed by the 146-slope-rated Harbour Town Golf Links.
If you're in the mood to mix a little challenge into your "get away from it all" vacation, Hilton Head will test you to the limit. Here's a quick guide to some of the island's toughest tracks.
Harbour Town Golf Links: A Pete Dye-Jack Nicklaus co-design, this 6,973-yard run is known as a course for precision golfers. Its par-4 No. 18, famed for stunning views of the Harbour Town lighthouse, is considered one of the toughest holes in golf.
If you need more convincing, Harbour Town hosts the PGA Tour's annual Verizon Heritage and has been ranked the No. 1 course in South Carolina by Golf Magazine.
Arthur Hills Course at Palmetto Dunes: Playing to 6,651 yards with a 132 slope rating, the Hills course might seem less daunting than Harbour Town on paper. But according to Kip Bowers of Hilton Head Golf Travel, "This is thought to be the toughest course around."
No. 17 is marked as a No. 4 handicap but might as well be a No. 1. With a dogleg left around a lagoon to a water's-edge green, this hole even managed to trip up Tiger Woods.
"Legend has it that Tiger Woods attempted to drive the green from the 380-yard blue tees during the Rolex Amateurs, only to have his tee shot roll off the front of the green and into the water," Shane Sharpe wrote in a review for HiltonHeadGolf.com.
Melrose Course at Daufuskie Island: Designed by the Golden Bear himself, this 7,081-yard track has a 138 slope rating from the championship tees, one of the highest in Hilton Head. Its No. 18 could test the nerves of the calmest of golfers, as the green sits on a peninsula that juts into the Atlantic.
The Melrose Course is more than just an instrument of torture, however. Golf Digest has ranked it among North America's top 75 tracks.
Old Tabby Golf Links: Located on Spring Island just a few miles outside Hilton Head, Old Tabby is an Arnold Palmer design. The track is 7,004 yards from the tips, with a formidable 139 slope rating.
If you're looking for challenge, look no farther than the No. 17 Arnie signature. Ranked third in the "King's Dream 18," it's a thin strip of dark green fairway abutted on both sides by marshland.
The 17th is just one of the challenges Old Tabby throws at you. Palmer himself put it best: "You better bring your 'A' game."
January 24, 2007