Hilton Head's celebrity golf courses put you near greatness
By
S. Adam Cardais
,
Contributor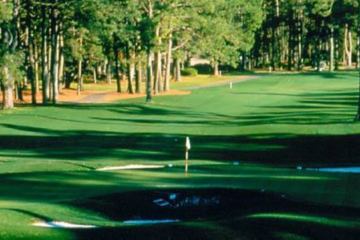 View large image
Pete Dye's design at Harbour Town Golf Links at Sea Pines Resort may have been influenced by his golfing wife. (Courtesy photo)
As a golf vacation destination, Hilton Head Island has never been about quantity: It's only got 20 or so courses. But those few tracks have some of the biggest names in course design attached to them.
Hilton Head is a great place to play courses by celebrity designers, from the fearsome Pete Dye to the Golden Bear, Jack Nicklaus. The standout on the island is their collaboration, Harbour Town Golf Links, yearly home of the pros and famous for its picturesque lighthouse views on No. 18.
But many other tracks here sport celebrity signatures. If you're looking to get close to golf course design greatness, give these Hilton Head golf courses a play.
Country Club of Hilton Head: Designed by Rees Jones, this is one of the most beautiful courses on the island, especially on the bank nine. No. 12 might just be Hilton Head's most scenic hole, with a panoramic vista of the Intracoastal Waterway and Skull Creek.
Hampton Hall Country Club: One of the newer courses in the area, this Dye project is already winning respect. Typically for the architect, Hampton Hall is long (7,489 yards), but it's uncharacteristically toned-down for a Dye, challenging but still accommodating.
That said, the greens are tricky in the usual Dye fashion, with severe sloping and undulation. The conditioning is top-notch.
Harbour Town Golf Links: This Dye/Nicklaus teaming is the mother of all Hilton Head designs, relatively short (6,973) but with a treacherous 146 slope rating.
Annual host of the PGA Tour's Verizon Heritage tournament, Harbour Town has been ranked the No. 1 South Carolina golf course by Golf Magazine. It's known as a precision course, and the par-4 18th is considered one of toughest holes in golf.
Old Tabby Golf Links: Designed by the King himself, Arnold Palmer, Old Tabby is a private club on Spring Island with some truly memorable holes.
The No. 17 Arnie signature ranks third in the "King's Dream 18." It's a thin strip of dark green fairway abutted on both sides by marshland. When it comes to playing Old Tabby, Palmer put it best: "You better bring you're 'A' game."
February 15, 2007