Hilton Head golf courses offer something for everybody

By
William K. Wolfrum
,
Contributor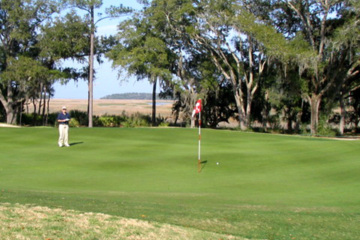 View large image
Crescent Pointe Golf Club won't kill you with distance, but it requires concentration. (Tim McDonald/WorldGolf.com)
Much like its neighbor Myrtle Beach, Hilton Head Island is one of those golf destinations that's truly a golf destination.
Sure, Orlando, Las Vegas and Phoenix-Scottsdale are dream golf trips for players, but those are places known as well, if not better, for other attractions. If you're on Hilton Head Island, you're probably there to golf.
Oh, there's other stuff to do on and around the island, most of it outdoorsy. But just saying the name "Hilton Head" brings to mind coastal golf courses designed by the masters of golf architecture.
It's the diversity of designers who have carved out courses here that makes Hilton Head a place golfers at all levels can appreciate, from the scratch golfer to the high-handicapper. Here are some of the brilliant Hilton Head golf courses everyone can admire.
Arthur Hills at Palmetto Dunes Golf Course: Named for its architect, the Hills golf course at Palmetto Dunes makes just about everyone's Hilton Head must-play list.
The only dissenters might be those who consider the driver to be a golfer's chief weapon. At 6,651 yards the course will challenge your mind as much as your body. Hills has you shooting around trees and over creeks, lagoons and wetlands - and doing it for less than you might expect.
"Great value for the money, we almost felt like we were stealing," wrote Paul Hughes, who paid $59 to enjoy this classic run. "A beautiful course that was very difficult but a fair test of golf. Breathtaking views and perfect weather combined to make a fantastic round."
George Fazio at Palmetto Dunes Golf Course: The Hills' sister course also has its share of fans.
"Very enjoyable and varied track. Probably challenging and fun to virtually any level of golfer. The air-conditioned golf carts were wonderful," wrote 25-handicap Greg Elkins.
Crescent Pointe Golf Club: This Bluffton, S.C. course, a product of Arnold Palmer's design company, combines challenge and fun. While it plays to a modest 6,673 yards from the back tees, Crescent Pointe's plethora of bunkers and rolling terrain will keep players' attention.
"Despite its perils, Crescent Pointe still manages to be very playable," Tim McDonald wrote in a GolfCarolina.com review. "I suspect that's because it requires such concentration. It forces you to focus."
Old South Golf Links: Another Bluffton track, Old South features a Clyde Johnson design, fair green fees and some scenic views of the Intracoastal Waterway. Playing to about 6,700 yards from the tips with a 129 slope rating, Old South is a course where a 1-handicapper and a 25-handicapper can both shine.
"I played several courses in the area after they had been recently aerified, and not only was Old South in the best condition, it was the only course offering a discount," WorldGolf.com blogger Spencer Hux wrote in a recent post. "The Clyde Johnston layout is very playable but challenging enough for anyone."
Golf Hilton Head
Tee times: 800-767-3574
Click here for Hilton Head golf packages.
March 14, 2007
William K. Wolfrum keeps one eye on the PGA Tour and another watching golf vacation hotspots and letting travelers in on the best place to vacation. You can follow him on Twitter @Wolfrum.