Picking Best of Hawaii in 2002 is no easy task

By
Dale Leatherman
,
Contributor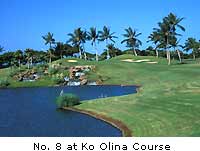 HONOLULU - There are few places on Earth as perfect for golf as Hawaii, with its dramatic topography, ideal growing conditions for lush green fairways and flowering vegetation, and balmy weather year-round. One could wish that it were a bit closer to the mainland, but that would be downright greedy. It's well worth the trip to have access to more than 80 courses on six idyllic islands, with locations ranging from upcountry rainforests to coral sea cliffs and sandy beaches.
Most of the island courses would be in the running for "best view" because the Pacific Ocean is a constant backdrop almost any time you climb above sea level. Naming other "bests" is much harder, because the world's greatest golf architects have long been at work here, creating course after course that demands superlatives. However, in an informal poll of duffers and island golf professionals, some names do come up time and again. Here they are: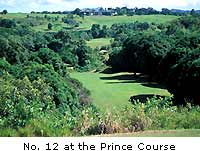 Best Golf Course - Princeville's Prince Course on Kauai's beautiful North Coast is top dog (most golf publications agree on this) and seems likely to stay there. Robert Trent Jones, Jr. created an Indiana Jones-style golf adventure here, with a track that plunges up and down through the jungle, teeters along sea cliffs and dodges natural and manmade hazards such as lava outcroppings, waterfalls and more than a few bunkers. It is one of the toughest tests in the state.
Best Remodeling Effort - Trent Jones, Jr.'s Makena South reopened in 2002 after a facelift and continues to be a Maui favorite as well as one of the top 10 Hawaii courses, according to Golf Digest. The Makena Golf Club (South and North courses) is on the island's less windy south shore, and Makena South is particularly peaceful and uncrowded. Holes 12 through 16 loop down to the shore, where they overlook a beautiful stretch of beach. Also notable is the conversion of the greens at Ko'olau (Oahu) to Salaam Seashore Paspalum.
Best Golf Resort - The Fairmont Kea Lani on Maui is Hawaii's only all-suite oceanfront resort. Even the one-bedroom suites are 840 square feet - roomy, airy and beautifully appointed, with balconies or verandas overlooking a beautiful stretch of beach or a series of swimming pools connected by foliage-shrouded slides.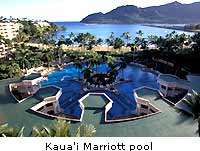 The hotel is a short distance from three of the island's finest courses - Wailea Gold (home of the Senior Skins Tourney), Emerald and Blue (an LPGA venue). There are many contenders in this category, including Manele Bay on Lanai, Mauna Lani on the Big Island, Hyatt Regency Kaua'i, and the Kaua'i Marriott, with its stunning 26,000 square-foot swimming pool (largest in the islands) and two Nicklaus courses.
Best "Beauty and Beast" Course - Ko'olau Golf Club on Oahu. One of the top three courses in Hawaii, this beauty is as tough as it gets - and you can take home the "World's Most Challenging Golf Course" tee shirt to prove it. The slope is 162 - off the charts by USGA standards. With one forced carry after another, the course is a scorecard killer, but the ride is unforgettable. Rumpled mountain ranges tower over Ko'olau, a 7,310-yard, par-72 trek through three distinct climate zones.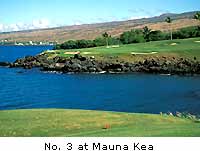 Most Memorable Par-3s - Whoa! How about top 50? With all the ocean views, this is a tough call, but here are a few standouts: The 15th hole on Mauna Lani's (Big Island) North Course is a 196-yard carry over the ocean, and is one of the most photographed holes in the world. Also on the Big Island is the third hole at Mauna Kea, a 210-yard (182-yard carry) zinger constantly flailed by the wind. Hole 13 on Kaua'i Lagoons's Kiele Course is a spectacular 162-yard carry over ocean with crashing waves below.
Most Memorable Par-4s - The 16th hole at Kaua'i Lagoons' Kiele Course, with its threatening dropoff on the left and small green at the warer's edge; Wailea Gold's 18th hole, 438 yards with a carry over deep rough to a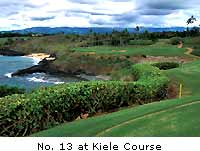 landing area with a strategically placed bunker. Wind is a factor. And the eighteenth at Ko'olau has to be one of the hardest par-4s in America. It requires diagonal carries over a ravine on both the drive and second shot to a hidden tabletop green protected along both sides by a row of bunkers. It plays to a mere 432 yards from the forward men's tees.
Most Memorable Par-5s - The 18th hole at Kapalua's Plantation Course on Maui measures 663 yards (585 from the most used tee) downhill and downwind. It's an opportunity to get on in two, depending on the wind. On Oahu, Turtle Bay's finishing hole is a 677-yard par-5 that requires a heroic second shot to reach the green. The third hole at Hapuna is a 545-yard par-5 with elevated tees fronted by scrub, tall grasses and lava fields. A long second shot crosses an area of high-cut rough to a second landing area. The green is protected by a lake and series of bunkers.
Best Golf Course for Women - The Challenge at Manele Lanai, is a beautiful course ranked as the top "women friendly" resort in Hawaii. Most tees require carries over gorges and lava , but the forward tees cut the women some slack. Perks on this course are the dolphins frolicking offshore and the spa's banana-coconut scrub. Oahu's Ko Olina Course, a beautifully manicured track, is very playable from the forward tees. It hosted the LPGA from 1990 to 1995.
Best Clubhouse - Princeville's 60,000-square-foot structure with its three stories of glass, brass and black marble. It includes a lap pool, workout room, beauty salon, massage rooms, pro shop, lounge, restaurant and ballroom. The clubhouse at Kaua'i Lagoons Resort (home to the Kiele and Lagoons courses) is another fine facility.
Best Clubhouse Dining - Ko'olau's 125,00-square-foot clubhouse is home to "Honey's at Ko'olau." Honey Ho, Don Ho's mother, had a delightful local restaurant for 40 years. The spirit -and great cuisine - lives on at Ko'olau. The Dunes at Maui Lani on Maui has one of America's finest chefs, Dan Saito, who provides a world-class dining experience at the Dunes Restaurant overlooking the first and 18th holes. The cuisine is a unique Asian-American blend.
Best Shopping - The Golf Shop at Poipu Bay (home of the Grand Slam since 1994) on Kauai is ranked among the nation's top 100 places to buy golf gear and logo goods.
Contact information:
The Dunes at Maui Lani - www.dunesatmauilani.com
Fairmont Kea Lani - www.fairmont.com
Hapuna Golf Club - www.princeresortshawaii.com
Hyatt Regency Kauai, Poipu Bay - www.kauai.hyatt.com
Kapalua Resort - www.kapaluamaui.com
Kauai Lagoons - www.kauailagoonsgolf.com
Kaua'i Marriott Resort - www.marriottresorts.com
Ko'olau Golf Club - www.koolau.americangolf.com
Ko Olina Golf Club - http://www.koolinagolf.com
Makena Golf Club - www.maui.net/~makena/
Manele Bay Hotel & Golf Club - www.manelebayhotel.com
Mauna Lani Resort - www.maunalani.com
Princeville Resort - www.princeville.com
Turtle Bay Resort & Golf Club - www.turtlebayresort.com
January 22, 2003
Dale Leatherman is a full-time freelance travel writer specializing in golf and adventure travel. For nearly 20 years her "beat" has been the Caribbean, where she can combine golf, scuba diving and other sports. She has also written about golf in Wales, Scotland, Australia, Costa Rica, Canada and the U.S., particularly the Mid-Atlantic region.