Great golf courses in Charlotte, N.C. a short trip from Douglas airport
By
S. Adam Cardais
,
Contributor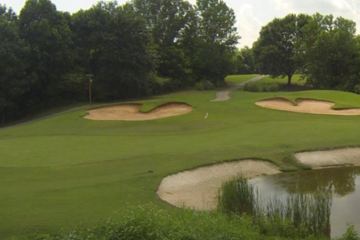 View large image | More photos
Renaissance Park Golf Course, a Dr. Michael Hurdzan design, is less than 10 minutes from Douglas International Airport. (Courtesy of Renaissance Park G.C.)
Did you know that some of the best Carolina golf courses are an easy drive from Charlotte's busy Douglas International Airport (CLT), one of the Southeast's main commercial hubs?
You're not alone.
Charlotte has been overshadowed by other North Carolina golf destinations, such as Pinehurst.
"With destinations like ... Pinehurst, the Carolinas seldom look at their metropolitan centers as golf meccas. Once upon a time, this was justifiable," Shane Sharp wrote in a story for GolfCarolina.com. "But in Charlotte a recent influx of high end, pay-for-play tracks have put the Queen City on the golfing map to stay."
Many of Charlotte's best golf courses are minutes away from Douglas airport. That's good news for you business travelers laying over: If you have a few hours to kill, don't spend them sucking back Buds at the airport sports bar. Get a little sun and fresh air instead.
Ballantyne Country Club: Located in one of the most rapidly developing areas of affluent south Charlotte, Ballantyne Country Club is just a 20-minute drive from the airport down I-485.
Built in 1996 with the oversight of Rees Jones, this club is part of a community that has blossomed in the last five years into a self-sustaining city within the greater Charlotte area. The course measures 7,032 yards from the championship tees with a slope rating of 134.
It is challenging enough to test the scratch golfer but is also accessible to a range of skills levels. Lady and seniors golfers will find it accommodating from the 5,222-yard forward tees.
Renaissance Park Golf Course: If you're in a hurry, this is another good choice. Renaissance Park is only about eight minutes from the airport on Tyvola Road. Dr. Michael Hurdzan designed the track, opened in 1987. It measures a long 7,360 yards from the championship tees and has a slope rating of 126. The course is 5,315 yards from the forward tees.
Rocky River Golf Club at Concord: Rocky River is a public championship golf course that offers the ambiance and unsurpassed service normally reserved for exclusive clubs.
Olde Sycamore Golf Plantation: Olde Sycamore is nestled among a mature forest of hardwoods only a few minutes from 1-485. This semi-private course opened in 1997. Upon debuting, Charlotte's Best Magazine recognized it as the "Best New Course" and "Best Eastside Course" in the Queen City.
Emerald Lake Golf Club: Emerald Lake features many trees and bunkers. Golfers will face both open and narrow fairways that feature Bermuda turf and putting greens that feature bentgrass.
More photos
«
»
March 19, 2007