Playboy no more: Grand Geneva Resort & Spa in Lake Geneva, Wisconsin leaves the past behind

By
David R. Holland
,
Contributor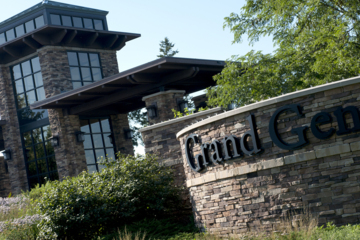 View large image | More photos
Grand Geneva Resort & Spa in Wisconsin used to be the Lake Geneva Playboy Club Hotel. (Courtesy of Grand Geneva Resort & Spa)
LAKE GENEVA, Wis. -- Hugh Hefner could always spot a beauty. So it is no surprise that what Hefner built as the Lake Geneva Playboy Club Hotel in 1968, with two golf courses, has morphed into today's Grand Geneva Resort & Spa.
The 1,300 acres has become an award-winning, all-seasons resort in the southeastern Wisconsin community of Lake Geneva, just 90 minutes from Chicago and 50 minutes from Milwaukee.
The huge complex has had its ups and downs, but it has cemented itself into a beautiful golf destination. The bunny glamour may be gone, but the beauty now shines in The Brute Course and The Highlands Course, two fun, challenging and formidable 18-hole golf experiences.
Grand Geneva Director of Golf David Hallenbeck has been around four decades -- from the "Bunny" years to the present. "I still see people who have been coming here for 30 years. We are successful because we treat people the way you would like to be treated."
Hallenbeck said it's a place where one can put their cell phone away, play golf for four hours and take in nature and beauty.
"I think what is unique about our property is that we have two totally different golf courses, each with a look and feel from two different architects," he said. "You really don't find this at many resorts anywhere."
Check the Web site before you go because specials can be real bargains, including free golf with certain stay-and-play selections.
There's also a Hole in One challenge on The Brute and The Highlands for just a $5 fee -- you could win $10,000. Upgrade at the golf shop at check-in.
Grand Geneva's Brute Golf Course
Muscular and difficult describes this 1968 gem placed into the rolling woodlands by architect Robert Bruce Harris. The Brute is a big-hitter's course, with some forced carries, elevation challenges, some fairways that are tough to hit and plenty of huge oaks to get lost in.
Greens are huge, averaging 8,000 square feet, and the two finishing holes are as tough as they come. Sixty-eight bunkers seem as large as the greens. This golf course is in excellent condition and rolls out to 7,085 yards at par 72.
Grand Geneva's Highlands Golf Course
Grand Geneva's Highlands Golf Course was called the Briar Patch when it was originally designed by Jack Nicklaus and Pete Dye in 1970, and many golfers thought it was more demanding than The Brute.
But it is now a Scottish-style transformed and softened in 1996 by Bob Cupp and recently updated in 2006 by Bob Lohmann, with major renovations completed on holes 9, 12 and 15. You definitely don't need to hit driver all day on this 6,659-yarder. Just steer clear of the high grass, woods and wetlands.
Grand Geneva Resort & Spa
This AAA Four-Diamond resort features 355 guest rooms, WELL Spa + Salon, the Mountain Top -- a three-chair, 18-run ski and snowboard facility -- and 62,000 square feet of meeting and convention space.
Want even more? How about indoor and outdoor tennis, Kids Are Grand Recreational Center, horseback riding, hiking paths and biking. You can even celebrate Christmas here and go on a sleigh ride. Moose Mountain Falls is the indoor/outdoor waterpark.
The dining is also memorable. Try the upscale Geneva ChopHouse, Leinenkugel's Mountain Top, Links Bar + Grill, Grand Cafe and Ristorante Brissago.
The Frank Lloyd Wright-inspired hotel features opulent design elements including an indoor swimming pool complete with a connecting passage to the outdoor pool area, and a ski lounge designed (by Hefner) in the shape of two interlocking snowflakes.
In the Playboy days travelers from Chicago were able to fly directly to the resort, via the private airstrip that offered commuter service from the city's O'Hare airport. Upon arrival, guests were transported around the resort on the hotel's "Bunny Tram."
More photos
«
»
July 22, 2016
David R. Holland is an award-winning former sportswriter for The Dallas Morning News, football magazine publisher, and author of The Colorado Golf Bible. Before launching a career as a travel/golf writer, he achieved the rank of Lieutenant Colonel in the Air Force reserve, serving during the Vietnam and Desert Storm eras. Follow Dave on Twitter @David_R_Holland.