Carr Golf Travel serves up some special tournaments in Ireland and Scotland in 2013

By
Jason Scott Deegan
,
Senior Staff Writer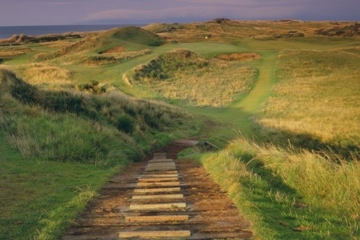 View large image | More photos
Royal Troon Golf Club, site of the 2016 Open Championship, co-hosts the 2013 Celtic Couples Challenge. (Courtesy photo)
Carr Golf Travel events are geared toward making fond memories. Playing golf in Ireland and Scotland will always be special for visitors, but playing in a tournament setting on incredible links will only heighten the sensation.
Carr Golf Travel features three such events -- the World Invitational Father & Daughter, the World Invitational Father & Son Tournament and the Celtic Couples Challenge.
"It's going to be an exciting year for Carr Golf Travel. Bookings are already flying in for our events," Carr Golf Travel CEO Marty Carr said. "We look forward to meeting old friends and new, while creating memories for life."
The tour operator, based in Dublin, has attracted more than 4,000 golfers over the past 24 years and expects another 200 teams to tee it up again in 2013. The cost of playing in these prestigious festivals of golf might seem expensive, but these memories will become priceless over time.
They start at €1,250 per person and include accommodation, golf, spa treatments, ground transportation, receptions, dinners, gifts and entertainment. For more details, visit www.carrgolf.com. Why don't you join them?
World Invitational Father & Daughter
This fifth annual tournament, set for July 17-20, seems to have found a home at Doonbeg Golf Club and Lahinch Golf Club, two of the premier links in the southwest of Ireland.
Doonbeg, a modern links designed by Greg Norman in 2002, delivers inspiring beauty among the towering dunes of Doughmore Bay. Lahinch, just up the road, remains a timeless links experience. Playing the Dell Hole, a par 3 where a green sits completely hidden from view behind a dune, delivers more fun than you can imagine.
The Lodge at Doonbeg, named the 2010 European Golf Resort of the Year by the International Association of Golf Tour Operators and one of Europe's Top 25 Golf Resorts by Golf Digest, will provide the luxury that the ladies crave. This event is also good for non-golfers and spouses as a number of extra activities are planned.
World Invitational Father & Son Tournament
The signature event on the Carr Golf Travel calendar returns to Waterville Golf Links Aug. 7-11 for the 24th version.
This four-day celebration of male bonding attracts celebrities and personalities. Last year, 80 teams from 10 different countries got lucky by playing all three rounds in glorious sunshine. Wayne Gretzky, Dan Marino and Bobby Orr and their boys have all teed it up together.
Waterville, a classic links dating to 1973 and renovated by Tom Fazio in 2006, combines with Waterville House, an 18th-century, four-star hotel, to create one of the finest golf and fishing resorts in the world.
Celtic Couples Challenge
The fourth-annual Celtic Couples Challenge will visit a glorious new venue, Turnberry Resort in Scotland, from Sept. 21-25.
Two British Open sites -- Turnberry's Ailsa Course and the Old Course at Royal Troon Golf Club, host to The Open Championship in 2016 -- will surely stimulate all involved.
Turnberry, a Luxury Collection Resort, resides on the Ayrshire coast, a peaceful retreat of 149 rooms and a highly regarded spa. Turnberry's Ailsa course was the site of Tom Watson's near-miss in the 2009 Open, but if the golf gods are feeling generous, maybe you will get up and down for par at the 18th hole to win your "major."
More photos
«
»
December 18, 2012
Jason Scott Deegan has reviewed more than 700 courses and golf destinations for some of the industry's biggest publications. His work has been honored by the Golf Writer's Association of America and the Michigan Press Association. Follow him on Twitter at @WorldGolfer.