Podcasting outgrows the iPod to bring programming to you
By
S. Adam Cardais
,
Contributor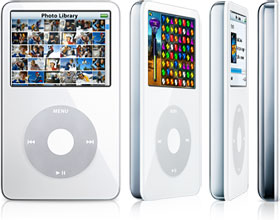 View large image
Nowadays you can listen to podcasts even if you don't have one of these (Courtesy Apple)
When it comes to podcasts, people naturally think of the device that gave them their name.
It's true that podcasts - digitally recorded programs similar to radio shows that can be downloaded from the Internet - were initially the province of Apple's revolutionary iPod. Today, however, access is much broader. You can listen to podcasts on your computer, or on any kind of MP3 player, as they are usually MP3 files.
Downloading podcasts is quick and easy - the files are usually small, even for longer shows, and can be accessed in matter of minutes. Many are free, although some charge a small download fee. And they cover an ever-growing myriad of subjects.
Brandon Tucker hosts the popular Sweet Spots podcast on WorldGolf.com, while Bruce Stasch hosts Golf Gear News and Barry and Stacy Solomon produce the weekly Golf for Beginners podcast. Meanwhile, TravelGolf.com offers a weekly podcast covering the latest in golf news, trends, travel and equipment, hosted by Dave Berner.
News organizations like ABC News are jumping on the bandwagon. Podcasts are even heating up in the culinary world - British celebrity chef Jamie Oliver recently launched one on his Web site.
You can search for and get regular updates on your favorite podcasts with "podcatcher," which automatically looks for new episodes. To use a podcatcher, you have to subscribe to a podcast, which you can do at the host Web site. iTunes, Yahoo Music Engine and Winpodder are popular podcatchers.
Locating podcasts on a Web site can be a bit tricky because there's no standard place on the page to look. On Jamie Oliver's site there's a section called "podcast," but others aren't as clear. Sometimes, you've just got to hunt around - but as podcasting grows, the hunting is certain to get easier.
October 12, 2006