Golf for Beginners podcast zooms into iTunes' golf top 10
By Staff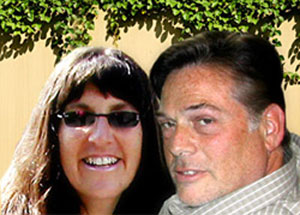 View large image
Stacy and Barry Solomon have Golf for Beginners going up the charts at iTunes. (Courtesy photo)
In little over a year, the Golf for Beginners has become a full-fledged phenomenon. A recent check on the iTunes chart confirms that Barry and Stacy Solomon's podcast has become an online favorite.
Golf for Beginners recently cracked the top 10 out of more than 80 golf podcasts hosted by iTunes, checking in at No. 9.
"Frankly there are a lot of golf podcasts out there in cyberspace, but Barry and Stacy's audio golf blog is interesting without being long-winded. They make me laugh while providing me with golf tips throughout the show. Light-hearted and not to be missed," one fan wrote in.
Stacy Solomon answered some questions recently about her and husband Barry's labor of golf love.
How is it for you two, being married and creating a podcast?
Barry and I look forward each week to producing and creating our podcast. We have the opportunity to hang out together and talk about something that we both enjoy. We often pick a topic that we read [about] in a golf magazine or an issue or problem that we might have had in our own swing and relate it to our listeners. We don't get much opportunity to play golf together, so it's our weekly chat session as to how we can improve upon our own games as well.
Why do you think you've been successful thus far?
I think part of our success comes from the fact that we're publinks golfers who speak to the average and intermediate players. Barry likes to golf with the same group week after week, and I choose to go out as a single and meet up with new players. Then we create and upload our podcast on Sunday, usually just before the final round of a televised tournament so that we can have the rest of the afternoon to watch 18 holes.
Do you two consider yourself golf fanatics? How does this help your listeners?
Yes, I think we're golf fanatics, but isn't that like most golfers? The beginner like myself, once the "bug" is caught, always wants to learn more, and the intermediate golfer is interested in improving both score and technique. We try and give tips that will relate to both groups, because golf basics are an essential part of improvement.
Do you have any changes or new ideas for the podcast for 2007?
Right now, Barry and I feel that our podcast is just long enough to keep the attention of listeners yet short enough to remain fun for us. We would like to have the opportunity to review golf equipment, courses, vacation spots and golf schools for 2007 and, at the same time, maintain the amount of golf tips that we offer. We feel these additions for 2007 will further spur our podcast's popularity.
Subscribe to the weekly Golf for Beginners podcast through this RSS feed or at iTunes. You can download previous episodes here.
January 16, 2007