The best 'Orlando' golf courses are often just outside the city

By William K. Wolfrum,
Contributor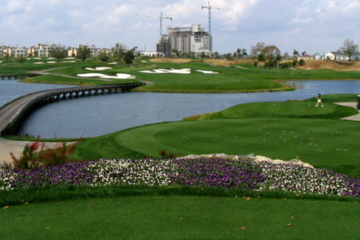 View large image
The Legacy Course at Reunion Resort is part of Orlando's golf scene that's actually outside of Orlando (Tim McDonald/WorldGolf.com)
When the PGA's best teed it up at the Bay Hill Club and Lodge and Lodge golf course for the Arnold Palmer Invitational last month, it was a graphic illustration of an interesting aspect of the brilliant golf destination that is Orlando, Florida.
Some of Orlando's best golf isn't actually in Orlando. Take Bay Hill, for instance, which is located - obviously - in Bay Hill, a short drive from Orlando. It's earned the No. 8 spot in TravelGolf.com's ranking of the Top-10 golf courses in Florida. However, Orlando is quick to call Palmer's home course one of its own, rather than acknowledging it belongs to the burbs.
Sure, it's easiest and more efficient to lump all the nearby courses in with Orlando - it's not like a five-mile drive is a road trip or anything - but still, there are plenty of folks proud of their cities and communities that would never answer "Orlando" when asked where they reside.
So sure, the following are all courses you can, and should, play if you make Orlando your golf destination of choice. But this is for the folks out there who are proud of their satellite communities, as well as the golf courses that help put them on the map.
The best golf (not quite in) Orlando
The Golden Bear Club: is located in the Keene's Pointe golf community in Windemere, and its Jack Nicklaus signature design wows guests with spectacular views and wide fairways.
Fast greens are just one of the obstacles in a golfer's way at Golden Bear, where deep pot bunkers will give you the feel of playing a links course.
"(There's) plenty of room off most tees, but position is important for approaches. Jack knows where your off hits will land and has put a bunker there. Have your 100-yards-and-in game sharp as you won't be given many breaks for errant approach shots," wrote Scott Friedman, a 13 handicap who played the course in March 2007. "The greens are very true yet slick, and the course is extremely well kept and the practice facilities are great."
When you think of the golf at Walt Disney World Resort, you immediately think of Orlando. You're not wrong, of course, unless you happen to mention that to a resident of Lake Buena Vista, where it's actually located.
Disney's Palm Course was ranked by Golf Digest as one of the Top-25 resort courses in the nation, and is a popular stop for the pro golf tours. After fighting to avoid the vegetation and water, you'll be pleased to find big, welcoming greens at this run, which is anything but Mickey Mouse—playing to a slope rating that borders on 140. The difficulties all come together on a brutal finishing hole.
"This 'Cruella' of a par 4 has been ranked as one of the [country's] toughest 50 holes nine times since 1983, and in 1986, it reached as high as fourth," wrote Elaine Gallant for OrlandoGolf.com.
Finally, if you're heading to Orlando, a trip to Reunion Resort is a must. Of course, if you want to send mail there, you better address it to "Reunion, Fla." In Reunion, Palmer's Legacy course draws raves from fans and critics alike.
And while the visual aspects of Legacy - stunningly green fairways and shatteringly bright white bunkers - will dazzle golfers, this is a course that can get down and dirty despite its aesthetic beauty.
"Legacy is a pristine resort course, very playable with a slope rating of 137 from the back tees," wrote Tim McDonald for FloridaGolfGuide.com. "There is plenty of challenge, especially from the tips. Most of the greens have false fronts, providing visual deception, and a number of holes can put a hurt on you."
April 3, 2007
William K. Wolfrum keeps one eye on the PGA Tour and another watching golf vacation hotspots and letting travelers in on the best place to vacation. You can follow him on Twitter @Wolfrum.