Golf and beer in London: A perfect combination in England's capital
By
S. Adam Cardais
,
Contributor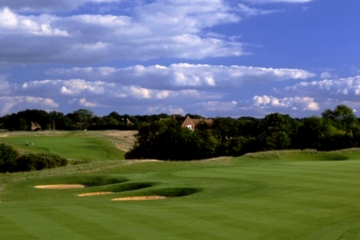 View large image
Build a thirst for English bitter on the London Golf Club's Heritage Course, a challenging Jack Nicklaus design. (Courtesy London Golf Club)
Few things in life compliment each other quite like golf and beer, and few places in the world combine the two quite like London, England.
With its rich, dynamic pub culture, and great golf courses, including the more than a century old Royal Wimbledon Golf Club, London is the perfect place for a three-day pub/golf crawl. Here's an itinerary that will have you savoring London's best golf and bitters.
Friday
Start things out at Royal Wimbledon Golf Club. This par-70, 6,348-yard course is a challenging play that will test you with narrow, undulating fairways. More than 125 years old, the course features fast but true greens and deceptively difficult holes. Many of the short holes, for instance, are more difficult than their length would suggest.
Visitors are allowed on a limited basis, and green fees are around $140 a round.
After your round, let the beer drinking begin at the Dog & Fox, also in Wimbledon. The recently remodeled pub is located in an attractive Georgian building. Young's and Charles Wells are on the menu, which also includes food, primarily British-style cuisine.
From the Dog & Fox head over to the Stonhouse for a Timothy Taylor Landlord or Harvey's Sussex Best Bitter. Stonhouse was recently remodeled, but it retained an authentic pub-style feel despite the fine sheen.
Saturday
Have a headache? Pop an Aleve with your coffee and head off to the visitor-friendly International Course at the London Golf Club. A compliment to the club's private Heritage Course, the International is no poor second, and some golfers even prefer its less-punishing design.
The inland links-style course features generous fairways, undulating greens that can get pretty slick in the summer and a mix of bunkering. Overall, it's a challenging, yet accessible track that makes for an enjoyable round of golf.
Bring your checkbook. Greens fees can run as high as $200 in the summer.
Tonight it's off to Chelsea for a few pints at the Fox & Pheasant. The atmosphere is authentic, with low ceilings, wooden beams and smoky walls. Abbot Ale and Green King's IPA are two good beers to try, and you won't have to scream over them all night, as there's no distracting loud music here. Fox & Pheasant also has a garden and terrace.
Next stop is the Sporting Page, also in Chelsea. Pictures of sporting heroes from the early 1900s line the walls of this low-key pub, so you'll have plenty of material for late night conversation about the good old days of sport while banging back London Pride and Bombardier.
Sunday
On your last day take in a real people's golf course at the Richmond Park Golf Courses. The facility has two 18-hole golf courses open to the public. The Dukes course is the flatter and longer of the two. It measures 6,165 yards from the men's tees and features a stream that comes into play on six holes. The Princes course is only 5,868 yards, but it's extremely undulating, providing much of the challenge and excellent views across the adjacent park.
Before leaving town, get yourself one or two last beers at the White Swan, a traditional pub built in the 17th century. Sip on your draught at the White Swan's low-key bar, or, if the weather's nice, get a little sun on the veranda.
Know the right people?
Friends with royalty, business moguls or other English elite who might be members of London's most prestigious golf clubs? If so, feel free to replace a course or two above with these members-only, tradition-bound tracks.
Heritage Course at London Golf Club:. Designed by Jack Nicklaus, this 7,208-yard track is a ball buster. Large bunkers protect the greens, so a good approach is key, and water comes into play on several holes, making for challenging, excellent play.
"…The London Golf Club has been truly blessed with having one of Jack's finest draped over its very own hills," Linda Jackson wrote in a story for GolfEurope.com.
Royal Blackheath: Widely regarded as the oldest golf club in the world, this course has grown from a 5-hole infant to an immense parkland stretching over 110 acres. Royal Blackheath features seasoned turf that produces excellent fairways and true greens. Trees dot the track, so many in fact that it might be hard to believe you're only nine miles outside London.
April 10, 2007