Golf Canada's West offers luxurious, affordable golf vacations in western Canada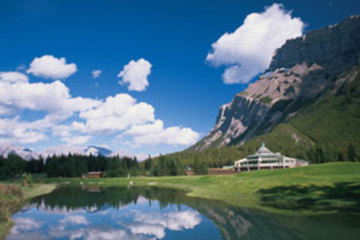 View large image
Golf Canada's West designs the best vacation packages for the most discerning of golf travelers. (Courtesy golfcanadaswest.com)
As many golfing aficionados now know, Golf Canada's West (GCW) offers a Rolls-Royce quality product at a Hyundai price. Based in Canmore, Alberta, amid spectacular Canadian Rockies scenery, GCW specializes in superior golf vacation packages to the Canadian Rockies and to the scenic environs of British Columbia, including the sunny Okanagan Valley, British-influenced Victoria and the 2010 Winter Olympic village of Whistler.
GCW designs the best vacation packages for the most discerning of golf travelers. If the comprehensive menu of golfing vacations doesn't suit the customer's desires exactly, GCW's staff will gladly custom design a vacation package at no extra charge. They pride themselves on taking care of all the details, from start to finish, so you, the customer, can focus on the scenery and your golf game.
Because GCW focuses exclusively on organizing golfing vacations, they can provide an unparalleled golfing holiday experience. The company offers pre-trip planning assistance, and, once the trip begins, the GCW staff will meet you at the Hertz counter of your airpsort in Canada to ensure all your inclusive car rental arrangements are in order.
An arrival kit includes clear directions to your hotel, all required travel vouchers, maps and expert local area information. This kit includes not only golfing-related info, but also invaluable local advice on other activities, such as sightseeing, shopping and fine dining. For your peace of mind, 24-hour emergency assistance is also available.
The golfing aspect of your vacation is, of course, fabulous. You will be golfing on some of the most challenging and beautiful courses in the world - all in a safe, clean and friendly country. Tee times are guaranteed, and golf carts and range access are included.
Now's the time to book a package with GCW, as the company is announcing its 2008 Early Bird Special Offer. If you book and deposit your 2008 golf vacation to western Canada by Oct. 1, 2007, GCW will not only guarantee 2007 pricing, you will receive a further 5 percent Early Bird Reduction on the 2007 prices.
In addition, the Foreign Convention & Tour Incentive Program Credit is now available to international clients of GCW. This program allows the company to charge only 3 percent tax on goods and services instead of the normal 6 percent. GCW is the only western Canadian golf vacation operator to offer this reduction.
What could be better? Enjoy a luxurious and stress-free golfing vacation amid world-renowned scenery and save money at the same time!
September 18, 2007