Golf in Michigan's football country: Mix your tee times with your tailgates

By
Jason Scott Deegan
,
Senior Staff Writer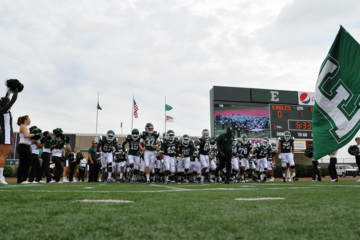 View large image | More photos
The Eastern Michigan University Eagles storm the field during their 2011 season opener. (Courtesy of Steve King Photography )
Fall in Michigan brings two of life's greatest pleasures together: golf and college football.
With the leaves starting to change and the chance of summer weather hanging around until October -- coupled with discount off-season pricing -- fall is a favorite of many golfers.
Tailgating and tee times go hand in hand for a great weekend. It doesn't really matter whether you're maize and blue through and through, or green and white blood flows through your veins. Golfers can find strong public tracks in both Ann Arbor and East Lansing.
The state's Mid-American Conference schools -- Western Michigan, Eastern Michigan and Central Michigan -- sometimes serve as sacrificial lambs to the big boys of the Bowl Championship Series, but that's okay by fans who hope their teams rebound to contend for a conference crown and bowl bid. There are some good courses in MAC-land, too.
Good greens in Ann Arbor
If you have a connection to the University of Michigan –- maybe a friend is an alum or you know someone who works there –- tap into the network to play the 6,687-yard University of Michigan Golf Course across from The Big House.
It's a rolling Alister MacKenzie-designed masterpiece. Play it on Friday before game day, because on Saturday it transforms into a giant tailgate party for thousands of fans.
Those who can't score a date at U-M can play some more modern courses. Lake Forest Golf Club hosted a Futures Tour event in the mid-2000s, and Stonebridge Golf Club is a solid Arthur Hills design. My favorite, however, remains Leslie Park Golf Course, a muni owned by the city with terrain so varied there's a "Cardiac Hill" in the middle of the back nine.
Greener pastures in East Lansing
The Michigan State University Spartans, winners of three straight against U-M, can lay claim as the king of the mountain at the moment. The first meeting between Mark Dantonio and Brady Hoke Oct. 15 in East Lansing could set the tone for the next decade of the rivalry.
MSU fans are used to being mocked as "Moo U," for being an agricultural college in rural mid-Michigan, but all that green space just allows for better public golf courses than any other college town in the state.
MSU's Forest Akers West Course regularly hosts the state high school championships and college tournaments. It's a tough track lined with mounds and trees. Forest Akers East is shorter and more forgiving. MSU's world-renowned turf-grass program ensures both stay in tip-top shape.
Several miles out, Darryl Kessler has built his own golf kingdom in Bath, anchored by the 27-hole Hawk Hollow Golf Course and the acclaimed Eagle Eye Golf Club, home to a replica of the famed island green from the Players Stadium Course at TPC Sawgrass. Eagle Eye is a wind-blown flat layout that punishes players into saying "uncle," all while charming them into coming back.
Golf pleasures near Mount Pleasant
Nobody has had more success against the Big Ten than Central Michigan University. Just ask the Spartans, who suffered embarrassing upsets to the Chippewas in 1991, 1992 and 2009.
Mount Pleasant loves its golf, turning out former tour pros Dan Pohl and Doug LaBelle II, and the LPGA's Kelly Robbins and Cindy Figg-Currier, not to mention Ryan Brehm, a two-time Michigan Open champ.
Buck's Run Golf Club in Mountain Pleasant runs along the Chippewa River and features the 34-acre Fisher Lake. Pohl, a two-time winner on the PGA Tour, built his Pohlcat golf course in the 1992.
Tullymore Golf Club and St. Ives Golf Club are a half hour away in Stanwood. A $7 million clubhouse and dynamic Jim Engh design make Tullymore one of the state's most coveted golf retreats.
Eagles in Ypsilanti
I'll admit I have a soft spot for Eagle Crest Golf Resort in Ypsilanti, the place where I learned to play the game during my college years at Eastern Michigan University.
The Eagles might not have much of a football team -- third-year coach Ron English is trying to change that -- but their golf course is world class. When I was working there in the 1990s, ABC announcer Keith Jackson -- I can still hear his signature "Whoa Nellie!" call -- stopped by for a round.
Celebrities such as Jackson come for the great views of Ford Lake and to conquer the 16th hole, a par 5 that plays to a peninsula green.
Searching for "par-fection" in Kalamazoo
The Western Michigan Broncos play pretty good football. Unfortunately, the Kalamazoo golf scene is a little more spread out. Thornapple Creek Golf Club, Kalamazoo's best public track, plays tougher than the yardage indicates (6,538 yards from the tips). Water, coupled with hills and valleys, see to that.
Those who seek out Augusta -- not the one in Georgia but the one in Michigan -- will fall in love with the Yarrow Golf & Conference Resort and the four courses at Gull Lake View Golf Club & Resort.
Yarrow, designed by Michigan's Ray Hearn, and Stonehedge South at Gull Lake View remain the best of this sleepy burg just 20 minutes from Kalamazoo.
More photos
«
»
September 12, 2011
Jason Scott Deegan has reviewed more than 700 courses and golf destinations for some of the industry's biggest publications. His work has been honored by the Golf Writer's Association of America and the Michigan Press Association. Follow him on Twitter at @WorldGolfer.