Funky fairways: Save room on your UK golf vacation for the game's quirkiest links courses

By
Brandon Tucker
,
Managing Editor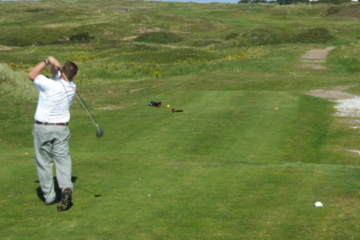 View large image | More photos
It's hard to identify landing zones on Pennard Golf Club's firm and bumpy links land. (Brandon Tucker/WorldGolf.com )
UK golf courses like Cruden Bay Golf Club and the Old Course at Lahinch Golf Club may be too funky to host the British Open, but they're still thrilling golf.
Hosting a British Open doesn't mean a golf course is automatically among the top links courses in the British Isles.
Most difficult from the tips, possibly. Most expensive, probably.
But stick to only British Open golf courses on your links golf trip and you're missing out. Big time. What Carnoustie earns in notoriety, it lacks in beauty. What Turnberry holds in beauty, it lacks in quirkiness.
Quirky, compared to what's become of modern target and resort golf, is the real definition of a true 19th century links. Many were given to the world by the hand of Old Tom Morris - credited with many of today's most booby-trapped courses.
Here are some golf courses too short, too funky or too out of the way to host an Open Championship any time soon, but that must nevertheless be included when planning your links golf itinerary.
The good news is that no matter where you are, from England to Ireland, you're never far away from one of golf's craziest courses.
• Cruden Bay Golf Club - The northeast coast
of Scotland, home to Aberdeen, is the isle's most rugged stretch and is littered with insurmountable dunesland. Donald Trump has even found this coastline worthy, as he fights to break ground on his Trump Scotland. Royal Aberdeen, the world's sixth oldest golf club is nearby as well.
But none match Cruden Bay's character. It's considered perhaps Old Tom Morris' signature layout, thanks to its greens tucked narrowly between dunes and tees perched on top of the world. If you ever encounter a Pete Dye design at its most shocking, chances are you have Cruden Bay to thank. The legendary architect is a great fan of this fabled links.
• Church Course, St. Enodoc Golf Club - Nestled in England's sunny southwest, you never quite know what to expect as you walk to the next tee at St. Enodoc. There's one of the world's biggest bunkers on the sixth, "Himalaya", that must be carried to a blind green. On the 15th a public road runs right in front of this par-3 green, causing some trampoline bounces if you miss short.
• Old Course, Lahinch Golf Club - Lahinch has undeniable championship pedigree, with a course built in part by legendary Alister Mackenzie. It received a significant facelift at the turn of the 21st century, which makes it as good of a test as you'll find in the Isles.
Even so, it boasts two back-to-back holes as head-scratching as you'll find, the "Klondyke" and "Dell." Both are totally blind. Only one is on the approach shot to a par-5, while the other is a short little par 3 with a green tucked inside dunes. If any modern American architect built a par 3 close to "Dell," he wouldn't be able to find a job in golf cutting grass.
• Pennard Golf Club - Members say you need one leg longer than the other to navigate Pennard. It helps if you learn the bumps in the ground, too. This is one golf course where first-time visitors simply cannot score their best, thanks to its very firm and rugged fairways, sometimes cut painfully narrow. You won't mind too much, however, thanks to its stunning cliff top views, garnering the nickname "Links in the Sky."
• Prestwick Golf Club - Prestwick is actually the birthplace of the Open Championship, but don't expect another. The course was actually only 12 holes back in 1860 when a handful of golfers took the train to Ayr to compete where Willie Park won the champion's belt.
Now an 18-hole adventure, many shots at Prestwick have the visibility of driving in a typhoon with broken windshield wipers. Blind shots abound throughout, though its most striking is saved for the 17th, requiring a blind approach over the course's largest bunker, "Sahara."
• West Links, North Berwick Golf Club - Only St. Andrews has had golf continually played longer than North Berwick's West Course in East Lothian. You'll have to navigate over a rock wall twice during your round, before taking on one of golf's most famous greens on the par-3 15th, "Redan." Then there's of course the gloomy Bass Rock spying on players just off shore.
• Old Course, Ballybunion Golf Club - One of Ireland's most trafficked golf courses, on paper it's surprisingly short, but throw any notion of Ballybunion being "obsolete" to the modern player out the window.
"It presents a unique test of target links golf," wrote TravelGolf.com's Kiel Christianson in a review. "Tee shots are awkward and approaches are demanding. Modern equipment cannot, nor will it ever, assail the integrity of Ballybunion. Length is simply not an ally here."
• Nefyn & District, Wales - Nefyn isn't a "pure links." It's actually perched atop rocky cliffs. But the final eight holes of the Old course are among golf's most bizarre.
The subject for much of this is an ever-growing "blow hole," a sink hole sitting left of the 11th fairway and in front of the 16th green. The holes on the legendary "Point" are a tight squeeze too. Luckily, after the 15th green, groups are encouraged to walk off the golf course and head down to the beach, where a small pub lets golfers try and reason with what they just experienced over a cold one.
More photos
«
»
July 29, 2008
Brandon Tucker is the Managing Editor for Golf Advisor. To date, his golf travels have taken him to over two dozen countries and over 500 golf courses worldwide. While he's played some of the most prestigious courses in the world, Tucker's favorite way to play the game is on a great muni in under three hours. Follow Brandon on Twitter at @BrandonTucker and on Instagram at BrandonTuckerGC.