Florida's college football teams dominate near great golf

By Brandon Tucker,
Managing Editor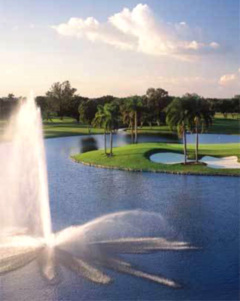 View large image | More photos
Celebrate a Miami win or shake off a Hurricanes' loss with a round at one of Doral Resort's five courses. (Courtesy Doral Resort)
No state breeds football powerhouses quite like Florida. Since 1987 Florida, Florida State and the University of Miami have combined for seven national championships, and only in 2004 was the final top 10 lacking a Sunshine State squad.
With the 2006 season just around the corner, expectations for all three teams are again running high. Florida State visits Miami under the lights at the Orange Bowl Sept. 4 - is there any better way for the Florida football season to begin?
Here's a rundown at each team's 2006 standing, along with tips on where to golf between tailgates.
University of Florida, Gainesville
Football: Preseason USA Today rank: 8
It was a rollercoaster ride for Florida last season, featuring some big wins and some even bigger defeats. A 9-3 finish left Gator faithful looking for this year's team to step it up a notch and get back to the SEC title game under the guidance of Heisman hopeful quarterback Chris Leak.
After starting the 2006 season with two creampuffs, Florida visits rival Tallahassee Nov. 25.
But the Gator faithful may be most looking forward to Nov. 11, when former Florida QB and coach (and avid golfer) Steve Spurrier visits the Swamp with his South Carolina Gamecocks after shocking his alma mater with an upset win last fall.
Golf: The Gainesville scene has been largely stagnant in recent years, with no new course openings for two decades. The University of Florida golf course's $4-million renovation in 2001 makes it the best public offering in town, although it's on the short side at 6,600 yards.
If you can't get on the Gator course, Ironwood Golf Course and Plantation Oaks Golf Club in nearby Alachua are viable runner-ups.
Florida State University, Tallahassee
Football: Preseason USA Today rank: 10
Despite an 8-4 record, Florida State snuck into a BCS Orange Bowl berth after Virginia Tech and Miami limped down the stretch. Bobby Bowden lost to fellow coaching legend Joe Paterno and Penn State.
The BCS berth and ACC title were nice, but 8-5 doesn't cut it with the Seminole crowd. Fans' patience is wearing thin with offensive coordinator Jeff Bowden, criticized for his inability to adapt to defenses or utilize FSU's famous outside speed. An opening-day win against Miami could go a long way toward quieting the faithful.
Golf: The Don Veller Seminole Golf Club is the official campus course, but even the FSU golf team plays nearby SouthWood Golf Club more often. This posh, relatively new track in an upscale community rises above everything else in town.
That goes for the prices at SouthWood as well. A cheaper alternative is Hilaman Park golf course, a solid muni with $36 weekend green fees. The semi-private Players Club at Summerbrooke north of town is a good layout but has had problems with greens maintenance in recent years.
Tallahassee is topographically quite different from flat Gainesville and swampy South Florida, with rolling, well-treed terrain. It's culturally different too, much more Deep South than the rest of the state.
University of Miami, Coral Gables
Football: Preseason USA Today rank: 11
The Hurricanes' ACC entry in 2004 was widely viewed as a ticket to the conference championship, or at least the title game. Instead it's been fellow Big East convert Virginia Tech dominating the league's Coastal division. But a favorable schedule that has the 'Canes at home against both Florida State and Virginia Tech puts Miami in good stead for a run at this year's crown.
Golf: The Hurricanes may not or may not best their upstate rivals in the rankings, but Gainesville and Tallahassee are definitely no match on the course. In both quality and price, Miami golf towers over its rivals.
When you're not eyeing the busy local plastic surgeons' "portfolios" on South Beach, there's plenty of upscale golf to be had, starting at the famous Doral Resort & Spa, which features 90 holes - capped by the Blue Monster golf course - and country's largest pro shop. Former Dolphins coach Don Shula has his own resort, Don Shula's Hotel & Golf Club, in Miami Lakes with two golf courses.
Also receiving votes: Central Florida doesn't figure in the national-championship picture, but even with Daunte Culpepper long gone the Golden Knights are an entertaining sleeper squad that rose remarkably from 0-11 in 2004 to 8-5 and a bowl debut last season.
And with it's location in the heart of Orlando, UCF beats the big boys silly when it comes to golf, from the Disney golf courses in Lake Buena Vista, to Orange County National, Grand Cypress and Southern Dunes.
More photos
«
»
August 23, 2006
Brandon Tucker is the Managing Editor for Golf Advisor. To date, his golf travels have taken him to over two dozen countries and over 500 golf courses worldwide. While he's played some of the most prestigious courses in the world, Tucker's favorite way to play the game is on a great muni in under three hours. Follow Brandon on Twitter at @BrandonTucker and on Instagram at BrandonTuckerGC.