In a tough economy, play budget golf on a winter Florida golf trip

By
Tim McDonald
,
Contributor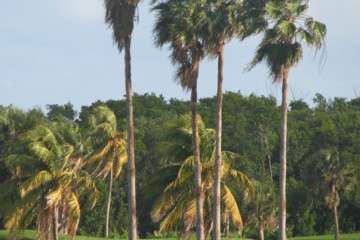 View large image | More photos
With its lovely views of Biscayne Bay and the Miami skyline, Crandon Park golf course is one of the best munis in Florida. (Tim McDonald/WorldGolf.com)
We've reached that time of year when you may be thinking it's time to take your golf game to Florida. If so, the economy will be your traveling companion as it, too, heads south.
It's a shame the clowns who rule the stock market could threaten your yearly golf vacation in the sun, but there it is. So you have to be a little smarter this year, a little more budget-conscious.
A general rule: November and December are good times to play golf in Florida. Peak winter rates haven't started yet, and the golf courses aren't yet crawling with pale snowbirds. Even in north Florida, it's usually perfect golf weather.
You will find, as always, winter golf specials, some on our listing of top Florida golf packages. But if you don't like being confined to all the small print in many of these specials, there's plenty of budget golf in Florida.
Not that these golf courses are donkeys - they're just cheap. And you can pick and choose at your leisure.
One more tip: don't ignore the replays. They are often good deals and let you play a ton of golf in a short time.
Budget golf in Northeast Florida
Northeast Florida is one of the best places to play winter golf. It isn't as warm as south Florida, but temperatures are rarely uncomfortably cold. There are cheap lodging options as well as a number of good budget golf choices.
In the Jacksonville, St. Augustine, Daytona Interstate-95 corridor, try these munis: Jacksonville Beach Golf Course, Bent Creek and the Daytona Beach Golf Club.
Also, Hyde Park in Jacksonville is a Donald Ross gem that won't break the bank.
Here are some others with cheap green fees: the Champions Club at Julington Creek, Royal St. Augustine Golf and Country Club, DeBary Golf and Country Club, Halifax Plantation, Indigo Lakes Golf Club, Pelican Bay Country Club and Spruce Creek Country Club.
St. Augustine also has several excellent bed and breakfasts such as The Inn on Charlotte (www.innoncharlotte.com).
Budget golf in North/Central Florida
This is the area north of Orlando and west of Jacksonville to the Panhandle. Again, both the golf and lodging here are generally cheaper than down south.
The Brooksville-Crystal River-Ocala area has cheap golf courses like the El Diablo Golf and Country Club, Hernando Oaks and Silverthorn Country Club.
This is a largely rural area and you may have to do some driving, but the cheap green fees make it worth the trip. Courses like Turkey Creek Golf & Country Club (formerly Plantation Oaks Golf Club) and Ironwood in Gainesville and Southern Oaks in Lake City are both good, cheap plays.
At the Jefferson Country Club in Monticello, you can play nine holes for $21. Or, if you're looking for a bargain, you can play a full 18 for - $21.
PerryGolf and Country Club is another cheap course nearby.
Budget golf in South Florida
Now you have to work harder. The greater Miami area will suck your wallet drier than a CEO driving a Fortune 500 company into the ground.
Still, Crandon Park on Key Biscayne is a decently-priced muni that's a pleasure to play. The Country Club of Miami is another good option.
The Boca Raton-West Palm Beach-Port St. Lucie-Pompano area also has some inexpensive golf course like Cypress Creek Country Club, Palm Beach Gardens Golf Club and the Village Golf Course.
Budget golf in Southwest Florida
Winter rates really shoot up here. Charlotte County, north of the Naples-Ft. Myers area, is an excellent place to escape from the Money Belt. Try Deep Creek Golf Club, another excellent muni.
In the Naples-Ft. Myers area, try Eagle Ridge Golf Club and the Rotonda Golf and Country Club.
In the Sarasota-Venice-Bradenton area, try: Capri Isles Golf Club, Sabal Trace, Long Marsh and Oak Ford.
In the Tampa-St. Pete-Clearwater area, try: Apollo Beach, Pebble Creek Country Club, Heritage Harbor, Tides Golf Club and the Walden Lake Golf and Country Club.
Budget golf on the Space Coast
The Space Coast is midway down the east coast, about halfway between Jacksonville and Miami. If you're lucky, you can watch the Space Shuttle taking off while you're teeing it up.
The Cocoa Beach-Melbourne-Cape Canaveral area has a few budget plays: Rockledge Country Club, Savannas Merritt Island and Turtle Creek Golf Club.
Budget golf in Central Florida
Central Florida, of course, means Orlando and its far-reaching tentacles. In Lakeland, for example, there is the excellent muni Cleveland Heights Golf Course. There are also several good, inexpensive golf courses in Lake Wales.
Other cheap green fees can be found at the Bartow Golf Course, Diamondback Golf Club, Casselberry, Kings Ridge South, Kissimmee Bay Country Club and Lake Orlando.
More photos
«
»
October 13, 2008
Veteran golf writer Tim McDonald keeps one eye on the PGA Tour and another watching golf vacation hotspots and letting travelers in on the best place to vacation.