Pristine golf in Montana's Flathead Valley worth singing about

By
Mike Bailey
,
Senior Staff Writer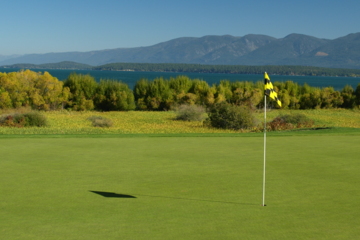 View large image | More photos
The scenery doesn't get much better than the fifth hole at Polson Bay Golf Club in Montana. (Mike Bailey/WorldGolf.com)
KALISPELL, Mont. - You wouldn't expect to discover one of golf's better golf vacation values on one of the most beautiful spots on earth. But bring your clubs to northwest Montana's Flathead Valley, and that's exactly what you'll find.
The area, which is home to America's largest freshwater lake west of the Mississippi and spectacular Glacier National Park, offers stellar golf courses for under $60, and lodging can be had for a song (or two). Couple that with some great side excursions like fishing, canoeing or hiking, and you have one heck of a golf vacation. And in the summer, because of the latitude (just below the 49th Parallel), you get about 16 hours of daylight to do it all in.
Flathead Valley Golf Association courses
There are nine golf facilities in the Flathead Valley Golf Association, which means you could spend a couple of weeks here and never get bored. The courses range from the outstanding classic layouts at Whitefish Lake Golf Club to the Polson Bay Golf Club on the south end of Flathead Lake. Better yet, most courses are within an hour or so of each other. Here's a rundown of the pristine golf the Flathead Valley has to offer:
Big Mountain Golf Club
Designed by Andy North, Kalispell's Big Mountain Golf Club has two distinct pieces of land that comprise over 7,100 yards of great conditions. The front side features rolls of waving native grasses over relatively flat terrain, which morphs into a journey along a river with several stunning tee shots and picturesque par 3s on the back. The course's bentgrass greens are arguably the truest and best-maintained in the valley. Big Mountain also gets more difficult as you near the finish line. Said North, "If I were leading the U.S. Open by one stroke going into the last five holes, it would be difficult to par in."
Buffalo Hill Golf Club
Possibly the most popular golf course in Flathead Valley, 27-hole Buffalo Hill Golf Club features plenty of elevation change and some interesting and unusual holes. Located in Kalispell, the Robert Muir Graves-designed 18-hole Championship Course features 10 holes where water hazards come into play. You'll find terrific risk-reward opportunities that encourage big hitters to clear the corner of a river, or to clear a lake on the second shot of a par 5. The course, which was renovated in 1989, also provides spectacular views of the mountains and, on clear days, Glacier National Park. In addition, there's the Cameron Course, a nine-hole track with small greens and tight fairways that offer plenty of complementary challenge.
Cabinet View Country Club
Set on the edge of the Cabinet View Wilderness, Cabinet View Country Club was built with volunteers in the late 1950s for the people of Libby. That spirit of volunteerism continues today, as much of the work on the property is still performed by members. The course features five ponds, plenty of bunkers, and lots of great views of the Cabinet Mountains. At 6,671 yards, Cabinet View has four sets of tees to test all levels of players.
Glacier View Golf Club
Location is the key attribute to this not-so-threatening but fun little track. Glacier View Golf Club may be just 5,161 yards from the tips, but this par-68 course is good for the ego and the senses. Located in West Glacier, the vista of the mountains visible from the course is really spectacular. As one observer put it, "it's a cow pasture with great views." It's also ideal for the whole family and all levels of players. The course is easily walkable, which may be the best way to take everything in.
Meadow Lake Golf Resort
Another valley course with great views is Meadow Lake Golf Resort in Columbia Falls. It may also be the toughest golf course in the area. With hardly a flat lie throughout, approach shots can be particularly difficult into Meadow Lake's tricky greens. And playing the course only a couple of times can greatly aid your green-reading skills. At just under 6,700 yards, the course isn't particularly long, but it does have some extremely challenging holes, such as the 449-yard 15th, which has a tall pine right in the middle of the fairway guarding the green on the approach.
Mission Mountain Golf Club
Located 14 miles south of Flathead Lake in the heart of Mission Valley, 18-hole Mission Mountain Golf Club provides a relaxing round of golf for any level of player. The facility also offers a full-service restaurant, golf shop, driving range and practice green.
Polson Bay Golf Club
With great views of the mountains and Flathead Lake, it's hard to beat the scenery at 27-hole Polson Bay Golf Club. Located on the south end of the lake in Polson, the course is remarkable for its number of great holes along the lake, terrific playing conditions, and plenty of challenge. The course originally started out as a public works project in 1936 and was redesigned in 1989 by architect John Steidel after 18 holes were added. The Eighteen at Polson Bay plays to just under 7,000 yards, while the Olde Course is a par-36 9-hole track at just under 3,300 yards that shouldn't be overlooked. The club has top-notch restaurant as well, overlooking the bay.
Village Greens Golf Club
Don't be fooled by the 6,401 yards on this par 70. Village Greens Golf Club is a fun test over excellent conditions and boasts some great holes. From tee to green, this a lush course. And while the front nine seems benign, the back nine morphs into a stretch of surprisingly imaginative golf holes with terrific scenery. As a bonus, pace of play at Village Greens is usually outstanding as well.
Whitefish Lake Golf Club
With 36 championship holes, city-owned Whitefish Lake Golf Club is the jewel of Flathead Valley public golf. Whitefish Lake's North Course has been around in some form since the late 1920s and has been added to and improved ever since. Another John Steidel design, most of the renovation work shows his hand, and in recent years the course has received new cart paths, tees and bentgrass greens, making it one of the most well-conditioned venues in the area.
The same could be said for Whitefish Lake's South Course, which is in sharp contrast, design-wise, to the North Course. Rated as one of the top courses in the state by most major golf publications, the South Course evolved through several stages. The original Mountain Nine opened in the 1980s, then Steidel designed a new nine and redesigned the Mountain Nine is 1994. A series of floods forced the raising of parts of the course by some four feet, and the result is stunning layout in and around Lost Coon Lake. Both courses, naturally, afford great views of the surrounding mountains and nearby lakes.
Stay and play in Flathead Valley
As mentioned above, lodging in Flathead Valley can be very affordable at the right times, and several properties have partnered with the Flathead Valley Golf Association to offer packages.
In Kalispell, you'll find the Red Lion Hotel. Connected to Kalispell Center Mall, the hotel features comfortable rooms, an indoor pool, sauna and jacuzzi, a restaurant and more than 10,000 square feet of meeting space.
The Meadow Lake Golf Resort has homes, condos and rooms available for rent. There's also the Spa at Meadow Lake, which offers couples treatments, massages, facials and pedicures.
Located across the street from Whitefish Lake Golf Club is the Grouse Mountain Lodge. The 145-room full-service resort backs up against the 18th hole of Whitefish Lake's South Course. The Grouse Mountain Lodge also has excellent restaurants, namely the Grill, Deck & Patio, and the upscale Wine Room, where you can enjoy multi-course gourmet meals and a vintage selection of spirits.
Other area properties that offer golf packages include the Hilton Garden Inn and Travelodge Hotel in Kalispell.
Getting to the Flathead Valley area
Thankfully, there is convenient air service available to Glacier Park International Airport in Kalispell. The airport is serviced by Delta, Sky West, Northwest Horizon Air and Big Sky airlines, with connections coming through cities such as Denver, Salt Lake City and Minneapolis. You can also get there by train on Amtrak's Empire Builder into Whitefish or by car via Interstate 90 or U.S. Highway 93.
More photos
«
»
November 11, 2009
Mike Bailey is a senior staff writer based in the Houston area. Focusing primarily on golf in the United States, Canada, the Caribbean and Latin America, he contributes course reviews, travel stories and features as well as the occasional equipment review. An award-winning writer and past president of Texas Golf Writers Association, he has more than 20 years in the golf industry. Before accepting his current position in 2008, he was on staff at PGA Magazine, The Golfweek Group and AvidGolfer Magazine. Follow Mike on Twitter at @Accidentlgolfer.